Rashod Bateman: Injury Profile and 2023 Fantasy Football Outlook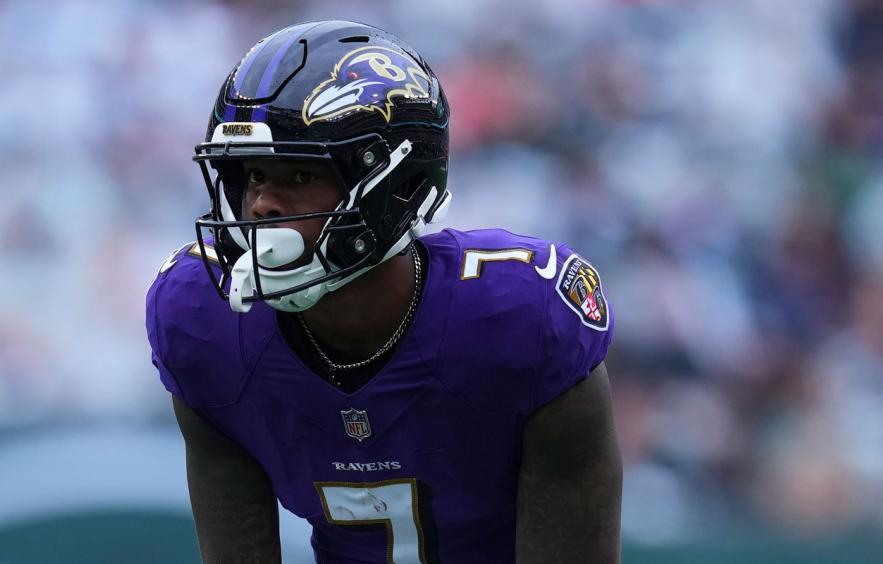 Mitchell Leff/Getty Images
We are entering a pivotal year for Rashod Bateman. When the former Minnesota Gopher entered the NFL in 2021 he had the talent and opportunity to be one of the next young great WRs to break into the league. However, after back-to-back injury-riddled seasons and Baltimore adding Zay Flowers and Odell Beckham to the mix, Bateman's fantasy stock has plummeted. With that in mind, many fantasy managers are left wondering what to do with Bateman in 2023.
---
Click here for more 2023 Player Profiles!
---
Exploring
Rashod Bateman

's Injuries
2021: Groin Strain - preseason/10-week injury (5 games missed)
2022: Lisfranc sprain - in season/13-week injury (12 games missed)
On average NFL WRs miss about six weeks with the type of groin/core strain that Bateman had. Bateman did need surgery for this injury which inevitably lengthened his timeline. Groin/core injuries are difficult for any player but even more so for rookies, so we can excuse Bateman's lackluster rookie campaign.
The foot/Lisfranc injury is more concerning, especially given the recent development. Foot injuries for WRs are problematic for multiple reasons. Per the 4for4 Injury Index which examines trends in fantasy production based on the injury, foot injuries carry a moderate re-injury rate. Additionally of the 19 most common injuries for WRs, in a three-game sample post-injury, foot sprains have the fourth largest dip in fantasy production. This suggests the effect of the injury can linger and hamper a player after their return. Bateman had surgery this offseason, which is not all that uncommon but there are indications that his surgically repaired foot is still causing the Ravens wideout discomfort.
On June 13th the public received word that Bateman was going to be shut down due to foot soreness and he would require a cortisone injection.
John Harbaugh said Rashod Bateman has been working off to the side doing individual work. He doesn't expect Bateman to be fully involved during mandatory camp.



"He had a shot for healing purposes - a cortisone type deal - that will keep him out for a couple days. We just decided…

— Sarah Ellison (@sgellison) June 13, 2023
Obviously, this is not ideal as it points to the fact that Bateman is still having pain, and as referred above, WRs carry a high re-injury risk for foot ailments due to positional demands. Even though the effects of his previous injury are spilling over into 2023 it does not mean we need to pull the ripcord on Bateman just yet.
Embracing Change: The
Ravens

' Offense

Baltimore has been notoriously run-heavy over the years. There are many indications that this could change in 2023. The Ravens' front office and Lamar Jackson played chicken earlier this offseason before the team finally paid their franchise QB. The Baltimore front office will want to ensure Jackson is healthy enough to make good on that investment. Are mobile QBs more susceptible to injuries? This is a controversial topic but it is a fact that they are hit more often. It is pretty intuitive that more hits only open the door for injuries, whether it be by increased odds or compounding blows. As a result, Baltimore should be more pass-heavy and limit designed runs for Jackson.

Baltimore also hired Todd Monken as offensive coordinator. Offensive play tendencies under Monken have been fairly balanced but even a more even run/pass ratio is a significant upgrade. Former OC, Greg Roman's run rate ranked in the top three in three of his four seasons in Baltimore. While at the University of Georgia, Monken's offenses did feature explosive downfield passing plays that have been lacking with the Ravens.

And don't forget the aforementioned wide receivers Flowers and Beckham Jr. Even after signing OBJ to a lucrative 1-year deal, the Ravens still drafted Zay Flowers 22nd overall. All signs point to Baltimore investing in Jackson and investing in throwing the ball more.
Fantasy Football Implications
If we project the Ravens to be more pass-heavy, then what implications will this have on Bateman's fantasy football season? For starters, Bateman has to be available. Taking injury history and historical injury rates and games played for NFL WRs, a reasonable projection for Bateman is 13.5 games played. Should more news trickle out in the preseason that Bateman is still dealing with foot discomfort, then his projection for games played could dip due to the elevated re-injury with foot sprains. Below is a projection of games played for Bateman along with the percent chance he makes each landmark based on data I have collected for WRs and players recovering from Lisfranc injuries.
Full Season odds: 11.6%
14 games odds: 33.1%
12 games odds: 71.7%

The Bottom Line
Taking into account 4for4's projection, Bateman becomes a very risk-reward WR but at his current (ADP) of 14.03 so is everyone else. He's a fine value and should provide upside to weekly lineups when healthy. If you go with a more RB-heavy build, Bateman might not be the best option for your team's WR3 considering his availability for the entire season is highly volatile - leaving him as risk of being replaced by the aforementioned Flowers or Beckham Jr.
Bateman's rookie campaign is basically a write-off but the foot injury is concerning. Should more ominous news arise I would move him down the rankings as he carries a higher re-injury risk and could miss more games.
The Ravens figure to be more pass-heavy this year which only stands to help Bateman even with more target competition.
If you are drafting Bateman, a full season seems unlikely, but the numbers suggest he should be available for the majority of the season. His current 4for4 projection and ADP have him appropriately slated to offer weekly upside when healthy.