Justin Herbert: Discount Fantasy Football Superstar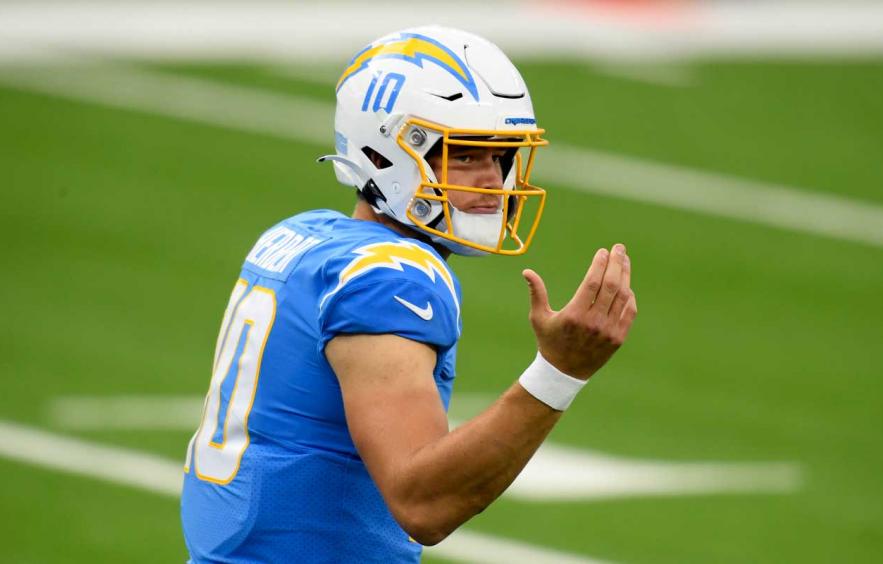 Harry How/Getty Images
A lot goes into a disappointing season. Sometimes you have key injuries to the supporting cast around you. Sometimes you play through pain. Sometimes you have an inexplicably docile play caller. In the case of Justin Herbert, it took all three to create the perfect vortex of underwhelming fantasy production.
While the Chargers still made the playoffs, it was a disappointing season in Los Angeles all around. A first-round exit at the hands of the talented-but-mercurial team from Jacksonville put a dull period at the end of a tumultuous season. In the aftermath, rumors swirled of a coaching change, and while Head Coach Brandon Staley retained his position for at least one more year, offensive coordinator Joe Lombardi was ousted after two years with the franchise.
Fantasy managers were disappointed too. Justin Herbert was lauded going into the season as fantasy gold. He was a top-five pick in all of my personal 2QB and SuperFlex leagues, and some rankings had him as the top projected passer. Nearly everyone had him inside the top three, along with perennial stalwarts Patrick Mahomes and Josh Allen. Fast forward to this offseason, following a QB11 finish, he's hovering around QB8 in our pre-season rankings, with a QB7 ADP on Underdog, going in the middle of the fifth round.
While not a steal by any means in the fifth round, Herbert is worth drafting at his current slot and should be poised for a bounce back season. Fantasy managers should look at 2022 as an outlier in the otherwise glowing ascension of one of the league's best young passers.
---
Click here for more 2023 Player Profiles!
---
The 2022 Season
I mentioned the three problems that plagued Herbert and the Chargers last year at the top of this article. Let's start with his rib injury on a Thursday night football game in the middle of September.
I asked our own injury analyst Adam Hutchison to weigh in on how much the rib injury likely affected his play.
"For those of you who have never sustained a rib fracture, remedial tasks such as breathing can evoke pain. So it goes without saying that last season Justin Herbert's throwing ability was likely affected to some degree. Per the 4for4 Injury Index (2023 update coming soon) rib injuries typically do not impact QBs' fantasy output, but on average players miss 3 weeks with this injury. Therefore, it was not surprising to witness Herbert's output dip by 25% the week following his rib injury and for him to churn out 2 of his 7 lowest weekly finishes in the three weeks following this injury. It's possible his rib injury lingered beyond Week 6 but following the Chargers' Week 8 bye Herbert should have been close to 100%."
Watching Weeks 3-7 of the season were especially noticeable, with an especially off day against Denver in Week 6. Herbert threw for just 238 yards and a pick with only nine yards on two rushing attempts and 8.4 fantasy points. It was his second-worst fantasy output of the season, behind a miserable Week 16 outing against the Colts.
So why did the struggles linger beyond the three-week timeframe Adam mentioned? One issue may be an injured shoulder. He underwent surgery in January to repair the labrum in his left shoulder.
Also, let's not forget the injuries surrounding Herbert. His top two wide receivers – Keenan Allen and Mike Williams – missed a combined 11 games and he was without standout left tackle Rashawn Slater for all but three games. No disrespect to Josh Palmer and DeAndre Carter, but neither was expected to be key contributors going into 2022.
Finally, the much-maligned Joe Lombardi helmed the league's lowest-ranked team in intended air yards per pass attempt last year, which measures the intent of the play. Some of that probably falls on Herbert, whose yards per pass attempt plummeted from 7.6 his first two years to 6.9 in 2022. Still, it's hard not to criticize a coach whose offense went from fifth in points scored in 2021 to 13th last year. Lombardi even admitted to playing conservatively amidst Herbert's injury.
#Chargers OC Joe Lombardi said he was probably a little cautious early on Sunday with so many unknowns with Herbert's injury.



Says he should have been more willing to push the pace, and said that won't be a problem going forward.

— Eric Smith (@Eric_L_Smith) September 29, 2022
Lombardi came to prominence coaching under Sean Payton and now returns to him in Denver. Offensive coordinators working under offensive-minded head coaches are often questioned on their ability to thrive on their own, and in this case, Lombardi failed to deliver the offensive fireworks Chargers fans and fantasy managers expected.
All this culminated in Herbert dropping from the QB2 in fantasy in 2021 to the QB11 last year.
Kellen Moore
The Chargers hired Kellen Moore, formerly of the Dallas Cowboys, and Moore will now run the offense. The Cowboys ranked 12th in intended air yards per pass attempt last year, despite five starts with Cooper Rush at quarterback. When Dak Prescott returned in Week 7, the team finished 8-3 and Prescott was the fantasy QB8 during that time. Prior to last season, Dak finished as the QB7 in 2021, coming off a nasty ankle injury, and was the QB2 through the first four weeks of 2020 before the injury robbed him of the rest of the season. Dak was also the QB2 in 2019, Moore's first season as the offensive coordinator in Dallas.
Justin Herbert offers strong rushing ability and an incredible arm and should fit well in Moore's system. Moore helped Prescott process things quickly under Mike McCarthy's West Coast offense. Under Jason Garrett, the deep ball was the prevalent philosophy. Moore is hoping to blend the styles into a perfect system, tailored to Herbert's strengths – which are plentiful. Herbert has a cannon.
This is listed under "cannon" in the dictionary



Justin Herbert's arm strength >>



pic.twitter.com/NgLRS2ljnK

— Sam Wagman (@swagman95) December 13, 2021
We won't know for sure if Moore can maximize the incredible talent Herbert has, but we can assume it's going to be a lot more exciting than the play calling we saw out of Lombardi last year. If Herbert's yards per pass attempt can get back around his rookie and sophomore numbers, he has a legitimate chance to deliver on the QB1 predictions we saw last offseason, albeit a year late.
A Better 2023
Along with Moore, some better health, and added talent should go a long way toward helping Herbert return to fantasy prominence in his fourth season. Herbert only had Mike Williams and Keenan Allen on the field at the same time for eight games last year. While neither player has been exceptionally durable over the course of their careers, Allen started all 16 games the previous season and Williams was active in all 16 as well. Some better health from those two will go a long way toward helping Herbert get back to elite fantasy territory.
Plus, the Chargers added super-talented TCU receiver Quentin Johnston in the first round of the draft. Johnston has stellar after-the-catch potential, something the team has lacked in recent years. Additionally, he profiles as a "big slot" which will fit perfectly in the CeeDee Lamb role in Moore's offense. While Keenan Allen has some of that as well, you can never have too many talented pass-catchers. Johnston is already doing some amazing things.
Quentin Johnston making this snag look EASY 😳



The Chargers rookie WR has reportedly been "impressive" so far at Chargers practices.



Justin Herbert has himself yet another WEAPON. pic.twitter.com/RPcO6zTEky

— NFL Rookie Watch (@NFLRookieWatxh) June 1, 2023
Johnston should make things much easier on Herbert this season. He should also help soften the blow if Williams and/or Allen miss time again.
As for star left tackle Rashawn Slater, Lindsey Thiry from ESPN recently reported "Slater says he is feeling '100 percent' after undergoing season-ending surgery last season."
As for Herbert's health, Adam Hutchison didn't indicate a rib injury should linger at this point, and we already have some good news on his rehab after offseason shoulder surgery.
Justin Herbert said the plan is for him to work back into 7-on-7 drills this week during OTAs. Would be his first team drills of the offseason. Herbert has been rehabbing from labrum surgery he underwent in January on his non-throwing shoulder.

— Daniel Popper (@danielrpopper) June 5, 2023
At this point, there's no reason to suspect he won't be as close to 100% as it gets by the time the season starts.
I'm not the only one who's optimistic about the Chargers' potential to rebound this season. Our own Ryan Noonan likes them to eclipse their 9.5-win projection, and DraftKings currently has them tied for 11th in Super Bowl odds at +2500.

Bottom Line
The Chargers offense is expected to improve through better health and added talent, as well as an improvement on the coaching staff, including a more aggressive approach in the passing game.
Herbert isn't cheap, but has room to outproduce his QB7 ADP and is being drafted near his floor coming off a season where nearly everything that could've gone wrong, did.
Herbert has just as much ability to finish as the QB1 this year as anyone else, yet he's coming at a slight discount.