How Draft Date Impacts Best Ball Leagues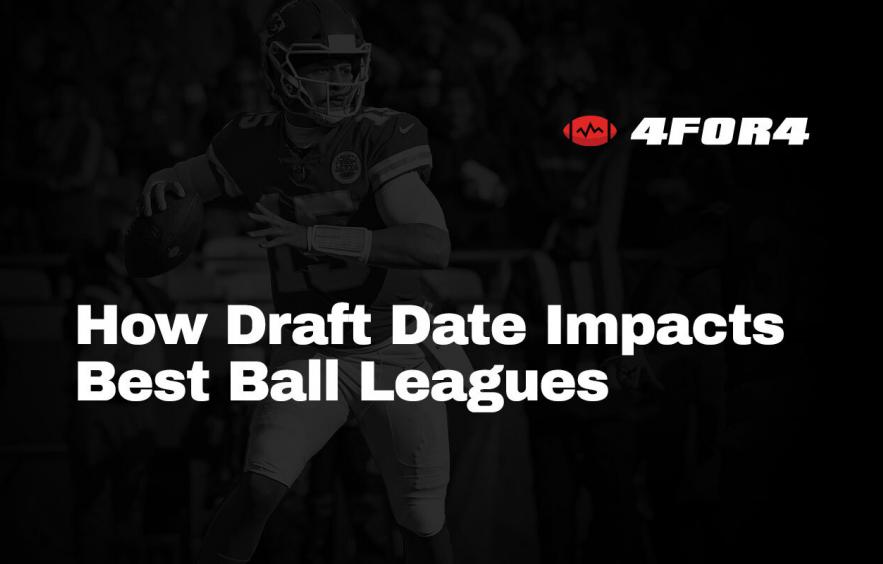 Patience is bitter, but it does bear sweet fruit.
As we gather more knowledge of projected usage, rookie landing spots, and scheme changes throughout the preseason, our patience is rewarded with sharper draft picks and higher team point totals. This is, of course, especially true in best ball drafts, where our fate is sealed the moment we click "Draft Player" in the final round. With no in-season moves, our knowledge of each player's situation is constantly tested with each pick, which is one of many reasons why winning scores fluctuate widely depending on when your draft is taking place.
Below, I will dig into exactly how much winning scores change from May through September, focusing mostly on Underdog's Best Ball Mania tournament, which will increase in size for 2023 with over 677k entrants.
2022 Floor and Ceiling Outcomes Through the Draft Season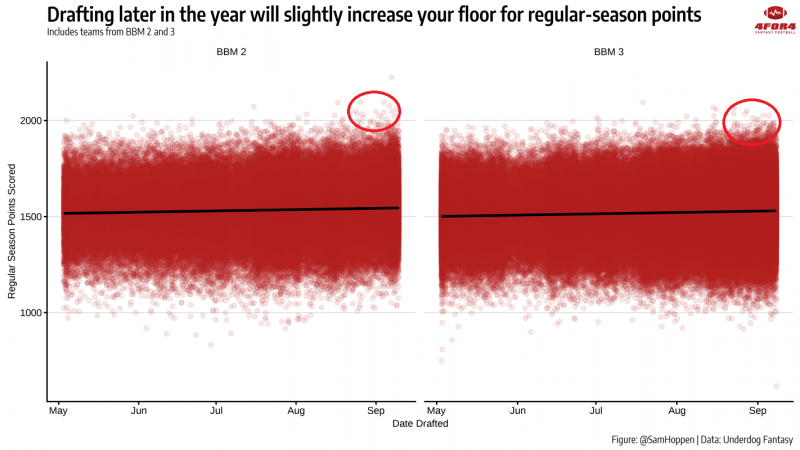 The above graph represents the total points scored by teams who drafted throughout the years in Underdog's Best Ball Mania II and III. The slow-rising increase in total points scored matches up empirically with our previous studies over the past three years, with 2022 focused on BBM scoring and 2020/2021 focused more on FFPC tournaments/scoring.
In 2020, in particular, winning FFPC teams were scoring roughly 8.1 more fantasy points per week by the "pre-season" (July-through-September) than they were in the "pre-draft" (February-through-NFL Draft weekend) section of the year.
What is very interesting about the grouping of team scores is the large number of outliers in very high scores —occurring nearly entirely in late August and September— and the large number of outliers in very low scores —occurring nearly entirely between June and early August. Why is that, and how can we harness all that big-score energy while avoiding bottom-tier scoring? Let's break down each section of drafting season and discuss what we can exploit to better our chances of high-end output.
Immediately After the NFL Draft
Considering Best Ball Mania doesn't open its doors to drafters until the first week of May, it doesn't do us any good to focus specifically on historical trends from the early offseason regarding best ball scoring. There are reasons to believe that player ADP is the softest in this first month or so, but it's also hard to map a full picture of what teams are planning to do with their offense so early in the process. The best way to attack these months is to play a little more conservatively than you otherwise would. To insulate yourself from risk, you may stick more vehemently to roster construction than you would when you need to zig while the field zags in July-August drafts.
According to TJ Hernandez's study on 2022 Best Ball Mania roster construction, nearly every build that performed over expectation was 2-QB builds with two-or-three TEs, while each of the four most underperforming builds all had three quarterbacks. If you can mirror some of the constructs laid out in that study, you're giving yourself a better chance to buoy the floor of your team during a time of the year when we know the least about how teams will use their players in-season.
This is also the best time of drafting season to be bullish on your favorite rookie(s), as their average draft position(s) will continue to rise throughout the summer months.
Mandatory Mini-Camps
This is typically the second influx of information we get on players after the NFL Draft, and as such, it makes sense that we also see more teams hitting or hovering around that 2,000-point threshold. Even still, these six weeks or so that I've labeled mandatory mini-camps (roughly the second week of June through the beginning of August) don't typically deliver the types of nosebleed scores that will take down a tournament of this size.
Mirroring the findings of Sam Hoppen, who provided the initial graphic in this article, Jack Miller (@JackMiller02) also found that the 99th-percentile scoring that occurs in the middle months is indeed higher than the first two months of the tournament; they are still far outweighed by the 99th-percentile scoring that occurs in September.
This isn't to say you shouldn't draft in these months; there is still high-end scoring going on, just not as much as when we are all but certain what roles players will have in Week 1. As players start to ramp up conditioning and being their first contact practices, this is an important time to stay up-to-date on player news, lest you sink an entire team by selecting a recently injured player. I would suggest keeping 4for4's Player News tab open for easy access while making picks. While on the clock —especially in the early rounds— take your time and make sure nothing immediate is impacting the players upcoming in your queue.

NFL Pre-Season
With the most knowledge possible at our disposal, this is the time of year you want to pad your portfolio with as many drafts as you feel comfortable entering. Navigating the minefields of injuries and starting job forfeitures that come during the summer months is a massive advantage that you will have over those who drafted these mega-entry leagues earlier in the year.
Touching again on roster construction now that we're in the most lucrative time of year, it may be helpful to familiarize yourself with what exactly a "final-round" roster has looked like in the past. Also, understanding how to handle positional allocation or which Week 17 Games (Championship Week) we need to target for Best Ball Mania can give us a leg-up during the busiest drafting period.
The Bottom Line
While there may be no better advantage than being fastidious about player news, there are many ever-changing variables to being successful in best ball leagues, regardless of the calendar. Since it's impossible to have a perfect record with a large portfolio —sometimes it's difficult to beat the eight percent expected win rate and rake consistently— we need to be focused on different aspects of drafting as the year moves along:
Immediately After the NFL Draft - To insulate yourself from risk, you may stick more vehemently to roster construction.
Mandatory Mini-Camps - Be vigilant in checking for player news. Values can open up literally as you're on the clock.
NFL Pre-Season - Don't be afraid to take risks. The fantasy community as a whole is as in tune with the NFL as possible, and you need to find a way to differentiate from the pack, whether that means unbridled roster construction or taking stabs on players you believe can far outkick their ADP.