The Fantasy Football Impact of Miles Sanders to the Panthers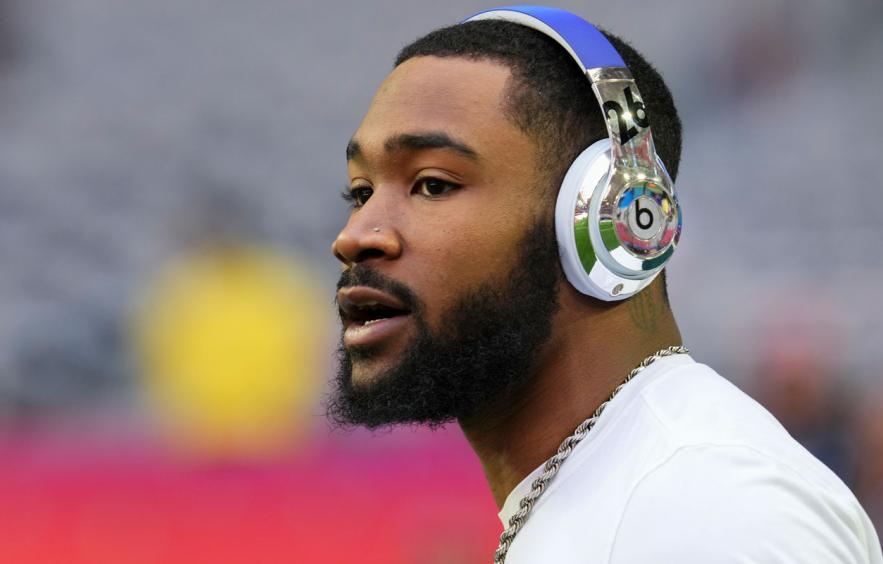 Cooper Neill/Getty Images
Coming off a career season in Philadelphia in which he rushed for 1,269 yards and 11 touchdowns, Miles Sanders signed a 4-year, $25,400,000 contract with the Panthers. This included a $5.9M signing bonus and $13M total guaranteed. With a little over half of the contract guaranteed, the Panthers have an out after 2024 with just $2.95M in dead cap if they don't want to keep Sanders on board for more than two seasons. On the surface, this seems like a great deal for an explosive running back who turns 26 in May.
---
Click Here for more 2023 Player Profiles!
---
Miles Sanders

' Running Back Profile

Sanders was a fantastic mid-to-late-round pick in fantasy football drafts last season after rebounding in touchdown rate and staying healthy for most of the season. Heading into last year, Sanders was yet to clear 900 rushing yards in a season and had just nine career rushing touchdowns including zero in 2021. That all changed in 2022 with 11 rushing touchdowns and 1,269 rushing yards.
Miles Sanders

Career Stats

| Year | Tm | G | GS | Rush | Yds | TD | YPC | Half-PPR FP/G | FP/G Rank |
| --- | --- | --- | --- | --- | --- | --- | --- | --- | --- |
| 2019 | PHI | 16 | 11 | 179 | 818 | 3 | 4.6 | 12.1 | RB21 |
| 2020 | PHI | 12 | 11 | 164 | 867 | 6 | 5.3 | 13.0 | RB19 |
| 2021 | PHI | 12 | 12 | 137 | 754 | 0 | 5.5 | 8.7 | RB42 |
| 2022 | PHI | 17 | 15 | 259 | 1269 | 11 | 4.9 | 12.2 | RB16 |
| Career | | | | 739 | 3708 | 20 | 5.0 | | |
Sanders had only played one full season prior to last year with injuries largely holding him back. Even last year he technically played in all 17 games but suffered an injury prior to their game against the New Orleans Saints in Week 16 and wore a knee brace. He was still banged up against the Giants the following week, only carrying the ball 11 times for 33 yards (3.3 yards per carry). Other than short injured stints, Sanders has been extremely efficient, averaging 5.0 yards per carry throughout his career in Philadelphia.
Despite only catching 28, 26, and 20 passes the past three years, Sanders is a strong receiver out of the backfield. He showed that at Penn State and as a rookie with the Eagles, catching 50 passes for 509 yards. The primary reason for his decreased production had to do with a two-down role and playing alongside Jalen Hurts. Kenneth Gainwell was the primary running back on third downs, and Jalen Hurts is much more likely to take off with his legs than dump the ball off to Sanders on early downs. It will be easy for people to just pencil Sanders into an early-down role in Carolina, but he can be more than that if they want.
The biggest question about Miles Sanders' fantasy prospects will be related to his health. If he can stay healthy for the whole season there should be ample opportunities in Carolina to score a ton of fantasy points.
Miles Sanders

' fit in Carolina

The Panthers are undergoing some serious changes. They recently traded up to No. 1 overall with the Chicago Bears and are in a prime position to take their quarterback of the future. They also signed bridge quarterback Andy Dalton in case their rookie QB isn't ready to start from the get-go. The trade-up came at a steep cost, including two first-round picks, two second-round picks, and top wideout D.J. Moore.

Without Moore, the Panthers receiving corps is currently made up of Terrace Marshall, Laviska Shenault, and Shi Smith. Outside of Sanders, their running back room isn't much prettier after they traded away Christian McCaffrey mid-season last year and didn't re-sign D'onta Foreman. The Panthers maintained their offense line by re-signing Bradley Bozeman and figure to have an above-average unit for another season. No matter who the Panthers draft at quarterback, the way their team is structured screams a run-heavy approach given their lack of receiving weapons.

Sanders figures to play a big part in a projected run-heavy approach, potentially matching last season's 15.2 carries per game. There could be some concern around departing from an elite offensive line in Philadelphia but if we dive into yards before contact from last season, it tells a different story.

If we look at all of the running backs on both teams who recorded more than 50 carries we see that both Christian McCaffrey and Chuba Hubbard had higher yards before contact per carry and a similar expected yards per carry as Sanders. This is great news for Sanders' potential efficiency in 2023.
Fantasy outlook for the
Panthers

' backfield

The current Panthers backfield consists of Miles Sanders, Chuba Hubbard, Raheem Blackshear, and Browns1" class="player_name_link">Spencer Brown. Sanders figures to be the No. 1 running back—the main question just revolves around his role in the passing game and on third downs. Hubbard profiles as the change-of-pace back and played 75% or more of the team's third-down snaps the final four weeks of the season last year. With that being said, there is a new coaching staff in town.

Frank Reich comes from Indianapolis where he utilized Jonathan Taylor in an early-down role and Nyheim Hines in a pass-catching-plus type of role. Sanders and Hubbard is a poor man's version of Taylor and Hines, especially the latter, but there's a chance Reich envisions a similar split. Paying attention to preseason usage surrounding their roles is important to watch out for. A two-down back on a Panthers team that isn't projected to score very much or be in positive game script isn't very valuable for fantasy. If they aren't scoring a lot it, limits his touchdown upside and if they are constantly facing negative game scripts, the floor on Sanders' workload is extremely low. If Sanders can capture some of the third-down and pass-catching work this changes some of the equations as game script tends to matter less. If he is able to capture bell-cow status, Sanders could compile his way to an RB2 finish.

Hubbard's fantasy value is also contingent on his usage on passing downs. If Sanders were to go down, I'm not sure if Hubbard has much injury upside outside of a small bump in carries given his smaller stature at just 201 pounds.

Bottom Line
Miles Sanders signed a sizable contract with the Panthers that locks him in for at least two years for their rebuild.
Sanders finished last season banged up but has been extremely efficient in his career when healthy (5.0 yards per carry).
Sanders is downgrading in offensive line play but Panthers running backs were able to gain similar yards before contact and expected yards per carry numbers.
With an ADP of 85th overall and RB26, Sanders could massively outperform his price if he is given a pass-catching role. Without that, there's minimal upside.