The Fantasy Football Impact of JuJu Smith-Schuster to the New England Patriots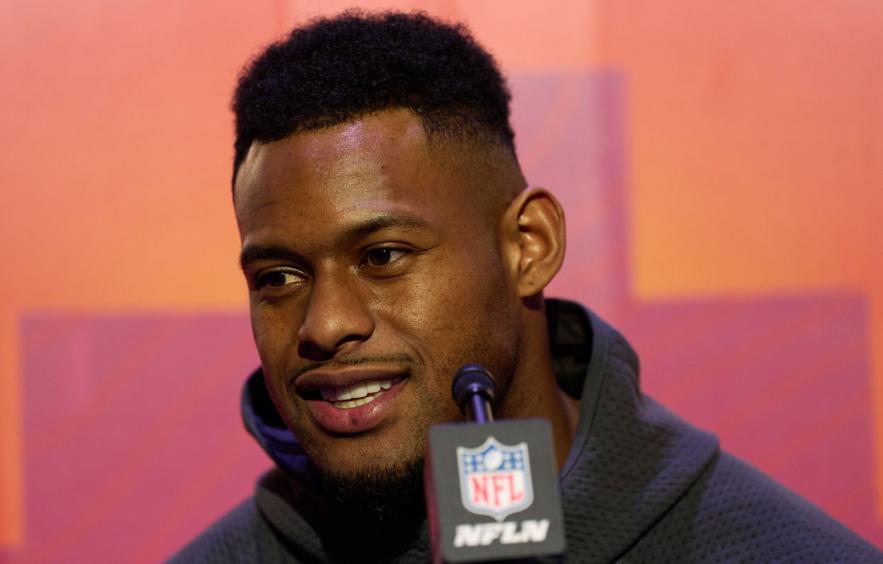 Cooper Neill/Getty Images
On Wednesday, March 15, wide receiver JuJu Smith-Schuster signed a three-year $33 million deal with the New England Patriots. Smith-Schuster's five-year career has been a roller coaster but he is coming off of a bounce-back season as the clear number two option in arguably the best offense in the league. After New England let Jaokbi Meyers sign with Las Vegas, Smith-Schuster should seamlessly slide in as Meyer's replacement, taking on the WR1 role for the Patriots.
---
Click Here for more 2023 Player Profiles!
---
JuJu Smith-Schuster

's Wide Receiver Profile

After exploding onto the fantasy scene in his second season in the pros with a WR9 finish in half-PPR leagues in 2018, the expectation was for Smith-Schuster to become a perennial PPR monster. Unfortunately for JuJu and those that invested in him in fantasy, his production has been up and down.
JuJu Smith-Schuster

Career Stats

| Year | Team | G | GS | Tgt | Rec | Yds | TD | Half-PPR FP/G | FP/G Rank |
| --- | --- | --- | --- | --- | --- | --- | --- | --- | --- |
| 2017 | PIT | 14 | 7 | 79 | 58 | 917 | 7 | 12.5 | WR11 |
| 2018 | PIT | 16 | 13 | 166 | 111 | 1426 | 7 | 15.0 | WR10 |
| 2019 | PIT | 12 | 12 | 70 | 42 | 552 | 3 | 7.8 | WR65 |
| 2020 | PIT | 16 | 14 | 128 | 97 | 831 | 9 | 11.5 | WR28 |
| 2021 | PIT | 5 | 5 | 28 | 15 | 129 | 0 | 5.5 | WR98 |
| 2022 | KC | 16 | 14 | 101 | 78 | 933 | 3 | 9.3 | WR39 |
Although Smith-Schuster hasn't posted every-week starter numbers since 2018, his lone season in Kansas City was a reminder that he is very much the same player that he was in that sophomore campaign. As Matt Harmon highlights in Smith-Schuster's 2022 Reception Perception profile, he is a zone-beating wide receiver that wins primarily in the short and intermediate areas of the field. This has been a constant since Smith-Schuster came into the league.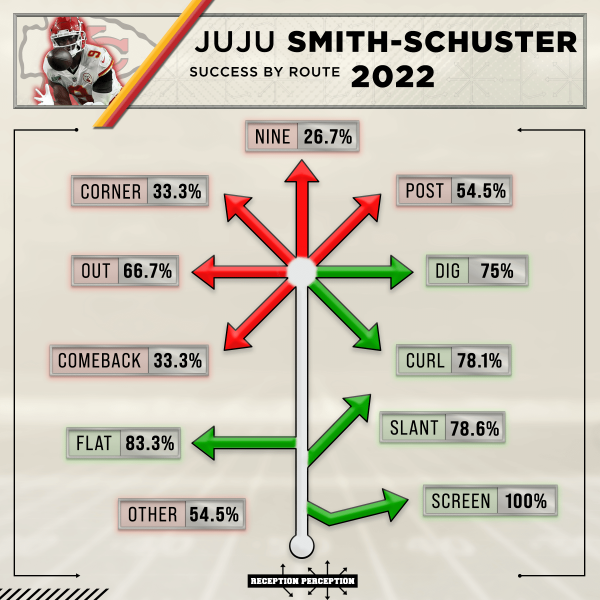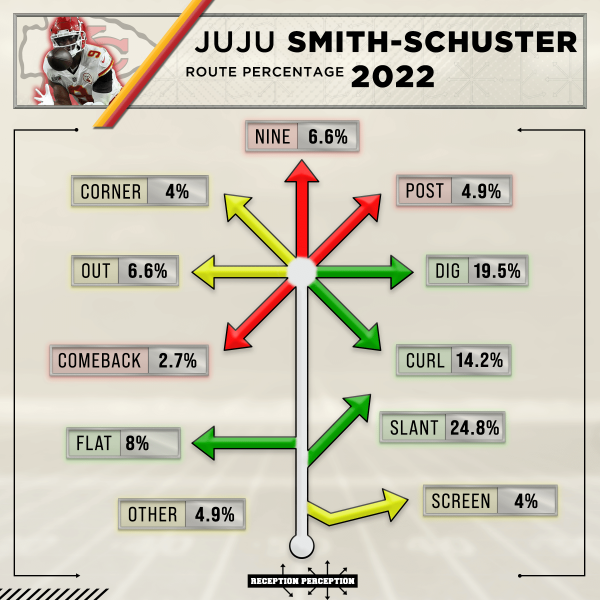 Harmon points out that Smith-Schuster is best suited as a big slot man—if we assume JuJu is Meyers' direct replacement in New England, that is precisely how the Patriots will use their new wide receiver.
How
JuJu Smith-Schuster

Fits into the

Patriots

' Offense

Smith-Schuster makes perfect sense as a Meyers replacement if the Patriots plan on running a similar offense to the one they ran in 2022. Like Smith-Schuster, Meyers is a player that wins from the slot on short and intermediate routes. Consider Meyers' success chart compared to JuJu's above: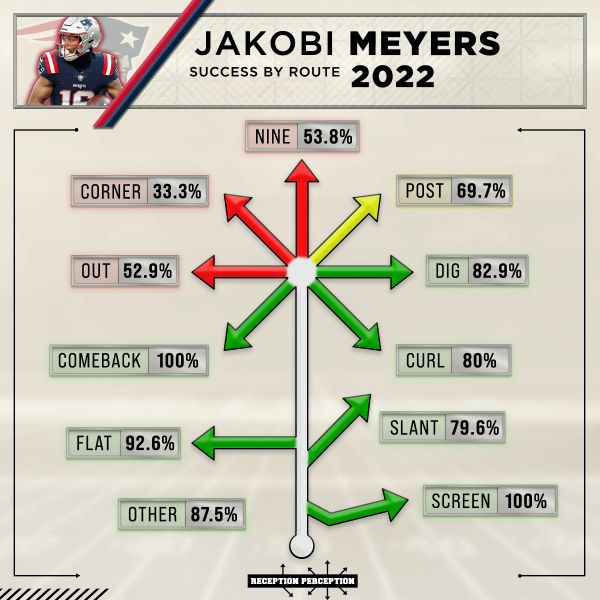 In 14 games, this role afforded Meyers 6.9 targets per game (71 of his 95 targets came from the slot) with an average target share of 22.6% when active. Extrapolated over 17 games, this would have come out to about 117 targets, a fair projection for Smith-Schuster if New England maintains their 59% passing rate in neutral game script from last season, the 12th-highest mark in the league.
While Meyers and Smith-Schuster had nearly identical end-of-season fantasy numbers (WR28 and WR29 in half-PPR), on a per-game basis, Smith-Schuster dropped down to WR39 while Meyers maintained his WR29 standing.
With some positive touchdown reversion, Smith-Schuster could become an every-week WR2. The new Patriots wide receiver scored on just 3% of his targets last season—more than a full percentage point below the league average for wide receivers—with Mac Jones turning just 3.2% of his 2022 passes into touchdowns, the fifth-lowest rate among 33 qualified passers (minimum 200 attempts).
Projecting the
Patriots

' Passing Attack in Fantasy Football

JuJu Smith-Schuster isn't a top-tier wide receiver that is going to move the needle for an entire offense. For fantasy purposes and from a macro perspective, we should expect much of the same from New England's passing game—a team that will be in the middle of the pack in terms of passing volume with some hopeful normalization to a higher scoring rate.

Even if Mac Jones does increase his touchdowns, he is a low-end QB2 in redraft leagues who offers almost nothing on the ground and is merely a streaming or spot-start option.

After finishing as a mid-tier WR2 in fantasy leagues last season, Smith-Schuster will have an opportunity to re-establish himself as a team's WR1. Behind Travis Kelce, Smith-Schuster was given 16.7% of the Chiefs' targets in 2022. In New England, he should comfortably secure a target share over 20%, assuming no other signings, but the high end for his volume hovers around 7–8 targets per game. If Smith-Schuster is lucky, he could eclipse 120 targets but 100–110 is a more likely scenario, although New England does have the sixth-most vacated targets going into this offseason.

When New England signed Smith-Schuster, he was being drafted as the WR50, suggesting a huge bargain if he can match Meyers' production in this role last season. We have seen Smith-Schuster post a top-10 fantasy season before and while that is far from the expectation, there is clear value in JuJu as long as he is being drafted outside of the WR3 ranks.

As for the remaining Patriots pass-catchers, there is a lot to be desired. If Smith-Schuster mans the slot as much as his profile suggests he should, the Patriots will need a field-stretcher on the perimeter. The most intriguing dart throw for this role is Tyquan Thornton.

Thornton saw roughly the same target volume as Nelson Agholor, Kendrick Bourne, and DeVante Parker last season. Agholor is a free Agent, Parker is on the wrong side of 30, and Bourne offers little as a deep threat—Thornton's 13.4-yard average target depth and second-round draft capital in 2022 could make him the favorite to be the primary outside man in New England and a late-round target on best ball teams looking to cheaply stack the Patriots. With 76 receivers going ahead of him in early Underdog drafts, Thornton can be had in the final rounds of almost any league.

The only other obvious piece to the Pats' passing game puzzle is Hunter Henry, who ranked third on the team in 2022 with 11.6% of targets. Even with the departure of Jonnu Smith, Henry is nothing more than a streaming option with Smith-Schuster operating as the primary pass-catcher.

The Bottom Line