The Fantasy Football Impact of Devon Achane to the Miami Dolphins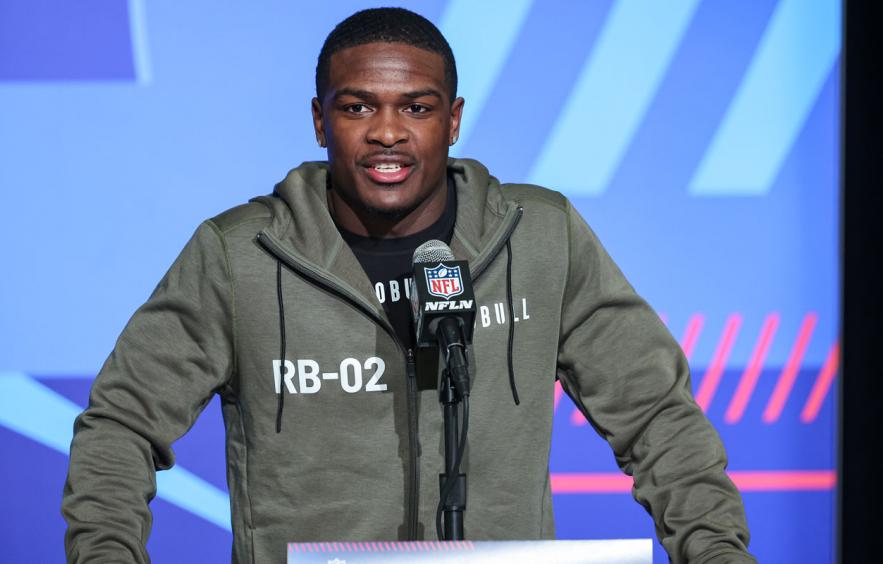 Michael Hickey/getty Images
The Miami Dolphins used the 21st pick in the third round, 84 overall, to select Texas A&M running back Devon Achane. After posting a 10.14-second 100-meter dash time as a member of the Aggies' track team, Achane fits right in with the Dolphins' "speed kills" philosophy. Local beat reporters for the Dolphins have stated that head coach Mike McDaniel lobbied heavily for Achane, and we can confirm that he was pleased when the pick was officially announced.
Mike McDaniel was fired up for the Devon Achane pick pic.twitter.com/TNUHzopMFs

josh houtz (@houtz) April 29, 2023
---
Click here for more 2023 Player Profiles!
---
Devon Achane

as a Prospect

At 5-foot-9,185 pounds, Devon Achane isn't likely to withstand the every-play pounding of a three-down NFL running back at his current weight. It's unlikely that Mike McDaniel will look to use him that way regardless of his build, based on his running back by committee tendencies, but Achane is an exciting prospect who's more than just a speed back. According to PFF, Achane forced a missed tackle on 29% of his career attempts, tied for fifth among Power Five backs since 2020. He runs with terrific balance, with a highlight reel full of sharp and sudden cuts.
Speed, shiftiness, breaking tackles, and did I say speed!?!?…. Everything you love in a Running Back. Get to know new Miami Dolphins RB out of Texas A&M, Devon Achane:



HELL YEAH!!! #FinsUp pic.twitter.com/QfoswAbCfw

— Big E (@ian693) April 29, 2023
Based on his size and skill, it should come as no surprise that this isn't a running back who thrives on running inside or grinding out tough yards. In 2022, Achane had 87 carries in the A or B-gap (off-center or off-guard). Achane totaled 331 yards for just 3.8 yards per carry on those attempts. In addition, he was featured on 64 wide rushing attempts (outside of the tackles), totaling 541 yards, good for 8.45 yards per carry. Getting Achane the ball on the edge or in space where he can find a crease is the name of the game.
Devon Achane

's Role with the

Dolphins

The Dolphins brought back last season's running back tandem of Raheem Mostert and Jeff Wilson, but with only four selections in this year's draft, Achane's selection speaks to the team's desire to upgrade the running back room for 2023. Unfortunately, pinning down Mike McDaniel's running back usage is a slippery slope. As a result, you're often best served by selecting the running back with the latest ADP just to avoid the early-round headaches. The Dolphins skew pass-heavy, with a 2.3% pass-rate-over-expectation last season, the seventh-highest in the league, but with a dominant duo of Tyreek Hill and Jaylen Waddle, the running backs saw very little work in the passing game last season. Perhaps that's why McDaniel was so excited about adding Achane on draft day. He's a liability in pass protection, but get him out in the flat or single coverage against a linebacker, and he has true home-run potential in this offense.

Early drafters on Underdog are swinging for Achane's upside (RB35), and I get the appeal in best ball given his skill set. Even if he's eased into Miami's offense early on, he offers the spiked-week upside that best ball drafters covet. Raheem Mostert (RB48) is slightly ahead of Jeff Wilson (RB52) in early ADP, but both running backs have struggled to make it through a full season without injury as well, adding to the appeal of the Devon Achane in Year 1.
Bottom Line
Devon Achane's speed is on another level, and his big-play upside has caught the attention of early drafters on Underdog (RB35).
Despite only having four picks in this year's draft, the Dolphins used a relatively early selection to lock up Achane despite bringing back Raheem Mostert and Jeff Wilson in free agency
Achane isn't built for a 20+ carry role right now, but with the injury history of Mostert and Wilson, it's not a stretch to envision the rookie carving out a role in 2023.
Given their current ADP, Achane is more appealing in best ball, while Mostert and Wilson are likely better cost-adjusted options in redraft leagues, given the unpredictable nature of Mike McDaniel's running back usage.