The Fantasy Football Impact of Brandin Cooks to the Dallas Cowboys
Jayne Kamin-Oncea/Getty Images
On Sunday, March 19, the Houston Texans traded wide receiver Brandin Cooks to the Dallas Cowboys for multiple draft picks. Cooks will move from the least efficient passing game, in terms of EPA per play, to a top-10 passing offense while giving the Cowboys the clear-cut number two receiver next to CeeDee Lamb that they lacked in 2022.
---
Click Here for more 2023 Player Profiles!
---
Brandin Cooks

' Wide Receiver Profile

Since coming into the league in 2014, Cooks has been one of the most productive receivers, but arguably the most under-appreciated. Despite posting the third-most 1,000-yard seasons since his rookie season, Cooks will be joining his fifth team.

For fantasy purposes, Cooks has consistently operated as a reliable WR2.
Brandin Cooks

Career Stats

| Year | Age | Tm | G | GS | Tgt | Rec | Yds | TD | Y/Tgt | Half-PPR/G | Rank |
| --- | --- | --- | --- | --- | --- | --- | --- | --- | --- | --- | --- |
| 2014 | 21 | NO | 10 | 7 | 69 | 53 | 550 | 3 | 8.0 | 11.3 | 23 |
| 2015 | 22 | NO | 16 | 12 | 129 | 84 | 1138 | 9 | 8.8 | 13.2 | 20 |
| 2016 | 23 | NO | 16 | 12 | 117 | 78 | 1173 | 8 | 10.0 | 13.0 | 10 |
| 2017 | 24 | NE | 16 | 15 | 114 | 65 | 1082 | 7 | 9.5 | 11.7 | 15 |
| 2018 | 25 | LAR | 16 | 16 | 117 | 80 | 1204 | 5 | 10.3 | 13.5 | 18 |
| 2019 | 26 | LAR | 14 | 14 | 72 | 42 | 583 | 2 | 8.1 | 6.9 | 66 |
| 2020 | 27 | HOU | 15 | 15 | 119 | 81 | 1150 | 6 | 9.7 | 12.8 | 18 |
| 2021 | 28 | HOU | 16 | 16 | 134 | 90 | 1037 | 6 | 7.7 | 11.7 | 22 |
| 2022 | 29 | HOU | 13 | 13 | 93 | 57 | 699 | 3 | 7.5 | 9.0 | 39 |
From a technical standpoint, however, the new Cowboy has evolved from primarily a deep-ball specialist into a complete wide receiver that can dominate much of the route tree.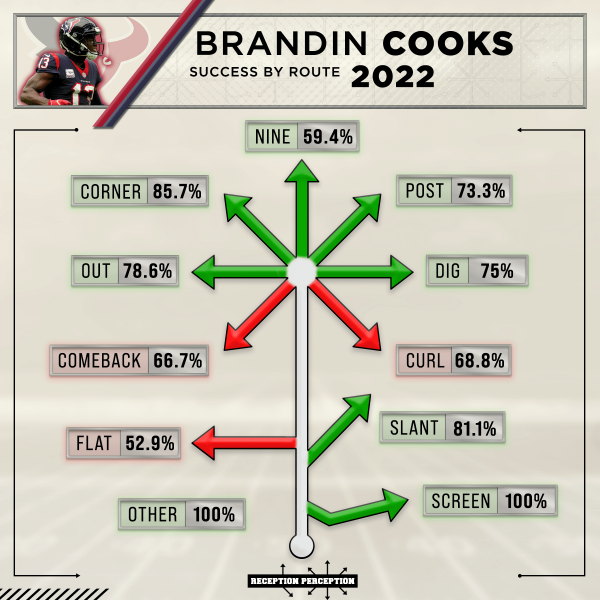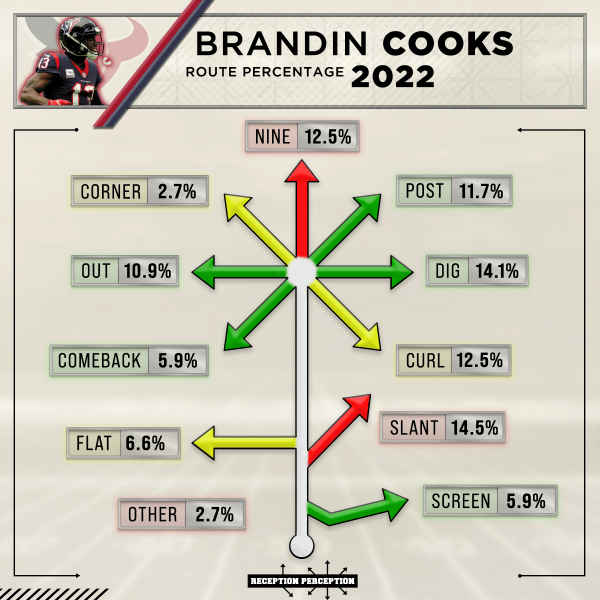 As Matt Harmon points out in Cooks' Reception Perception profile, his ability to separate on quick-breaking intermediate routes combined with his deep-ball prowess sets up perfectly as a complement to Lamb. Entering his age-30 season, Cooks has an opportunity to boost his own fantasy standing while elevating the entire Dallas passing attack.
How
Brandin Cooks

Fits into the

Cowboys

' Offense

Before analyzing player roles within the Dallas offense, it's important to recall that the Cowboys will be without offensive coordinator Kellen Moore for the first time in five years. Head coach Mike McCarthy will call plays in 2023. At the NFL Combine, McCarthy stated that Moore wanted to "light up the scoreboard" and that he wants to "run the damn ball."

On the surface, this might be discouraging to anyone betting on the Dallas passing attack but it may just be lip service to old-school owner Jerry Jones. Dallas already ranked 25th in passing rate over expectation in 2022 while running the ball at the third-highest rate on first down—they can't get much more run-heavy. What they lacked in passing rate, they made up for in efficiency, finishing 2022 ninth in pass EPA per play. When McCarthy called plays in Green Bay, his offenses finished outside the top 20 in neutral passing rate just once from 2006–2018, with an average finish of 10th in neutral passing rate—of course, this was with Aaron Rodgers throwing the ball.

However run-heavy you expect McCarthy to be, Cooks will immediately have the opportunity for adequate volume. Only eight teams have more vacated targets than Dallas and they officially lost their number-two pass-catcher from 2022 after Dalton Schultz—who commanded a 17% target share last season—signed with Houston. It's unclear how good Michael Gallup can be after struggling in his return from a torn ACL last season but we know that Cooks can still handle substantial target volume.

Cooks led the Texans with a 17.3% target share in 2022 but he missed four games—extrapolated over a full season, his 7.2 targets per game would have translated into 23% of team targets. It is a long shot for Cooks to maintain that kind of target share. Lamb is one of the best receivers in the league and will dominate targets as he did last season with nearly 30% of the Cowboys' throws going his way. Meanwhile, only one pair of teammates exceeded a 23% target share last season.

After Lamb, however, Cooks' only obvious competition for targets is Gallup and Tony Pollard. It's reasonable to pencil Cooks in for 6–7 targets a game and even more if Gallup struggles in 2023.
Projecting the
Cowboys

' Passing Attack in Fantasy Football

We know that CeeDee Lamb is going to get his—he is 4for4's WR7 overall and the WR8 off the board in early best ball drafts. Given this offense's high-value passing game and Cooks' big-play ability, Cooks should comfortably slot in as a starting fantasy receiver in 3-WR leagues and will border on starter/flex play in 2-WR setups. There will be potential for week-winning output from Cooks and if Lamb were to miss any time, Cooks would have the opportunity to return WR1 value for the first time since donning a Saints uniform.

In the week prior to the trade, Cooks was going off draft boards as the WR47 while ranked as the WR46 at 4for4. He could move up more than a round after this trade and still offer value.

As for the other pass-catchers, Gallup takes the biggest hit from Cooks' arrival. Appearing in 14 games last season post-ACL surgery, Gallup amassed just 424 yards and was arguably the fourth-best pass-catcher on the team, struggling to outperform Schultz and Noah Brown and even losing targets to T.Y. Hilton late in the year. Currently the WR70 in Never-Too-Early Rankings, Gallup is closer to a final-round flier than an upside pick in Rounds 12–13.

Prescott could be the biggest fantasy winner here. After finishing as the QB13 in fantasy points per game last season, Prescott now has a reliable number two receiver and won't be forced to turn around and hand Ezekial Elliott the ball this year. For Dak to crack the elite fantasy quarterback ranks, he would need to have an outlier touchdown season but for those that miss out on a quarterback in the early rounds, Dak may now be one of the safer bets at his position.

The Bottom Line
Brandin Cooks has been one of the most consistent producers at wide receiver, regardless of which team he is on. Once just a deep threat, Cooks has refined his game and can dominate on many intermediate routes.
Cooks' fantasy production dipped with poor quarterback play in recent years, even as his team's WR1. Now the clear number two option, Cooks can still see a boost in output given the Cowboys' high-efficiency passing attack.
With a high number of vacated targets and little target competition beyond CeeDee Lamb, Cooks and Lamb could form one of the more concentrated passing attacks in football. As the WR47 in Underdog drafts, Cooks is a value as long as he is being drafted outside the WR3 ranks. Lamb is still a WR1.
Michael Gallup takes the biggest fantasy hit with Cooks' arrival. Gallup struggled in his first season back from ACL surgery and could be fourth in line for targets behind Lamb, Cooks, and Tony Pollard.
Dak Prescott returned fringe QB1 fantasy numbers in 2023 and is being drafted as such in 2023. With a solid second pass-catcher in Cooks, Prescott could build on his team's passing efficiency from last season and become an every-week starter, even if he doesn't enter the elite ranks.
As the QB10 in ADP, Dak is an ideal option for drafters that miss out on the elite tier of quarterbacks. He can be the QB2 in best ball builds that already have a stud quarterback or can anchor a mid-to-late-round QB strategy.