Fantasy Football: The Case For Roschon Johnson As The Bears RB1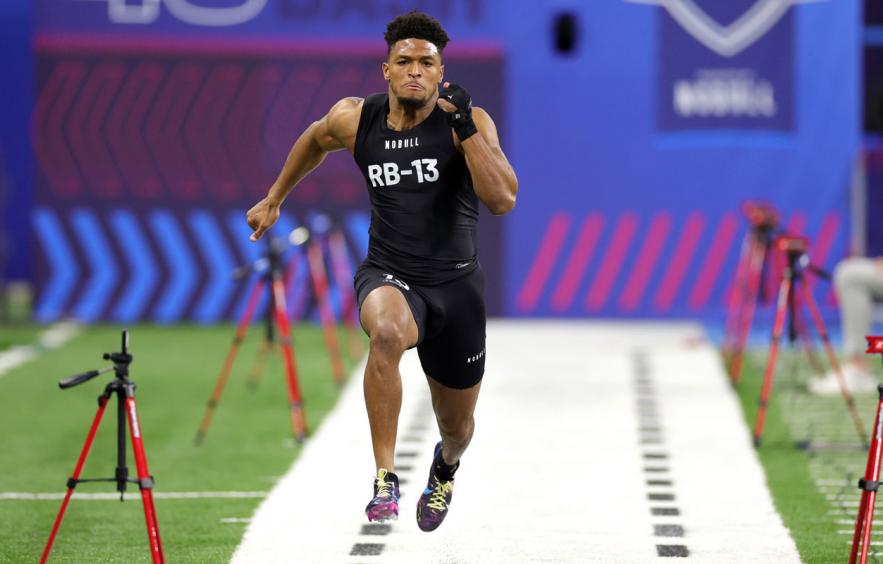 Stacy Revere/Getty Images
The Bears used the 13th pick in the fourth round, 115 overall, on University of Texas running back Roschon Johnson. When your college teammate is lauded as the top running back prospect since Saquon Barkley or Adrian Peterson, it's difficult to stand out and make a name for yourself. Despite that, Johnson carved out a role in the Longhorns' offense and flashed a three-down skill set that will likely lead to more pro production than we saw in college.
---
Click here for more 2023 Player Profiles!
---
Roschon Johnson

As A Prospect

At 6-foot-2, 223 pounds, Johnson didn't blow the doors off the combine with his raw athletic traits. Nonetheless, his tape is excellent. There's also a strong possibility that the running back room at the University of Texas will be the best that Johnson is ever a part of, and playing behind Bijan Robinson lightened the tread on Johnson's tires as he heads to the NFL.

According to PFF, Johnson's 45% forced missed tackle rate over the last two years leads all running backs in the country with at least 190 attempts. Last season, he averaged 4.28 yards per carry after contact, which ranked eighth in the nation. He averaged at least 5.2 yards per carry in college, and 71.86% of his career rushing yards came after contact. Given his frame, it's not surprising that he's capable of running over defenders, but he's also equipped to make them miss. PFF's Elusive Score measures the success and impact of a runner with the ball independently of the blocking. Johnson's score of 198 ranked third in the country last season, and you can see the strength and wiggle on this run.
How many weeks until Roschon Johnson takes over in Chicago?



Great landing spot. pic.twitter.com/qFnZRGM8o7

— TheOGfantasyfootball (@TheOGfantasy) April 30, 2023
Roschon Johnson

's Role With The

Bears

The Bears let David Montgomery walk in free agency, opening up room for someone to emerge as Chicago's lead back. Incumbent Khalil Herbert has flashed when given the opportunity, but this new regime in Chicago isn't married to him, and their actions this offseason have indicated that. He missed time with a hip injury last season, but a sixth-round pick made by a different front office and coaching staff has a very light grip on the top spot. What was interesting to me is that Herbert performed very well in the featured role in Weeks 3 and 4 last season when David Montgomery was out, but when Montgomery returned in Week 5, he out-touched Herbert 16 to 4, relegating Herbert to his change-of-pace role.

The Bears gave D'Onta Foreman a cheap one-year deal coming off a 203-carry season in Carolina, where he totaled 914 yards on the ground. He was used sparingly in the passing game, so the ceiling for Foreman is as an early-downs chain mover, and that's probably a bit generous now that Roschon Johnson is in town.

It's easy to pencil Khalil Herbert in on obvious passing downs, but he's been an inefficient option out of the backfield in both 2021 and 2022. Roschon Johnson shouldn't be confused with Austin Ekeler, but he's shown improvements as a receiver each year at Texas, but his ability and willingness to pass protect are why I think Johnson has a path to a three-down role. Listen To ESPN's Louis Riddick talk about Johnson here after the Bears selected him.
Louis Riddick on Roschon Johnson in pass pro. 🐻🔥 pic.twitter.com/1SkXaD0LkU

— Matt Clapp (@DaBearNecess) April 29, 2023
It's all over his game films.
Roschon Johnson is a really good pass protector. Should help him see the field early as a rookie #Bears pic.twitter.com/tONDpfTkgl

— Chicago Football Connection (@CFCBears) April 29, 2023
How To Draft The
Bears

Running Backs In Fantasy

The Bears were dead-last in pass rate over expectation last season, and while I think we might see them throw a bit more often, I still expect this team to run the football. The dirty little secret here is the Chicago offensive line is a top-five run-blocking unit. They ranked fifth in ESPN's run block win rate last season, and the first-round selection of Darnell Wright only adds to that equation. Wright's playing style is described as "mean" and "nasty." One scout said, "he plays with bad intentions," which is an incredible compliment for any offensive lineman. Adding Wright allows Teven Jenkins to remain at guard, and former Titans' guard Nate Davis, who ranked 11th out of 55 guards in PFF's run block grade last season, was signed early in free agency.

Yes, Justin Fields impacts the ceiling of all three of these running backs because we know running back targets are impacted by scrambling quarterbacks. Nonetheless, David Montgomery posted a top-25 season last year despite missing almost three full games. He handled 14.4 touches per game compared to 11.3 for Herbert, who saw 20+ in both of his starts in place of Montgomery. Early ADP on Underdog shows Herbert (RB35) is the preferred option, with Johnson (RB44) and Foreman (RB45) lurking behind in the 9th and 10th rounds. I'm of the mindset that when a team shows you that they don't trust a running back, in this case, Herbert, believe them. Johnson could provide a David Montgomery-like season at a fraction of the cost.
Bottom Line
The Bears have an open competition at the running back position, and Roschon Johnson possesses the best three-down skill set of any of the backs on the roster. All three backs present value as current RB4/5s on Underdog, but Johnson could provide a David Montgomery-like season two rounds later than Herbert.
Johnson is a big-bodied back who produced not only the country's best forced missed tackle rate but also elite elusiveness despite being 6-foot-2 and 223 pounds.
Johnson's skills and willingness to pass protect opens the door for him to get on the field and stay there.
The Bears' offensive line is better than you think, especially when it comes to run blocking, and it got significantly better this offseason.