Analzying 13 IDP Free Agent Landing Spots For 2023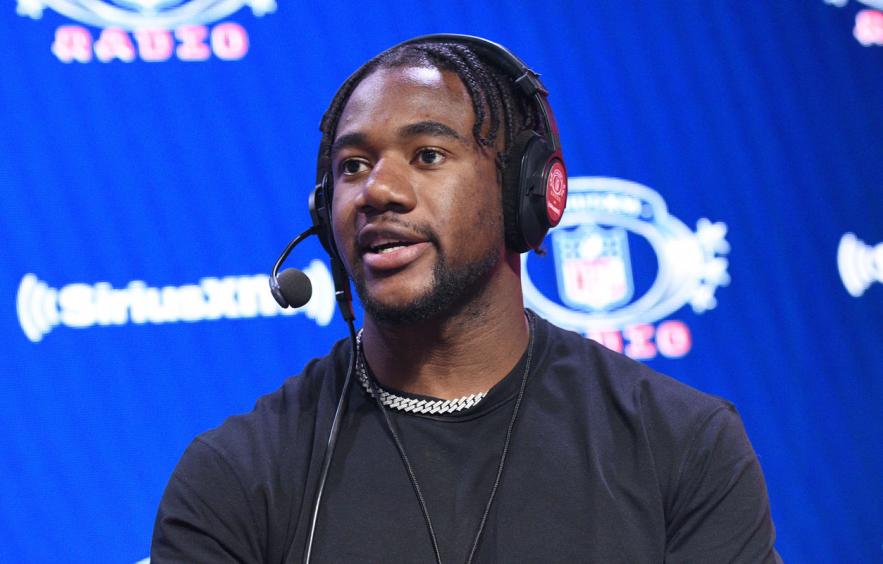 Vivien Killilea/Getty Images
This has been quite the free agent period for IDPers. There were some significant signings that should impact these defenders heading into the 2023 season. Here are the key free-agent landing spots from the 2023 signing period.
---
Keep up with the 4for4 2023 Free Agency Tracker!
---
Linebackers
Bobby Okereke, LB, New York
Giants
The writing was on the wall that Bobby Okereke wasn't going to return to Indianapolis. When Darius Leonard returned from injury, it was Okereke who came out in 2-LB packages, leaving Leonard and Zaire Franklin on the field. Leonard's missed season enabled Okereke to get some play on tape.
Okereke ended up appearing on 968 snaps (85% snap share) and put together a solid season against the run and in coverage. He notched six tackles-for-loss and had an average depth of tackle of 2.2 yards, so ball carriers in his path were barely getting past the LOS.
Here, he doesn't get lost in traffic or lose track of the ball carrier, as he makes his play near the endzone:
I'm not sure why Indy didn't want him back, as he really turned into a decent off-ball LB and is more than capable of handling coverage responsibilities and stopping the run. Okereke received 79.3 run defense and 67.4 coverage grades from PFF. He'll fit in Wink Martindale's aggressive scheme, as Okereke does have good ball skills. He's better in zone coverage schemes and does a good job diagnosing plays and how they develop toward him. He did well in man last season, as well.
In this play, he reads Daniel Jones and quickly drops into coverage, barely missing on an INT:
As far as a landing spot goes, this is probably the best possible for Okereke. The Giants have had major issues at linebacker over the last few years, and that's with Blake Martinez. They've cycled through Martinez, Tae Crowder, and Jarrad Davis.
Since taking over a three-down role in 2021, Okereke's IDP production has been solid, thanks to his volume. He's recorded a 13.9% tackle rate and a 9.2% solo tackle rate. He has virtually no barriers to competition and should take on a full-time role in Martindale's defense. Will he call the plays? Probably not, as I still think Xavier McKinney will continue that role, but Okereke is locked in as a three-down LB.
Tremaine Edmunds/TJ Edwards, LB, Chicago
Bears
The Bears went into free agency with the expectation they were going to spend money on offensive weapons as if they were the federal government. Justin Fields got a new weapon in D.J. Moore and was asking for more. Well, queue the Pawn Stars meme.
The Bears to Justin Fields:
The biggest surprise is the difference in contract terms between TJ Edwards and Tremain Edmunds. Edmunds received four years and $50 million in guaranteed money while Edwards got three years and just $7.9 million in guarantees.
The contracts won't determine production—as always, it's the snap volume. Both of these LBs have track records of production, but it seems Edwards is on the way up, while Edmunds is on the decline (and he's just 24).
Edmunds has been a three-down LB and play-caller since arriving in Buffalo. In his rookie year, he recorded 121 tackles and a 13.1% tackle rate. Since his rookie year, he hasn't hit that mark and that's with the added game last season. He's dealt with various injuries and has recorded a 12.8% tackle rate over the last two seasons.
Edwards' ascension to a full-time player has been a slow burn. In his rookie year, Edwards saw just 11% of the snaps. During his 2020/2021 campaigns, he played a total of 1,175 snaps and recorded a 17.9% tackle rate. In 2021, he reclaimed a full-time role to the delight of his IDP loyalists and in 2022, earned the green dot and three-down role, resulting in a career-high 159 tackles.
Both of these guys are full-time off-ball LBs and I'm expecting them to get all the volume. The Bears were 2-LB heavy in 2022, deploying 2-LB packages just over 60% of their snaps. While the Bears deployed 3-LB packages higher than the average (30%), it's a hit to Jack Sanborn's IDP value heading into 2023, as he won't see the field as often. Matt Eberflus is set in his ways.
Edmunds's length helps him in coverage and his range is disruptive for opposing QBs. Edwards can also play any alignment at the linebacker position thanks to his instincts.
I project Edmunds to call the plays for Eberflus' defense, but I'm targeting Edwards as the LB1 here. Both Edwards and Edmunds are solid coverage LBs, but Edwards is the better run defender. Edmunds' potential volume puts him in the running for an LB3. Neither will be leaving the field on Sundays.
David Long, LB, Miami
Dolphins
The Dolphins shored up their LB group with the addition of David Long, a very underrated off-ball LB for the Titans. The addition of Long might have given an indication of their belief in Jerome Baker and Channing Tindall. It also adds a solid player to the mix with Elandon Roberts heading to Pittsburgh.
Long signs a friendly two-year deal worth $11 million with no guarantees. The four-year veteran has been nicked with injuries over his career and has yet to play more than 14 games in a season. He's been average on the field but has been a solid pass-rusher as an inside linebacker, producing a 24% pressure rate over 146 career pass-rush snaps earning an 80.1 pass-rush grade from PFF.
He did see his role increase over his time with the Titans. He flashed good instincts and is capable of finding the football in traffic. He's athletic and is a multi-faceted LB who can contribute in all areas. I think he'll fit into Vic Fangio's scheme, as he requires his front four to control gaps and push the pocket. Long is quick off the snap and shoots gaps and the edge.
I love this play here. He shows no hesitation and attacks the gap and stuffs the running back:
From an IDP standpoint, when on the field, he's been productive. That's the caveat here—when on the field. Over the last two seasons, he's been on the field for an average of 91% of the snaps when active. He missed the final five games of 2022 with a hamstring injury but was producing an 11.6% tackle rate up to that point. He's going to help shore up the run defense, as he was awarded an 89 grade against the run according to PFF.
Fangio comes in as the new DC and should have no personal favorites or biases. You need to throw out what Miami deployed as their base defense last year. As far as the three-down role or play-caller, I do think that's up in the air and there will be a decision to make as to who Fangio thinks will best fit the role. I don't see Baker as a truly good fit under Fangio's system and I'm targeting David Long as the LB to own in Miami. It's a decent landing spot. As far as Tindall goes, he admitted struggling with the playbook. On the surface, Tindall fits the mold of a Fangio LB, so we'll see if he can take that second-year leap. If I'm targeting the Dolphins LB2, I'll take Tindall's upside.
Drue Tranquill, LB, Kansas City
Chiefs
Drue Tranquill enjoyed his best season since joining the Chargers. He was healthy and played in all 17 games in 2022, appearing in 978 snaps as the play-caller. How was he rewarded?
Tranquill signed a one-year deal with the Chiefs worth up to $5 million after recording a career-high 146 tackles and a 14.9% tackle rate. He even recorded 95 solo stops. I think the NFL saw what the rest of us saw: a solid coverage LB who struggled against the run and tackled poorly. Tranquill missed just 11 tackles in his first three seasons but went on to miss 25 in 2022, resulting in a miss in every six attempts.
It's been said that Kansas City is where LBs go to die, and I think that's true for Tranquill's IDP value in 2023. Steve Spagnuolo deployed 2-LB packages just over 55% of the total snaps and single-LB packages 20% of the time. They also deployed 3-LB packages more than the NFL average at 22% of the time. Nick Bolton has established himself as the alpha here and Tranquill's contract isn't going to change that.
Spagnuolo might like Tranquill's pass-rush ability and utilize that more often. Tranquill was deployed on 70 total pass-rush snaps (including playoffs) and produced a 21.4% pressure rate, resulting in five total sacks and three QB hits.
I don't like the spot for Tranquill and I think it will negatively impact Willie Gay and second-year LB, Leo Chenal. Gay was KC's LB2 opposite Bolton and played just 69% of the total snaps, and had just three games as a full-time LB where he played more than 80% of the snaps. This is not a good spot for Tranquill, and I'm letting my league-mates pay for last season's numbers.
Cole Holcomb, LB, Pittsburgh
Steelers
The Steelers' cupboard is bare when it comes to linebackers. Myles Jack hasn't re-signed, and they've lost Robert Spillane to the Raiders and Devin Bush to the Seahawks. I really like the Cole Holcomb signing here.
Holcomb appeared in 2,740 career snaps for Washington and became a full-time LB during the 2021 season, where he saw over 1,000 defensive snaps. A foot injury caused Holcomb to miss some time and ended up seeing just 420 snaps over seven games. He underwent surgery in December but is expected to be good to for 2023.
During his time in Washington, he was the leader and play-caller, even with the first-round selection of Jamin Davis in 2021. He didn't do anything special but was a steady presence on defense.
He recorded over 100 tackles in his rookie year despite playing just 63% of the snaps and recorded a 14.6% tackle rate with six tackles for loss in 16 games. From an IDP standpoint, he enjoyed his best season in 2021, recording 142 tackles, a sack, and two INTs. He'd finish with a 13.9% tackle rate on over 1,000 defensive snaps.
What will Holcomb bring to Pittsburgh? An off-ball LB capable of playing all three downs. He's an instinctive and intelligent player and consistently finds the ball. He's not afraid to mix things up, like this play on Derrick Henry:
He also can shed blockers to get to the ball. He's able to disengage from #78 and help make the play on Henry:
He's fluid in coverage. He's not tight and is smooth in his change of direction. In this play, he recognizes the pass and quickly drops into coverage, which aids the defense in getting the sack:
Holcomb enters an empty LB room with a clear path to volume and, potentially, the wearer of the green dot. He doesn't wait for the ball and has a nasty streak that should mesh well with a Mike Tomlin coached team. I'm targeting him as an LB1 in all league formats this season.
Cody Barton, LB, Washington
Commanders
If you followed my work here and on Twitter, you know my love for Cody Barton last season knew no bounds. We had quite the ride in 2022. I was quite surprised to see Barton land with the Commanders and thought he'd be back with Seattle considering the torn ACL suffered by Jordyn Brooks was late in the season.
Barton entered the 2022 season with very few barriers to volume. Bobby Wagner was no longer in town, so the biggest roadblock was removed. From an IDP perspective, he got off to a great start. He recorded 21 tackles and a 15.6% tackle rate. He appeared in 95% of the snaps in those two games. The grades told a different story, however.
After having a three-down role over the first three weeks, his usage plummeted to 62% of the snaps in Week 4. The Seahawks went single-LB packages 11% higher than the NFL average because of the deficiencies at LB.
From Week 10 on, he appeared in fewer than 80% of the snaps just once. Over that timeframe, Barton recorded 74 tackles, resulting in a 15.9% tackle rate. His PFF grades improved, as well. Through Week 10, he had four games in the oranage/red zone (50 or worse). After Week 10, he had one such game and it was the wild card game.
He's a solid tackler, although sometimes it looks as if he's in mud. Here he makes a solid play on Javonte Williams out of the backfield:
Barton cleared the 100-tackle mark (136) and finished with a 15.2% tackle rate. Barton says he feels comfortable at MIKE, where he can call the plays and direct traffic. He played well in that role in the final two games of the 2021 season.
He lands with Washington with a clear path to that role. Have the Commanders seen all that they need to see out of Jamin Davis? During his meetings, Barton said they believe they have their Cole Holcomb replacement. Now, that remains to be seen, but I'll be buying Barton again in 2023. The Commanders ran single-LB packages at a higher rate than the rest of the league, so I'm projecting Barton to be the three-down LB and Davis coming off the field in those DIME or big nickel packages. I'll be eyeing Barton like a hawk once again.
Eric Kendricks, LB, Los Angeles
Chargers
The Vikings decided to move on from long-time off-ball LB, Eric Kendricks, on March 6. Now, he is on the other side of 30 but shows no real signs of slowing down. Kendricks has been about as reliable and durable a football as you can get and is coming off back-to-back 1,000+ snap seasons.
Even though the Vikings' window for contention is open, this was a salary cap move. They also feel Brian Asamoah is ready to go. The Chargers are in win-now mode and feel Kendricks is one of those pieces who can help solidify their defense. With Drue Tranquill headed to rival KC, this signifies the end of the Kenneth Murray experiment as a full-time LB.
Kendricks enjoyed eight productive seasons with the Vikings, and last season was tabbed the signal caller. He's recorded eight consecutive seasons of 100-plus tackles, including back-to-back 135-plus tackles.
Kendricks fits the mold of a Brandon Staley football player—leadership, experience, and playmaking ability. The Chargers' defense is a primary 2-LB deployment and nickel defense. Staley deployed 2-LB packages just under the league average but used single-LB higher than the league average. Murray ended up appearing in 69% of the snaps, so I expect his role to remain the same.
The Chargers lost their signal caller, so we'll see who's tabbed with that role. Derwin James has the experience and knows the defense, so it wouldn't shock me to see James with the dot, but Kendricks is going to be a full-time off-ball LB. I've got Kendricks as a borderline LB1 and will be among my top-15 IDP linebackers in 2023.
Kaden Ellis, LB, Atlanta
Falcons
The Falcons scooped up a Saints defender in Kaden Ellis. Ellis enjoyed a solid season, thanks to unforeseen volume due to a Pete Werner injury.
Ellis ended up appearing in all 17 games and appeared in 56% of the snaps. Over the course of the first nine games, Ellis was as close to a full-time LB as you can get. He appeared in fewer than 80% of the snaps four times.
I think Atlanta is keying in on his pass-rush prowess, something they've lacked. Ellis earned a 75.8 pass-rush grade from PFF. Ellis would have led the Falcons with sacks in 2022 (7) and it would have made up 33% of the team's total. Ellis finished the season with a 19.4% pressure rate.
Here's one of his sacks, as he quickly gets off the edge:
I'm a bit lukewarm here. I like that was reunited with his DC from New Orleans, Ryan Nielsen. Nielsen knows exactly how to use him. What will be the defensive alignment? How does his path to snaps look? Rashaan Evans is still an FA, and Mykal Walker has one year left on his deal.
If Nielsen brings his 43 base principles, Ellis should be more of an off-ball LB. I don't expect them to use a 34 base, but he could be deployed as an edge rusher to take advantage of his blitzing. If the Falcons go back to 43 principles, this fits Ellis as the Saints deployed 3-LB at a higher rate than any team in the league, but still used 2-LB packages and nickel primarily. I'm not sure I'd overpay for Ellis this season. If he lands to you as depth as an LB4/5, I'm fine with that.
Defensive Line
Ogbonnia Okoronkwo, DE, Cleveland
Browns
The Browns are in need of pass-rush help on the edge. The Browns are likely not bringing back Jadeveon Clowney and the loss of Chase Winovich is no big deal. There are still some decent options, but I think Cleveland did well adding Ogbonnia Okoronkwo.
After spending three seasons with the Rams, he ended up signing with Houston before the 2021 season. He took advantage of the volume he received with his new role on the edge in Houston's defense. He ended up grading as their best defensive player according to PFF.
Okoronkwo saw a career-high in pass-rush usage (268 snaps) and pressures (36). He ended up generating a 13.4% pressure rate and 25.2% win rate; meaning he was beating his blockers in fewer than 2.5 seconds.
Here's one of his sacks, as he breaks off the block, gets underneath, and causes Dak Prescott to do...God knows what.
Here, Okoronkwo uses a nice spin to get off the block:
His pass-rush metrics will be something new DC Jim Schwartz will take advantage of. He'll slot in as Myles Garrett's new pass-rush partner in crime. He doesn't have the size to be a true full-time edge, and I'm sure they'll continue to use Alex Wright. Okoronkwo has some experience as an outside linebacker, and Wright has the size to move inside. Okoronkwo is going to win his individual matchups with Garrett continuing to draw more attention, so he's going to take advantage of his quick twitch.
Marcus Davenport, DE, Minnesota
Vikings
Marcus Davenport's reputation and production were always going to be unfairly judged because of his draft capital. Davenport has the pass-rush ability, but it was availability that was always in question.
Over his first five seasons, he appeared in more than 15 games once and that was last season. Although he established a career-high in games, he saw just 50% of the snaps. His 12% pressure rate and total pressures were his lowest since his rookie year. So, maybe it was time for New Orleans to move on and allow Davenport a change of scenery.
Davenport is a multi-faceted end who can play on both sides of the line, something Mike Smith, current OLB/pass rush coach, will take advantage of. Although Davenport is primarily a right end, they'll move him around and take advantage of mismatches when they present themselves.
So with Davenport moving to Minnesota, he could get the designation switch from DE to LB. Davenport has a good move set, especially his rip move.
He's not bendy, but has a solid dip and rip move and knows how to use his hands with his swim move:
As long as Davenport remains a DE, I think his IDP value remains intact this season. If he gets the LB tag, he'll be useful in leagues that use true-position or edge designations.
Dre'Mont Jones, DE, Seattle
Seahawks
Dre'Mont Jones took advantage of his contract year and landed a big one with the Seahawks, signing a three-year deal worth up to $51 million, just behind Javon Hargrave's $84 million deal with the 49ers.
Seattle needed help desperately on the interior. Poona Ford is also a free agent, and they released Shelby Harris and Quinton Jefferson. Volume was all but guaranteed with this landing spot.
Jones is coming off a career-high in pressures (45) and tied for a career-high in sacks (6.5). He finished with a 10% pressure rate and 19.6% win rate, solid numbers from an interior defender.
Jones is a solid scheme fit with Seattle, as he could be playing a big end-type role in their 34 front. He can use his power to just bullrush blockers and he's athletic enough to be elusive. His potential volume has him in line to be a solid DL2 with this landing spot.

Defensive Backs
Jessie Bates, S, Atlanta
Falcons
The free agent market for DBs has been quiet. Jessie Bates signed the big contract with the Falcons. Bates' addition gives Ryan Nielsen some flexibility in how he deploys his coverage schemes. Bates has speed and makes plays from the free safety spot, but can also get his nose into the mix in playing up near the line of scrimmage.
He might be more big-play-dependent going into Atlanta's scheme. After recording 100 or more tackles in his first three seasons, he's failed to go over that mark in two straight years. He's still going to be a three-down player, no doubt, but I don't think I'm willing to pay the high price his name commands. I think this signing will help Richie Grant, as this allows Grany to play up near the line of scrimmage and get more involved against the run.
Vonn Bell, S, Carolina
Panthers
I don't like the spot for Bell. They get a solid veteran leader who can cover, but from an IDP standpoint, it looks as if he'll be moving deep in Carolina's defense. Over the last three seasons, Bell's LOS and box usage had been on the decline, and it's resulted in lower tackle numbers.
He played just 56% of the snaps up near the LOS and 39% in the box which led to his lowest tackle output since his 2017 season in New Orleans.
Vonn Bell's Three-Year Usage and Production

| Year | LOS Usage | Box Usage | Tackles |
| --- | --- | --- | --- |
| 2020 | 78% | 48% | 114 |
| 2021 | 63% | 40% | 97 |
| 2022 | 56% | 39% | 77 |
The addition of Bell, allows Ejiro Evero to move Jeremy Chinn closer to the line of scrimmage and play up in the box more often. Something GM Scott Fitterer has also mentioned. The duo of Chinn and Xavier Woods combined for zero INTs while Bell is coming off a career-high (4). He can be a playmaking threat deep, which diminishes Bell's IDP value.
Evero typically uses a traditional slot, as opposed to deploying a safety in that role. He primarily used a two-safety system with Denver, which I expect him to utilize in Carolina. I'm probably avoiding Bell in IDP leagues and targeting Chinn.