Week 2 DraftKings & FanDuel Winning GPP Lineup Review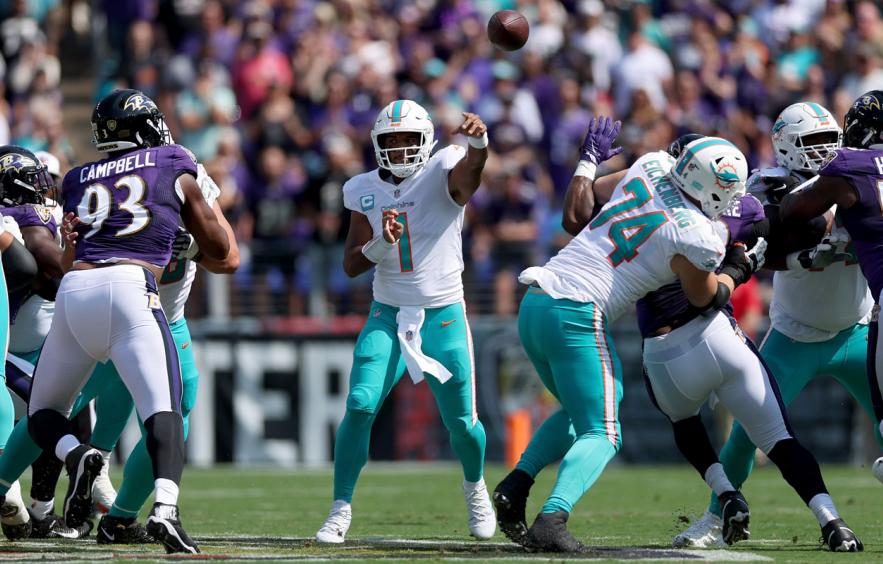 Patrick Smith/Getty Images
In this space each week, I will review the winning lineups from the DraftKings Millionaire Maker and the FanDuel Sunday Million. Analyzing top lineups can help to tease out lineup-building strategies and offer clues on how you could have landed on a similar team.
DraftKings Week 2 Millionaire Winning Lineup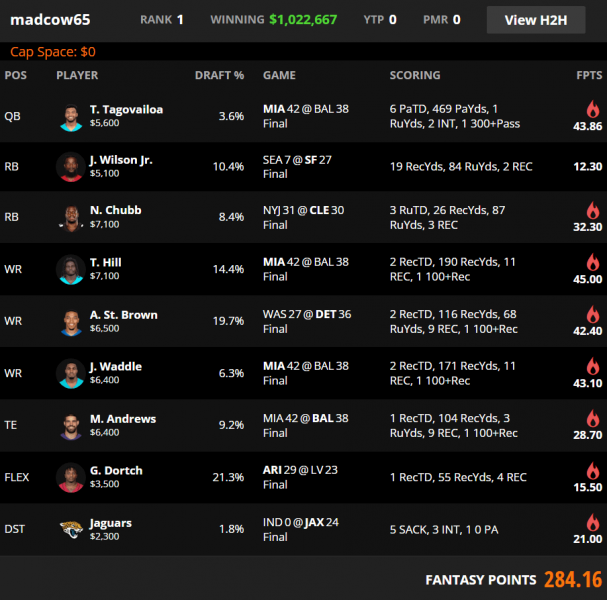 Ownership
One of the keys to succeeding in DraftKings GPPs in Week 2 was fading the massive chalk—Saquon Barkley, Davante Adams, and the Bengals defense all showed up in over a third of Millionaire lineups with Barkley on 43% of rosters but none reached 12 points, with Cincinnati defense mustering just four DK points.
The winning Millionaire lineup had a cumulative ownership percentage of 95.1%, just slightly below the average ownership of winning Millionaire lineups in 2021. While this lineup wasn't overly contrarian, it was unique in that it used cour chalky pass-catchers, including three wide receivers with ownership above 14%. Only two Millionaire winners in 2021 rostered three such receivers.
Stacks
This lineup didn't use any secondary stacks or mini-correlations but did use four players from the Miami-Baltimore shootout. There isn't a one-size-fits-all answer to how many players you should stack from one game but a rough rule of thumb is the larger the field, the fewer big game stacks I will have and vice versa.
Recall though that in Week 2 there was only one game with a game total of at least 50 and nine of the 12 games on the main slate had a total of 46 or lower. With many of the elite quarterbacks off the slate, if a game caught fire, it was going to have a good chance of lapping the field. This is especially true when both of those offenses have super-concentrated target shares, which has been the case for the Ravens for years and we are learning that is the situation between Jaylen Wadle and Tyreek Hill.
Flex
In 2021, the long-held assumption that wide receivers had more upside as flex plays in DraftKings tournaments was challenged when seven winners used a third running back and two more winners used a tight end in the flex. Early in 2022, the sharp money has been on four wide receivers, including the Week 2 winner.
Through the first two weeks, the field has flexed a receiver in 55.5% of lineups, on average, while top-1% lineups have done so 71% of the time. This could be a function of the most popular running backs being too expensive to justify three at the position but it is a trend worth watching as the season progresses.
Every week is different, so don't blindly throw four receivers in every lineup and your strategy should vary depending on salaries, matchups, and ownership in a given week.
Leverage
There wasn't a lot of in-game leverage used in this lineup but price pivots and salary allocation helped this roster separate from the field. Nick Chubb—who was mentioned as a contrarian play in this week's GPP breakdown alongside Jeff Wilson—was priced almost exactly as Saquon Barkley while the Jaguars were a pivot off of the chalky Bengals.
Avoiding a stars-and-scrubs build added a unique layer to the winning lineup with five players priced at $8,000 or higher carrying double-digit ownership.

FanDuel Week 2 Sunday Million Winning Lineup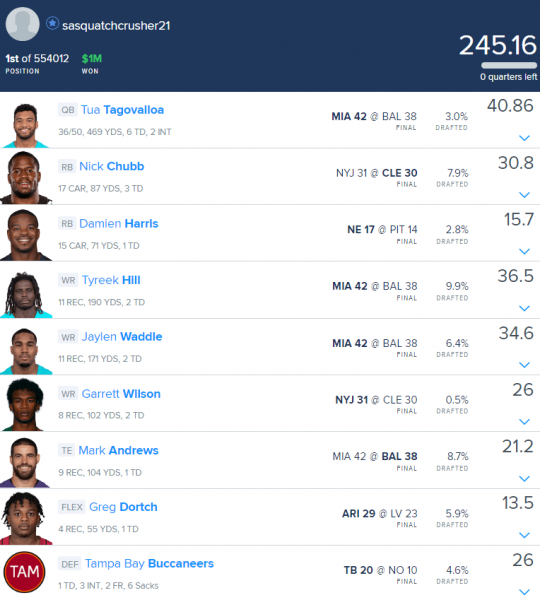 Ownership
Carrying cumulative ownership of 49.7%, this was easily the most contrarian Sunday Million winner in recent history. Since the beginning of 2019, this was just the fourth winner with cumulative ownership below 80% and the only one under 50%. No other winner in that span had a roster full of players under 10% ownership as this one did and this winner added another layer of uniqueness by leaving $1000 of salary on the table, just the second winner to do so since 2019.
Stacks
While 15 of 18 Sunday Million winners last season used multiple stacks, only a third of winners had at least six players correlated to at least one other player in the lineup. The Week 2 winner hit both stacking criteria, with a heavy Miami game stack as well as a running back-opposing wide receiver mini correlation.
Flex
Four wide receivers were used in the winning Sunday Million lineup after Week 1's winner used three running backs. This is on par with 2021 data where winners used running backs and wide receivers in the flex at an almost identical rate, save one winner who flexed a tight end.
Leverage
Both running backs in this lineup served as salary-swivel off of chalk players with Chubb as a pivot off of Barkley and Damien Harris priced near Darrell Henderson. Hunter Renfrow was the only wide receiver priced below $6,000 with a double-digit ownership projection so Garrett Wilson wasn't a heavy salary pivot but it was savvy to correlate a 0.5% player with Chubb.