SharpClarke's Best Week 2 NFL Bet: SEA @ SF Matchup Spotlight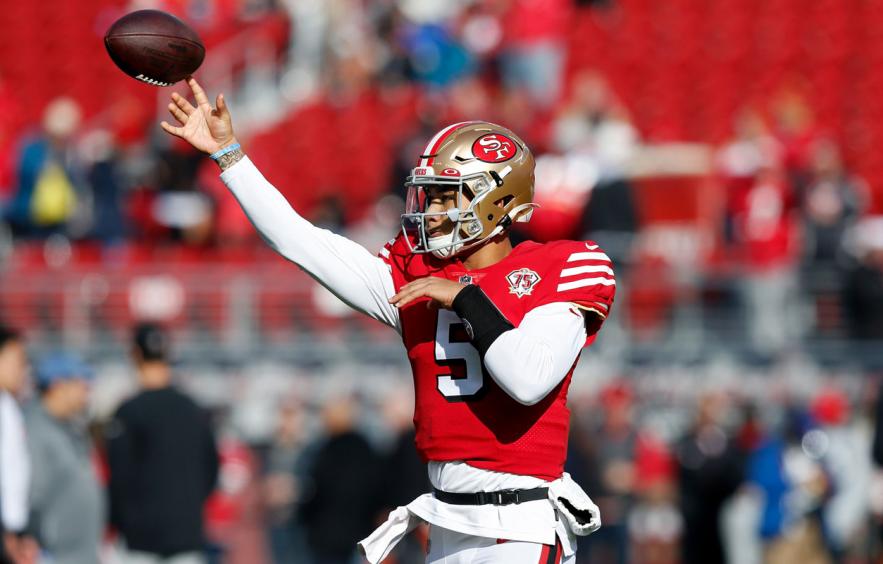 Lachlan Cunningham/Getty Images
This week's matchup spotlight takes us to a divisional battle between the Seahawks and 49ers in San Francisco. The 49ers lost an ugly game to Chicago in Week 1 on a swampy Soldier Field and will look to get back on track against what appears to be an inferior opponent in the Seahawks. But Seattle held serve (barely) on Monday Night Football and delivered an improbable victory against the Broncos and their former quarterback. Both teams offered up surprising results in Week 1, but the mainstream takeaways from both games are misleading after watching the film. That creates a betting opportunity.
---
More Betting Resources: Picks | Props | Total Odds Table | Prop Odds Table
---
My Numbers
San Francisco: 7th (Offense: 12th, Defense: 4th)
Seattle: 26th (Offense: 26th, Defense: 27th)
Baseline: SF -9.5, -381 Moneyline
Matchup Breakdown
SF Offense vs. SEA Defense
Opinions have been divided on Trey Lance all offseason. People love to argue, which creates entrenched opinions and stronger takes. On one hand, drafting a highly-talented prospect and putting them in an elite situation after taking a rookie year off has worked very well in the past, most recently with Patrick Mahomes. On the other hand, Lance showed very little in his limited action last year to demonstrate an ability to read and respond to NFL defenses. Given his lack of experience, this is a major red flag. But the 49ers opened the year with a very disappointing loss to the Bears in which they put up just 10 points. The anti-Lance contingent is already running victory laps.
Of course, that game happened in a swamp and points were going to be hard to come by. What I saw on film was actually encouraging. Despite putting up 10 points, they earned a 6.11 effectiveness rating, which was good for ninth-best in the NFL last week. And, importantly, I saw the 49ers' offensive philosophy on full display despite the conditions: They want to create opportunities for big plays downfield. It's why they moved on from an uber-efficient Jimmy Garoppolo. He wasn't able to capitalize on all the space created by the scheme and the weapons. Lance will have his misses, but he will have some big plays as well. The wet field not only limited these big plays but destroyed any yards after the catch opportunities. Regardless of the results, this is still an explosive offense.
Seattle's defense, on the other hand, was terrible against Denver. Their scheme was sound. They forced Russell Wilson into uncomfortable situations by taking away the big plays. But they didn't get pressure and they were susceptible to the run and underneath throws. They also blew some coverages, especially after Jamal Adams went down. Unlike the Broncos, the 49ers are built to capitalize against these softer defensive fronts. Their run game will force Seattle to approach the line, and that's when the explosive plays will come. The only thing Seattle did well against Denver was clog up the red zone. Wilson's strength—the deep ball—is completely negated down there and hindered their red-zone offense. But the 49ers are excellent in the red zone due to their varied run schemes and mobile quarterback. Even without Lance, the 49ers led the NFL in red-zone conversion rate last year. With Lance, it should be even easier because mobility at the quarterback position has a strong positive effect on red-zone efficiency.
The 49ers' offense might be inconsistent at times. But I expect big plays and red-zone touchdowns. That is the recipe for a lot of points.

SEA Offense vs. SF Defense
Can the Seahawks keep up? I don't know. Obviously, my numbers suggest they cannot. Week 1 saw a very impressive showing from Geno Smith and this offense. The truth is, I'm slow to adjust my team ratings after one week, especially given the circumstances. Seattle benefitted from an incredible home-field crowd on Monday night that led to penalties by Denver and smooth sailing for Seattle. When the game was tight in the second half, the offense started stalling out and almost gave the game away, so I kept my offensive rating low for Seattle.
I also saw some really encouraging things, though. Geno Smith is a very smart quarterback and his impact on the game was apparent from the first snap. I have long touted the importance of understanding offensive line play in the context of scheme and quarterback play, and Wilson has been hampering his offensive line for years by refusing to throw in rhythm and spending too long in the pocket. By contrast, Smith was calling out pressures, calling audibles to create better matchups, and reading pressure extremely well in the pocket. His pocket movement was elite. I think this whole offense will take a step forward with Smith at quarterback, even if Smith will never match Wilson's play-to-play upside.
The narrative from this game is that Denver deserved to win because they fumbled at the goal line twice. But that's a misleading takeaway. On the first fumble, Melvin Gordon was stopped anyway short of the goal line on fourth down. The fumble helped Seattle's field position a bit but it would have been Seattle's ball regardless. DK Metcalf then fumbled and gave the Broncos another chance. Skill player fumbles lack predictive value, and Metcalf's fumble is being ignored. On the Broncos' second fumble, Javonte Williams was stopped five yards short of the goal line on third-and-goal. It likely would have been a field goal anyway. The game was a tight battle and the Seahawks legitimately hung with the Broncos.
I expect a bit of a letdown for Seattle coming off that emotional game. But this should impact the defense more than the offense. The 49ers' secondary is beatable if the quarterback can escape pressure, and Seattle has excellent receivers. The Seahawks played with some pace and passed the ball a lot on Monday night. Many people are predicting a reversion to slow, run-heavy football. But their strategy worked; I don't see why they would go away from it. I expect this offense to remain competitive.
More Week 2 Bets from SharpClarke!
Prediction
I like the 49ers here, but I am not willing to lay more than a touchdown with Trey Lance at this point, especially against an underrated Seattle team. I do think they abuse the Seahawks with the run game and creative passing game to set up some splash plays and convert in the red zone. But Seattle will not go down easily and fight back with Geno Smith.
Final Score Prediction: SF 31, SEA 20
Market Evaluation
If it's not apparent yet, I'm targeting overs in this game. Interestingly, the game total has been bet down all the way to 41 at most books. It never feels good to bet against big market movements, and the move to 41 is significant. But I think the metrics driving this move are wrong. Both Week 1 games these teams played in were artificially low-scoring, and both of Trey Lance's rookie games involved a different playbook and game plan than typical 49ers games. There is also a strong anti-Lance contingent that wants to fade the 49ers offense right now, which has brought down the total and the spread since earlier in the week. Finally, weather concerns have damped the total here a little but I'm not too worried about a sprinkle of rain in San Francisco. I have to recognize these market pressures and trust that what I see on the field is right. It likely will not be going lower than 41, so now is the time to buy the over.
Best Bets
Over 40 or 40.5 (-110) - Widely available.
SF Over 24.5 points (-110) - Available on DraftKings and FanDuel
SEA Over 15.5 points (-112) - FanDuel
Alternate Over 50.5 (+295) - Available on DraftKings
If you enjoyed this matchup breakdown, you can access all my picks with detailed write-ups for every play with a 4for4.com Betting Subscription. Sign up using the Promo Code SharpClarke for 10% off and get every bet I make in real-time. For the most up-to-date picks check out my Twitter and subscribe to our Discord. This sheet from Dan Rivera tracks all my betting picks (and those from the rest of the betting staff) on the year. Just click on the tab with my name on it for the results.
---
This article is intended for entertainment purposes and adult users only. Call 1-800-GAMBLER if you have a gambling problem.