SharpClarke's Best Week 15 NFL Bet: DET @ NYJ Matchup Spotlight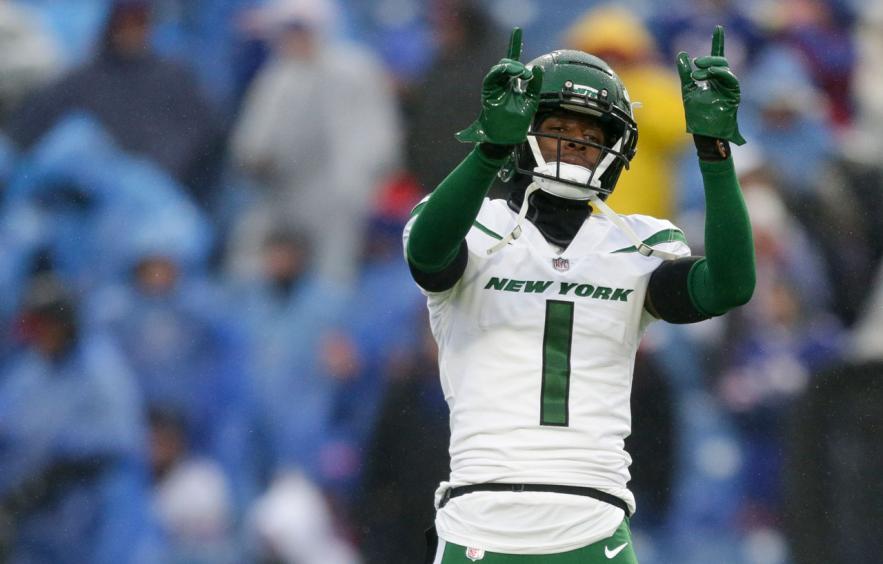 oshua Bessex/Getty Images
It's Week 15 and the Detroit Lions and New York Jets are playing a meaningful football game. That's a shocker. But these two upstart teams are trending in opposite directions. The Jets got off to a surprisingly hot start while shuffling quarterbacks, but have now lost three of their last four games and need every win they can get to have a shot at a playoff berth. Meanwhile, the Lions started the season 1-6 as they dealt with injury and inconsistency, but have won five of their last six games and made themselves at least marginally relevant in the NFC playoff picture. It's fairly safe to say that both teams must win this game to keep their playoff hopes alive. Let's dive in.
My Numbers
New York Jets: 20th (Offense: 26th, Defense: 6th)
Detroit Lions: 17th (Offense: 7th, Defense: 27th)
Baseline: NYJ -2

Matchup Breakdown
DET Offense vs. NYJ Defense
This side of the ball features strength against strength. The Lions' offense has been legitimately good for the last seven weeks, at least in terms of scoring output. I have been riding the wave, consistently betting on the Lions as Ben Johnson has figured out how to maximize Jared Goff's abilities in this offense. But looking a little closer, there is cause for tempered optimism. In five of those seven games, the Lions played at home. Goff has historically performed at a much higher level indoors than in the elements. In one of those two road games, the offense did not grade particularly well given that they were playing against one of the worst defenses in the NFL in the Bears. Their 31-point output was assisted by a pick-six and one touchdown drive that was kept alive after an interception was wiped off the board by penalty. They have also faced only one defense that would be considered good during that stretch when they hosted the Bills on Thanksgiving.
Now they go on the road, in the cold December New York weather, to face off against one of the toughest defenses in the NFL. The Jets can get pressure with just the front four, although if Quinnen Williams is unable to play that does provide some relief. But even without Williams, the Jets' secondary has good players all over the field, so the players do not need to overcommit to make plays. The Lions' have done particularly well when they can force defensive mistakes with misdirection, screens, and big plays. Those will be hard to come by here. In a game of strength vs. strength, the conditions set up well to give the Jets an advantage. The Lions' scheme is good enough to overcome some of these disadvantages if the offensive line can consistently win, but I ultimately would not want to be backing Goff to exceed expectations here. On one hand, this would be a huge opportunity for the Lions to show the world they belong in the upper tier of teams (and particularly, offenses). On the other, that outcome is not likely.
NYJ Offense vs. DET Defense
Note: Minutes before publishing, Mike White was unexpectedly ruled out. Revised thoughts below.
This side of the ball is pretty much the opposite, featuring weakness against weakness. I was skeptical of Mike White heading into the Bills game last week because he had only proven himself against bad defenses. But he showed last week that he is more than just a check-down machine. He was throwing aggressively past the sticks on third down, with accuracy. That was impressive. He still lacks mobility and creativity out of structure, but his superior play within structure (at least compared to Zach Wilson) is a massive boon for this strong receiving corps. Garrett Wilson and Elijah Moore, in particular, run crisp routes and are best utilized within the structure of the play. That's why White has provided such an upgrade to this offense. But White is still a below-average quarterback, perhaps even replacement-level. And Zonovan Knight has been playing well but is not an elite running back. There have been multiple plays where he left clear yards on the field.
The Lions' defense has been playing better in recent weeks. Part of that has been health and part of it has been young players improving, like Aidan Hutchinson. But, unfortunately, some of it has also been circumstantial. They faced off against a Vikings' offensive line missing two key starters last week. The week before that, Trevor Lawrence was hurt in-game and did not look like his usual self. We know Josh Allen has not been playing at 100% with his elbow injury, and the Giants' offense is not good. It would be premature to suggest this defense has figured everything out. Mike LaFleur should be able to scheme up ways to capitalize on the Lions' defensive weaknesses and control the clock on offense. The red zone might still be a struggle, but they should be able to at least move the ball.
Of course, if White is not actually healthy, that would be a big problem. White could be limited, or maybe even taken out of the game. Zach Wilson has shown no improvement in his processing and decision-making from his rookie year, bailing out of pockets too quickly and checking back throws within rhythm. He is actually a decent quarterback when he makes those decisive throws, so maybe he has spent the last few weeks tightening up his game. But I wouldn't count on it. Hopefully, White can finish the game.
Edit: With Mike White ruled out, my confidence in the Jets' offense is lower than it was. However, the line has moved accordingly and I am still higher on Wilson than the market so I would comfortably still lean toward the Jets. This might be the easiest defense Wilson has faced all year, and I expect them to lean on the ground game.
Prediction
In a fairly tight game early on, the Jets take an early lead but fail to extend it. However, the Lions make an aggressive decision on fourth down and fail, giving the Jets a boost. White takes care of the ball and converts a high rate of third downs, whereas Goff struggles on third down. The Jets end up making some key defensive stops late to hold off a Lions' rally.
Final Score Prediction: NYJ 20-13
Market Evaluation
This game opened up at basically a pick'em, showing a belief the Lions are the slightly better team. With positive news about Mike White coming out, the line has shifted slightly towards the Jets, as they are now favored across the board by 1-1.5 points. This is probably close to fair for home field, so the market is telling us these teams are equal. Both teams are currently popular teams in the betting market, so I would anticipate both teams catching money. I would be absolutely shocked if the game reaches NYJ -3, and it almost certainly will not move back toward the Lions (without a negative White update). Basically, there is no signal in the market here and the action is fair. That's my favorite type of game to get involved with.
Edit: With Mike White ruled out, the Lions have shifted to favorites. I would still be shocked to see it balloon up to DET -3, but I would advise waiting until the line settles to bet Jets, because it could still go higher.
Best Bets
If it's not clear, I like the Jets here. I bet them on the Moneyline earlier in the week but still like the value at anything less than NYJ -3. Given the announcement that White is out, I would play this only once the line has settled. As of now, the best bet is NYJ +1:
NYJ +1 (-110) (BetMGM) (DraftKings) (Caesars)
If you enjoyed this matchup breakdown, you can access all my picks with detailed write-ups for every play with a 4for4.com Betting Subscription. Sign up using the Promo Code SharpClarke for 10% off and get every bet I make in real-time. For the most up-to-date picks check out my Twitter and subscribe to our Discord. This sheet from Dan Rivera tracks all my betting picks (and those from the rest of the betting staff) on the year. Just click on the tab with my name on it for the results.
---
This article is intended for entertainment purposes and adult users only. Call 1-800-GAMBLER if you have a gambling problem.