Will Jeremy Ruckert Take Off With the Jets in 2022?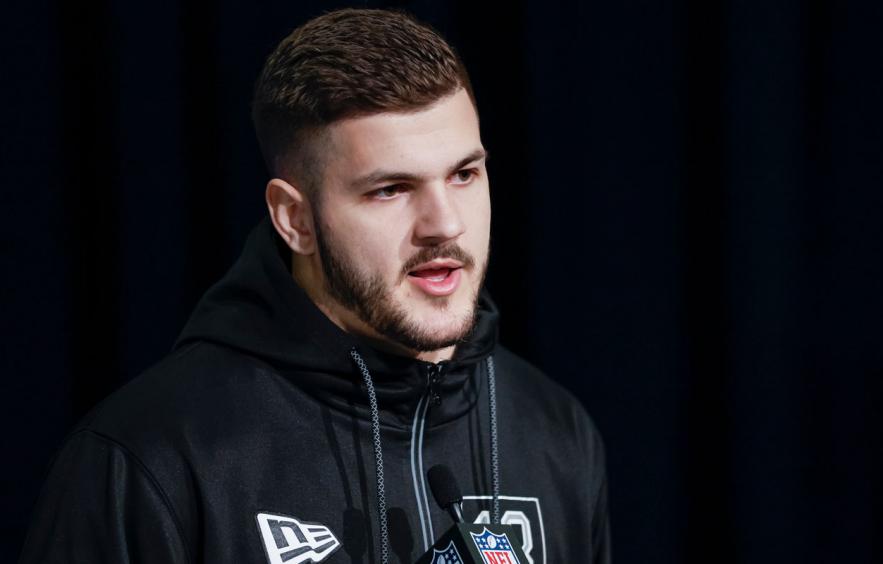 Michael Hickey/Getty Images
The New York Jets and productive tight ends are not what anyone would consider a match made in heaven. Over the last five seasons, very few teams have asked for and gotten less out of the position from a production standpoint than the Jets. Still, this offseason, they have taken steps to bolster this position on their roster. One step was drafting Jeremy Ruckert out of Ohio State.
---
Click here for more 2022 Player Profiles!
---
Not a Dominant Force in College
Ruckert was not exactly a dominant performer for the Buckeyes during his four years on campus. He played in 14 games, but was just a one-year starter, with 11 of his 16 career starts in 2021. Ruckert never put up monster receiving numbers, with 54 grabs for 615 yards and 12 touchdowns. His most productive season was in 2021 when he caught 26 passes for 309 yards and three scores. But in terms of per-game dominance, he accounted for 151 of the Buckeyes' 2100 passing yards in 2020, giving him a 7.19% share. Ruckert's time in college saw him amass more than 50 yards in a game just twice, while only one of his 54 receptions was for more than 30 yards.
Ruckert was able to stay healthy throughout his college career. But while practicing for the Senior Bowl in Mobile, he developed Plantar Fascitis. This injury ruled him out of the game and also meant he could not participate in any drills or athletic testing at the NFL Scouting Combine. A cruel blow for anyone, not least for a player for whom a strong athletic profile would have allayed a lot of doubts over a lack of production. Although the caliber of the wide receiver being produced by Ohio State over the last few years would make it tough for any tight end to dominate the passing game, wouldn't it?
An Ideal Landing Spot?...
The New York Jets used the 37th pick in the draft's third round to select Ruckert. The Jets have been something of a tight-end graveyard for quite some time, at least in terms of receiving production. Since 2017, the Jets have targetted a tight end 398 times, the fewest number in the league. Only three teams have had fewer receptions than Jets tight ends, who have managed 271. The Jets have amassed the second-fewest receiving yards (2,717) and the third-fewest touchdowns (21). For context, four individual tight ends have more targets and receptions than the Jets in this time, while nine have more yards and touchdowns.
We also have to factor in the short-term opportunities available in the Jets' offense. According to John Daigle's Available Targets and Air Yards Tracker, the Jets have lost 36.4% (212) of their targets from last season, the ninth most in the entire league. Only five teams have lost more tight end targets than the Jets, who have waved goodbye to 69 since 2021. Assuming he is healthy for the start of the season, this could be seen as a dream landing spot for Ruckert.
Or An Unideal Landing Spot?
However, it's not just Ruckert's injury that makes for a splash of cold water on his hopes for immediate relevance. The Jets signed not one, but two tight ends in free agency in C.J. Uzomah and Tyler Conklin. Both of these players, while not superstars, are more than capable veteran performers, and Ruckert will have to fight them for playing time. It would require quite a shift in philosophy for the Jets to deploy multiple tight ends on offense, given that they were in 12 personnel on just 20% of their offensive snaps last season. They had three tight ends on the field for just seven plays all season.
In addition to the tight ends, the Jets also have quite an intriguing corps of talented wide receivers. In the draft, they added Garrett Wilson in the first round, adding him to a wide receiver room that includes last year's rookie success Elijah Moore and Braxton Berrios. The Jets are also a team that wants to establish the run, based on their neutral game tendencies a year ago. According to Sharp Football Stats, the Jets' 56% pass rate in neutral game situations was the 18th highest in the entire league. They spent a second-round pick on running back Breece Hall this year too, suggesting that the ground game will continue to be a point of emphasis.
Fantasy Outlook
All of this uncertainty would seem to have made many fantasy managers' minds up already about Ruckert. According to the most recent Underdog ADP, Ruckert is not being selected until another 76 tight ends have gone off the board. There are just far too many question marks surrounding his role for me to think Ruckert will be an immediate contributor on offense. This obviously impacts his fantasy appeal. He makes for an intriguing dynasty add, but not one that I would be spending an early rookie pick on. We'll have to wait and see, I'm afraid.

The Bottom Line
Ruckert comes into the NFL with a less-than-dominant college profile in terms of production, not to mention an injury that has hampered our ability to assess his athleticism fully.
Ruckert has landed on a team that historically does not get anything out of their tight ends, that has added two such players in free agency and wants to run the ball as well as boasting a young and talented wide receiver group.
Ruckert is nothing more than a long shot to be relevant in fantasy football as a rookie, with major questions as to whether he can ever be someone we consider an every-week starter.