Steelers' Passing Game Gets an Infusion of Youth - Who Wins?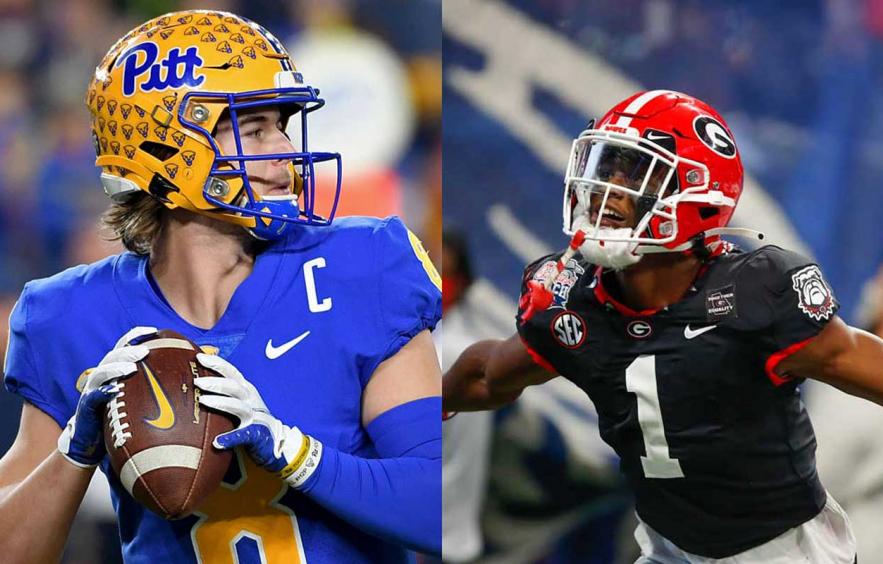 Pickett by Justin Berl Pickens by Todd Kirkland/Getty Images
The 18-year Ben Roethlisberger era in Pittsburgh officially came to an end after the 2021 season and the Steelers immediately addressed their passing game in this year's Draft. In the first round, they made Kenny Pickett the first quarterback off the board and followed that up with the selection of wide receiver George Pickens in Round 2. Both rookies have immediate starting potential and how they finish in their respective depth chart battles will have a major impact on the Steelers' overall fantasy outlook in 2022 redraft leagues.
---
Click here for more 2022 Player Profiles!
---
Kenny Pickett

's Prospects as a Pro

Coming into the NFL Draft, many pundits lauded Pickett as the most pro-ready quarterback prospect but by no means the one with the highest ceiling. Early in his college career, Pickett was largely regarded as a Day 2 or Day 3 pick until his phenomenal senior campaign where he threw for over 4,300 yards and 42 touchdowns, growing his yards per attempt average (8.7) nearly a yard and half over his previous season.

With a physical profile most closely resembling that of Ryan Tannehill, Pickett has above-average arm strength and accuracy but certainly doesn't separate from the field with any single attribute. His mobility is a plus—he had at least 81 rushes in each of his four years as a starter—although he only netted 809 yards on the ground over his entire college career. Outside of his hand-size concerns, Pickett has been known to hold the ball too long in the pocket along with some other mechanical issues when under pressure. Despite his pro readiness, Pickett is mostly viewed as a serviceable but not great starter in the NFL with shades of Carson Wentz or Andy Dalton.
George Pickens

' Receiving Profile

Pickens was a three-year starter at Georgia who broke out as a true freshman but had an abbreviated junior season after tearing his ACL in the offseason. Still, the big-bodied Jerry Jeudy clone built enough of a portfolio to be a second-round pick in a phenomenal wide receiver class.

The Steelers rookie profiles as a primary outside receiver who can beat almost any cornerback off the line of scrimmage, with elite success on short and intermediate routes. As Matt Harmon points out in Pickens' Reception Perception, he makes up for his weaknesses with his ability to out-body defenders and make contested catches. Harmon gives Pickens a wide range of outcomes with Tee Higgins-like upside if he continues to develop his game.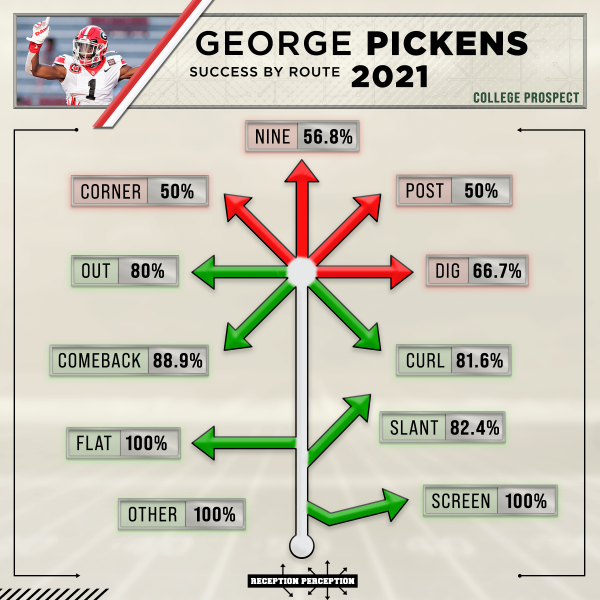 How Pickett and Pickens Fit Into Pittsburgh's Offense
Pickett will go head-to-head with newly-signed Mitch Trubisky for the battle as the Steelers' Week 1 starting quarterback. While Trubisky flashed some upside in his second season in Chicago, he has been a borderline replacement-level quarterback in the league. His $14.25 million two-year contract with just over $6 million guaranteed (including signing bonus) in 2022 is higher than that of a typical backup but nowhere near high enough that Pittsburgh will feel compelled to start him no matter what.
Unless Pickett is undeniable in the preseason, Trubisky probably gets the Week 1 nod but anything beyond that favors Pickett. Over the last 10 seasons, there have been 33 quarterbacks drafted in the first round and just nine started less than half of their team's games in their first year. Expect Trubisky to have a short leash, especially on a team that is unlikely to have playoff aspirations.
Regardless of who starts, the one thing they will provide over Roethlisberger is mobility. Big Ben's statue-like game gave the passing attack almost zero chance to extend plays or develop deep routes, evidenced by Roethlisberger's 6.7-yard average throw depth in 2021, the second-lowest in the league (min. 200 pass attempts).
With Trubisky and Pickett extending plays, Chase Claypool will have opportunities that Roethlisberger simply couldn't provide last season. This could have a slight negative impact on Diontae Johnson, who benefited greatly from Ben's desire to get rid of the ball as quickly as possible. Johnson isn't just a short and intermediate pass-catcher, though—he ranked 13th in deep targets (20+ air yards) with 24 but only 11 were deemed catchable. Johnson should still comfortably lead Pittsburgh in targets regardless of who is throwing the ball.
For Pickens to see starter-level snaps, he will need to be on the field in three-wide sets—only six teams had more dropbacks with 3+ receivers on the field than the Steelers last season. With Pickens profiling as a pure outside receiver, that would mean increased time in the slot for Claypool and Johnson. Conveniently, there is a vacancy in the slot with Ray-Ray McCloud—who saw a team-leading 61 targets from the slot in 2021—no longer on the roster.
Although no other Steeler saw more than 21 targets from the slot last season, Claypool did have an impressive 1.75 yards per route run when lined up there in 2021, on par with players such as D.J. Moore, Adam Thielen, and Terry McLaurin. When Pittsburgh goes three-wide, this is where Claypool could shine.

In two wide-receiver sets, however, Pickens may be the odd man out in 2022. If the coaching staff decides to rely heavily on three-receiver formations as they did in 2021, any hopes of a Pat Freiermuth breakout may remain nothing more than hopes.
The 2022 Fantasy Outlook for Pittsburgh's Passing Game
Regardless of who starts at quarterback, neither Trubisky nor Pickett figure to be major factors in standard-sized 1-QB redraft leagues. Either quarterback can have streaming ability in the right matchup because of their ability to scramble.
Trubisky and Pickett can both extend plays which could give more spike weeks to Chase Claypool. Trubisky has relied heavily on WR1s in the past, which would benefit Diontae Johnson when Trubisky starts.
John Paulsen's initial half-PPR projections put Johnson at WR11 and Claypool at WR35 with respective Underdog ADPs of WR14 and WR52. Both present buy opportunities early in the draft season.
George Pickens is a primary outside wide receiver. For him to see significant playing time in 2022, he will need Pittsburgh to continue to favor three-wide receiver sets with Claypool or Johnson manning the slot. Pittsburgh's limitations with Trubisky or Pickett under center make it unlikely they will be able to consistently support three fantasy-relevant pass-catchers.
Pickens projects as the WR58 and is being drafted as the WR63. He can have late-season best-ball value, especially in large-field tournaments such as Best Ball Mania 3 but will be a waiver wire add at best in traditional leagues.
If Pickens can force the Steelers into a primary offense of three wide receivers, the biggest fantasy loser is Pat Freiermuth. The second-year tight end projects as this year's TE15 but is being drafted as a TE1 as the 11th player off the board at his position.