Matthew Stafford: Fantasy Football Bargain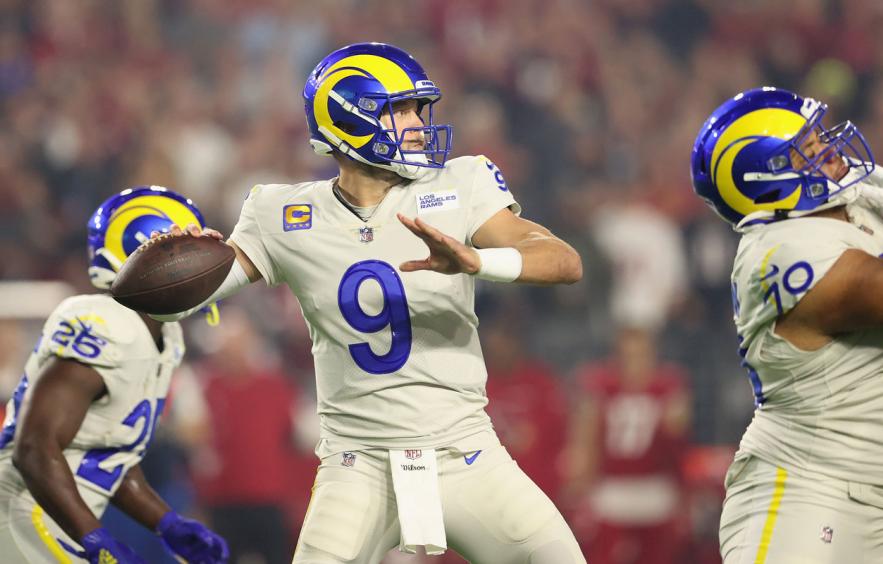 Christian Petersen/Getty Images
Matthew Stafford has had quite the ride as an NFL quarterback and also as a fantasy quarterback. He was highly regarded coming out of Georgia in 2009, then spent his first two seasons largely injured, earning the "if he's healthy" moniker. Then he became a huge fantasy success with Calvin Johnson, throwing for 41 touchdowns and 5,038 yards in his third season and leading the Lions to a 10-6 record. After he threw 20 touchdowns and 17 interceptions the following season, he's been an afterthought in fantasy drafts. Since 2013, he's often found himself in the middle of QB1 territory but because of his lack of rushing production – career average of 2.1 carries per game – he's never considered a top fantasy option going into drafts. There's always someone more exciting to hang your hat on. This year is no different, with Stafford going as the QB12 and available in the eighth round of fantasy drafts. I'm here to say, that's an absolute bargain.
---
Click here for more 2022 Player Profiles!
---
*Average Draft Position (ADP) used for this article is taken from our Underdog ADP tool.
Old Reliable
Despite struggling through his first two seasons, Stafford has been remarkably durable. He's started every game since 2011, aside from half of the 2019 season when he dealt with a back injury. Obviously, you can't predict health, but availability is a skill in fantasy football and Stafford has been as available as anyone for most of his career, including starting every game last season during the Rams' Super Bowl run.

At QB12, there's not much risk in drafting Stafford. While his lack of rushing production makes it hard to envision a QB1 finish within his range of outcomes, duplicating his success last year seems very plausible. In fact, even a regression should still make him valuable, and historically speaking, he's been a pretty good bet to finish higher than his current ADP at his position.
Matthew Stafford

Since 2013

| Year | Games | Yards | TDs | Ints | Fantasy Finish |
| --- | --- | --- | --- | --- | --- |
| 2021 | 17 | 4886 | 41 | 17 | QB6 |
| 2020 | 16 | 4084 | 26 | 10 | QB15 |
| 2019 | 8 | 2499 | 19 | 5 | QB29 |
| 2018 | 16 | 3777 | 21 | 11 | QB20 |
| 2017 | 16 | 4446 | 29 | 10 | QB8 |
| 2016 | 16 | 4327 | 24 | 10 | QB7 |
| 2015 | 16 | 4262 | 32 | 13 | QB8 |
| 2014 | 16 | 4257 | 22 | 12 | QB14 |
| 2013 | 16 | 4650 | 29 | 19 | QB7 |
Kind of a tough run in 2018 and 2020 with a fledgling Lions team, but he rattled off four of five QB1 finishes prior to that and was actually the QB4 in fantasy points per game during his injury-shortened 2019 season. That sample is all with another team as well. The only sample size we have in his current uniform is his QB6 finish from last year.
The
Rams

Offense

Returning for his second year in the Rams offense, Stafford seems poised to at least repeat his fantasy performance from last season. Sure, it's hard to duplicate a Super Bowl season or a career year but he won't need to make the Super Bowl again to provide big returns for fantasy managers taking advantage of his low ADP. The Rams were only seventh in points scored and 10th in pass attempts last season, mitigating concerns over 2021 being an outlier year. In fact, under Sean McVay, the Rams have reached the top two in points scored twice and were third in pass attempts in 2019. The much-maligned Jared Goff even put up QB12 (2017), QB7 (2018), and QB13 (2019) seasons under McVay.
Rams

' Offensive Rankings Under Sean McVay

| Year | Total Points Scored | Pass Attempts |
| --- | --- | --- |
| 2021 | 7 | 10 |
| 2020 | 22 | 12 |
| 2019 | 11 | 3 |
| 2018 | 2 | 14 |
| 2017 | 1 | 24 |
Not baked into the above is the Rams' neutral pass rate. They rank fifth in neutral pass rate on first and second down since 2018 behind the Chiefs, Buccaneers, Bills, and Steelers. That's pretty good company for potential fantasy points. If they continue that rate this season – and there's no reason to suspect they won't with the key pieces still in place – then Stafford should have no trouble at least repeating what he did a year ago. Factor in a year of experience with this offense and this set of teammates, and there's reason to hope for even more.
While the team will definitely miss retired Andrew Whitworth on the offensive line, the Rams' offense still could be better this year. Allen Robinson comes over after a forgettable season with the Bears to replace Robert Woods (traded to the Titans) and Odell Beckham Jr. (still unsigned as of this writing). This should be an upgrade to his weapons if Robinson is closer to his 2020 self than his disappointing 2021 year. Stafford is the best quarterback Robinson has ever played with and the Bears' offense was so bad last season it's hard to gleam much from it in regard to the state of Robinson's abilities. So far, Stafford has been complimentary of Robinson's ability to learn the offense. I'm betting he's still an ace and a huge upgrade outside the hash marks.
Stafford should also benefit from a healthier running back room. Cam Akers was hurt for most of last season and Darrell Henderson missed time as well. With both running backs in the fold and Akers further removed from an Achilles tear, the team looks like a threat to finish top-five in points scored.
Bottom Line
Paying QB12 prices for last year's QB6 makes Matthew Stafford a bargain.
The Rams' offense under Sean McVay has been more productive than not and Stafford should continue to thrive in Los Angeles as a result.
The team upgraded the weapons around Stafford, and his experience in the offense will help him at least repeat his excellent 2021 season.
2021 was a very good season but wasn't so good that it represents an outlier for Stafford or McVay.