How Valuable is Damien Harris for Fantasy Football in 2022?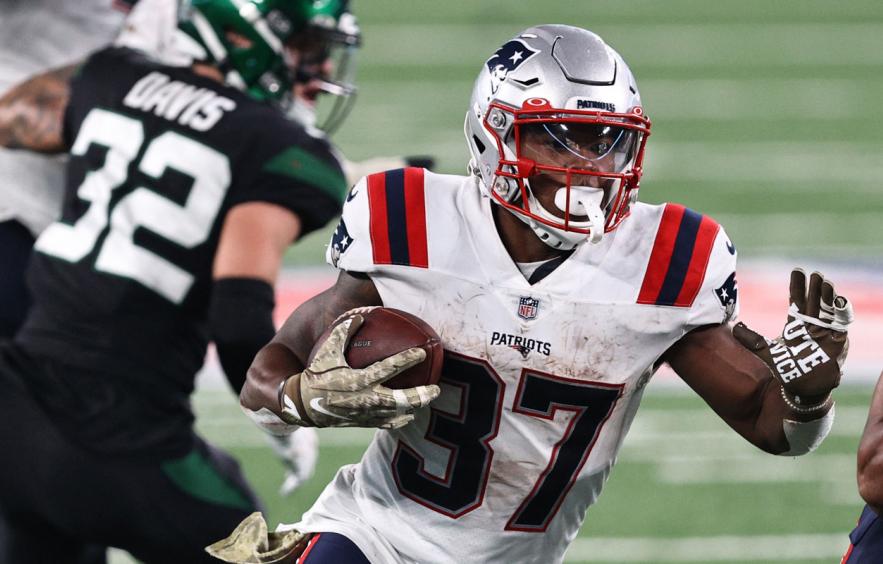 Elsa/Getty Images
Patriots running backs have always been confusing for fantasy football. From the BenJarvus Green-Ellis/Stevan Ridley pairing in the early 2010s to a weird Sony Michel/Rex Burkhead/James White three-headed "monster" later on in the decade, messy committees have dominated the running back room in New England for over 10 years. This year does not present any break from that trend, as the Patriots running back depth chart is once again a confounding state of affairs. In this article, I'll try to break down this confusing situation and evaluate where the presumptive RB1 in the offense, Damien Harris, should be taken in fantasy football drafts this season with respect to his current RB30 ADP.
---
Click here for more 2022 Player Profiles!
---
New England RB Depth Chart Outline
Before getting into Harris specifically, here is an overview of the players that will be competing with Harris for touches out of the backfield. The main person to look out for is Rhamondre Stevenson. Drafted out of Oklahoma in the fourth round of the 2021 NFL Draft, Stevenson is looking to build off of a productive rookie season where he had over 700 scrimmage yards and five touchdowns. Stevenson is being drafted as the RB38 in fantasy this year, so it is certainly possible that he sees a close to 50/50 split with Harris. Outside of Stevenson, veteran pass-catching specialist James White remains with the team this season and is bound to see some volume as well. The Pats also selected two running backs in this year's draft: South Dakota State's Pierre Strong Jr. and South Carolina's Kevin Harris. However, Bill Belichick has notoriously red-shirted rookie running backs (including Harris himself), so the two newbies will likely be less of a threat to see a significant workload.
2021 Season in Review
You might not have noticed it, but Harris quietly had an extremely productive season for fantasy last year. He had over 1,000 yards from scrimmage (929 rushing, 132 receiving) and ran for a whopping 15 touchdowns, good for second in the entire league. He finished as the overall RB13 and was a consistent RB2 for fantasy managers.
One area where Harris had a leg up on Stevenson last year was in the red zone. We all know that the most valuable touches for a running back come within the 10-yard line, and Harris made his money in that area.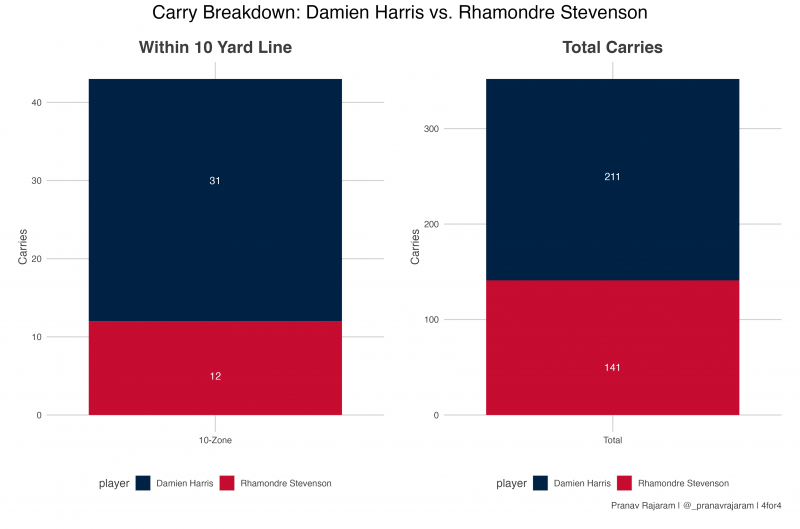 In this graph, we can see that while Harris and Stevenson's total touches were comparable, Harris saw over double what Stevenson got in the most important area, making him a more valuable fantasy player. This bodes well for Harris for this upcoming season as well—while Stevenson might close the gap in total carries, as long as Harris is the goalline back for the Pats, he'll offer fantasy value.
The Concerns
One of the biggest downsides to Harris' game is his lack of proficiency as a receiver. He had just 21 targets last season, and almost all of his production came on the ground. With James White likely to hog the bulk of Mac Jones' check-downs, Harris does not offer the safe floor that many other running backs can because he won't be catching many passes.
Typically, when running back committees work out for fantasy, it comes as a result of an explosive offense—think Alvin Kamara and Mark Ingram in the 2017 Saints powerhouse offense, or Jonathan Stewart and D'Angelo Williams on some of the old Panthers teams. However, unfortunately for Harris, the Patriots do not have the makings of being an offensive juggernaut by any means this season. Even if Mac Jones takes strides in his sophomore year and develops into an even better player, there is still a severe talent shortage in this Pats offense that limits their offensive upside. This will make it more difficult for Harris to produce alongside Stevenson, and he might be due for some regression in the touchdown department. Throw in the fact that longtime offensive coordinator Josh McDaniels is no longer with the team (and might be replaced with Matt Patricia?!), and there is a chance that the New England offense is subpar in 2022.

The Bottom Line
Patriots running backs are always hard to evaluate for fantasy, and the Damien Harris/Rhamondre Stevenson/James White committee continues this trend.
Harris is coming off a very productive season. He was especially great within the 10-yard line, and his prowess as a goalline runner will certainly help his fantasy value.
General offensive concerns in New England and Harris' absence in the passing game hurt his floor, and it is possible he has some very bad weeks.
Harris' ADP of RB30 is likely right around where he should be going. He has the talent and sees enough volume to offer solid fantasy production, but a multitude of outside factors severely limit his upside. He'd be a good FLEX or first running back off the bench for your fantasy team.