Don't Sleep on Hunter Renfrow in Fantasy Football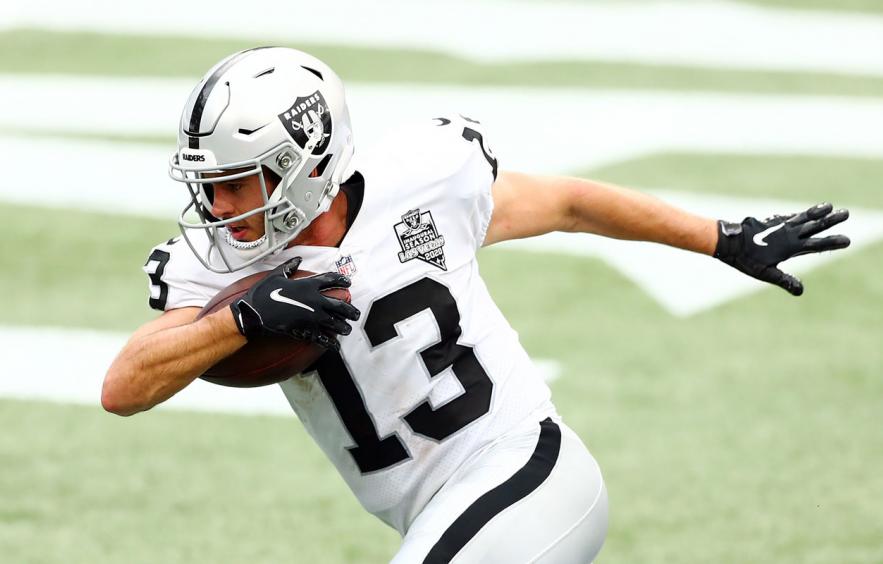 Adam Glanzman/Getty Images
It has never been easy for Hunter Renfrow to earn someone's respect, but time and time again, he manages to do it. His football-playing journey is chock full of successful underdog stories—from being a walk-on at Clemson to catching the game-winning touchdown in the 2016 National Championship, being a fifth-round pick in the NFL Draft to becoming a Pro Bowler, and signing a 2-year, 32 million dollar contract with the Raiders. Despite this, the crafty slot receiver seems to be being counted out once again this year. Current Underdog ADP shows Renfrow being selected in the back of the seventh round as the 40th receiver off the board. While volume concerns due to the arrival of Davante Adams (and the presence of Darren Waller) are understandable, here is a look at why Renfrow could be a steal at his current draft spot and be a borderline WR2 for your fantasy team this season.
---
Click here for more 2022 Player Profiles!
---
Situation Overview
You might not have realized it, but last season, Renfrow had a breakout year of sorts. In 17 games, he racked up over 1,000 receiving yards and added nine touchdowns, finishing the year as the overall WR11. We all know that volume is king in fantasy football, and Renfrow was no exception—he had a team-high 128 targets, a top-20 mark in the league. Renfrow also cemented himself as Derek Carr's safety blanket in 2021. He was top-15 in the league in first-down catches on third down (18), giving Raiders fans good reason to print out "3rd and Renfrow" t-shirts. With another year of work with Carr and long-term contract extensions secured for both of them, there is no reason to believe Renfrow won't continue to be a dependable pass-catcher for the Raiders this season.
Impact of the New Guys In Town
The Raiders shocked the NFL world this offseason, trading a first and second-round pick to the Packers for arguably the best wide receiver in the league in Davante Adams and giving up a 5-year, 141.25 million dollar contract. Adams, who has made five straight Pro Bowls and has not had under 100 targets in a season since 2015, is deservedly bound to see a large share of the Raiders' passing offense. This will certainly limit Renfrow's upside, as he is the clear second banana to Adams. Tight end Darren Waller, who had a bit of a down season in 2021 but had 1,000 yards in each of the two seasons prior to that, is also locked into a decent amount of volume. The area this might hurt Renfrow the most is in the touchdown department. With such prominent red-zone threats in Adams and Waller, it is unlikely that Renfrow will be able to match his nine scores from last year, which will put a concrete ceiling on his fantasy value.
With this being said, Adams' arrival doesn't necessarily mean all bad things for Renfrow. Defenses will be forced to focus their attention on the Raiders' other superstar offensive weapons, Renfrow might receive less strong coverage and be able to dominate against under-matched cornerbacks. Additionally, wide receivers generally tend to perform better when on explosive offenses, and the Raiders' "Big 3" in the receiving corps will likely lead to one of the most effective offenses in the league. A high tide raises all ships, so Renfrow will certainly benefit from this.
Julian Edelman, Danny Amendola, Wes Welker. Those are likely among the first few names that come to mind when you think about players similar to Hunter Renfrow. What did these three all have in common? They had career seasons with the Patriots where Josh McDaniels was the offensive coordinator. Now, McDaniels is the head coach of the Raiders and has himself yet another scrappy, undersized slot receiver to wreak havoc with.
One interesting note with McDaniels' use of players like Renfrow is that they always seem to have a place in his offenses. Here is a list of the volume that slot receivers have received when in offenses run by McDaniels:
It is evident that they are an essential part of the offense regardless of the other options in the receiving room—many of the receivers on the list were second (or even third) fiddles to superstar players like Randy Moss, Brandon Marshall, and Rob Gronkowski.

The Bottom Line
Renfrow is coming off the best season of his career where he emerged as Derek Carr's security blanket.
The arrival of Davante Adams to Las Vegas hinders Renfrow's upside, as Adams is certainly due to see a large amount of volume. Specifically, Renfrow will likely struggle to get in the end zone due to Adams and Darren Waller's presence.
Josh McDaniels' hiring should do wonders for Renfrow. McDaniels has a track record of producing excellent slot receivers, and it appears as if Renfrow is set to take the mantle from players like Wes Welker and Julian Edelman.
While he might not win you any given week due to the target competition, Renfrow's established connection with Carr and room for growth under Josh McDaniels makes him a value at his current ADP of WR40.
Best-case scenario, Renfrow is a set-and-forget WR2 for your team. Worst case, he'll still see enough volume and has the talent to be a consistent WR3 for fantasy, as opposed to a low-end WR4 where he is being drafted now.