Fantasy Football Weather Report: Week 3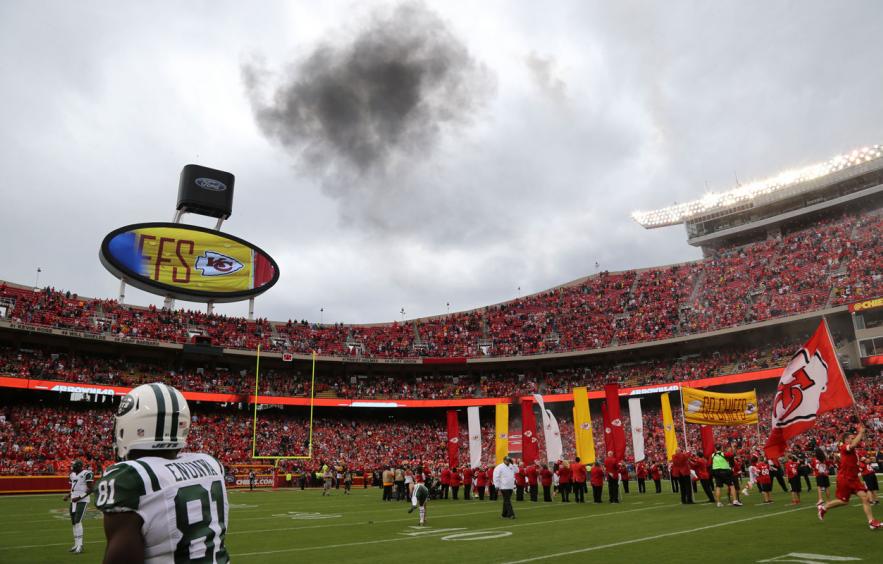 Al Pereira/Getty Images
After last week, and last night, injuries will be on our minds more so than the weather. Luckily, we don't have many concerns for Week 3. Let's get to it.
Week 2 Recap
The forecast for Green Bay was correct and the rain came midway through the second half of MNF. My original thoughts from last week:
"Rainfall at this rate will be easily seen from the live camera but shouldn't change anything down on the field. Game script should dominate the pass/rush ratio for both teams."
Historical weather obs show rainfall up to 0.1 inches per hour for the last 20 minutes of the game. But it didn't affect the playcalling. Rainfall at that rate so late in the game causes chaos. Nothing predictable, but events that could sway the outcome of the game. Regardless, it was really game script that dictated the passing rate for the game.
Pass Rate Per Quarter for DET-GB in Week 2

| | Q1 | Q2 | Q3 | Q4 |
| --- | --- | --- | --- | --- |
| Detroit | 53.8% | 58.8% | 71.4% | 100.0% |
| Green Bay | 36.4% | 61.5% | 70.0% | 53.8% |
If you didn't know it rained, you'd think the chart makes sense. The causal effect of Green Bay scoring 14 points in the third quarter should be for Detroit to increase their pass rate. The fumbles from Jared Goff confirm a previous prior that I have on him because of his relatively small hands. But I'll that one alone for now.

As I mentioned in my Week 2 report, the DET-GB game is the second game I've seen like this with similar effects. I'll maintain my stance on games like this until we see otherwise. The BUF-MIA featured similar weather (and a random muffed punt), but I can't take too much from it with Tua Tagovailoa getting knocked out. We're on to Week 3.
Games to Monitor
Games Impacted by Wind
BLUF: I remain unconcerned. I'll get into the nuance in a bit, but there's not much to be worried about heading into the weekend. The only game I'd pay attention to weather-wise is WFT/BUF but it'd take a large shift for me to adjust my stance. There's no rain and just relatively light winds. We can approach the slate as we normally would.
Chicago Bears (19.75-implied points) at Cleveland Browns (27.25)
Don't have flashbacks to the two games in Cleveland last season with 25 and 35-mph winds. As of right now, we're far from those conditions. But it is worth mentioning since it's over the general threshold for concern. But, looking back at 2020 alone, it hasn't affected any quarterback playing in First Energy Stadium.
Pass Rates in Games with 15-20 mph Winds in Cleveland, 2020

| Player | Week | Windspeed | Air Yards per Attempt | Deep Attempts | Neutral Pass Rate |
| --- | --- | --- | --- | --- | --- |
| P.Rivers | 5 | 16 | 8.0 | 6 | 70.6% |
| B.Mayfield | 5 | 16 | 8.7 | 10 | 62.5% |
| B.Mayfield | 3 | 18 | 8.2 | 4 | 47.7% |
| D.Haskins | 3 | 18 | 6.8 | 6 | 62.8% |
| L.Jackson | 14 | 18 | 11.3 | 4 | 37.8% |
| B.Mayfield | 14 | 18 | 9.6 | 12 | 61.7% |
No quarterback listed significantly deviated from their baseline for any game in those conditions. Plus, the stadium sits at 171-feet tall and is oriented in the direction of the wind. Without any concern for high winds or even a crosswind, we're good to go in Cleveland.
9/26 Update: Windspeed's actually ticked down to 15-16 mph. Zero concern here.
Los Angeles Chargers (23.75) at Kansas City Chiefs (30.75)
The wind is projected to be flowing SSW, and Arrowhead stadium sits at a 137.2-degree azimuth (pointed northwest). At first glance, there'd be a chance for a crosswind. But still, I'm not worried. The Chiefs have one of the tallest non-dome stadiums in the league. Its highest point is on either side of the field as the stands extend up to their full height of 260 feet. Thankfully, that's what any airflow would meet instead of coming directly onto the field reducing any effects of the cross breeze.
9/26 Update: Slight rise in windspeed to 17-18 mph but nothing close to changing my view on this game.
Washington Football Team (19) at Buffalo Bills (26.5)
Anytime I see any windspeeds over 15 mph in Buffalo (Orchard Park, to be exact), I get nervous. Highmark Stadium is actually one of the shortest stadiums in the league at 110 feet. The playing field is actually 50 feet below ground level forming a sort of bowl. Josh Allen's own neutral passing rate has fluctuated during home games with wind speeds over 15 mph.
Josh Allen

Neutral Pass Rate with Wind Speeds of 15-20 mph at Home, 2020.

| | Windspeed | Neutral Pass Rate |
| --- | --- | --- |
| Week 1 | 15 | 53.8% |
| Week 3 | 16 | 61.5% |
| Week 8 | 17 | 33.3% |
Of course, adjusting for defensive opponent would be warranted but the toughest coverage was in Week 3 against the Rams. Again, not adjusting my approach to the game, but I'll be watching the radar closely as Sunday gets closer.
9/26 Update: Slight uptick to 18 mph. Not changing my approach, but we're at the upper end of the range of outcomes for the Bills' passing game. It makes Josh Allen's day a bit more volatile, but should still approach this game as we normally would.