Fantasy Football Weather Report: Week 2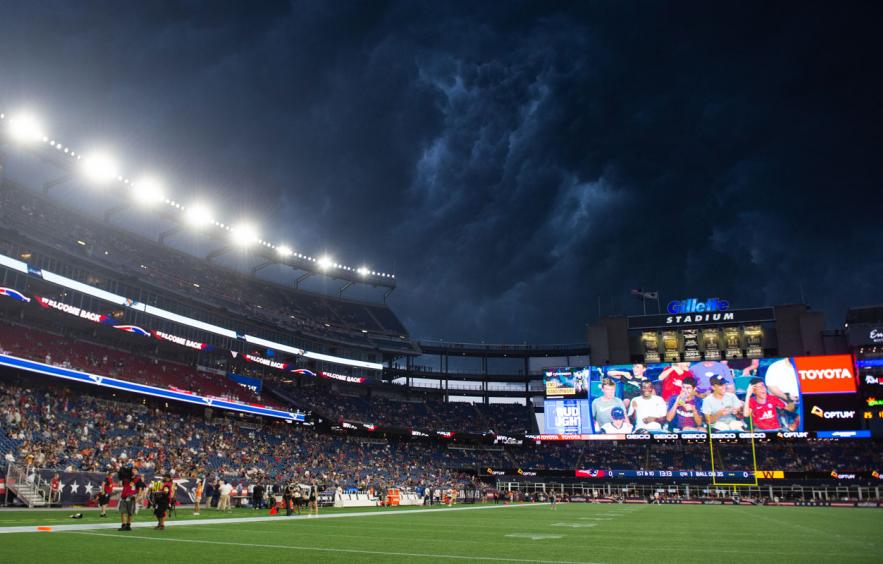 Kathryn Riley/Getty Images
Week 1 is in the books and Week 2 is just around the corner. Like I mentioned last week, I'm keeping this as informal as possible to give you the notes you need. Let's get started.
Week 1 Recap
Nothing to recap from Week 1, but expect a similar structure moving forward. I try not to think of the weather as a forcing function for in-game adjustments. So how players and offensive philosophies actually change is a far better data point to have for future conditions of the same kind.
Games to Monitor
Games Impacted by Rain
BLUF: Similar to last week, I'm not worried. The precipitation rate during each game listed is well below my general threshold for concern (0.05 – 0.06 in per hour). Pre-game conditions are my only concern. We focus on how the weather is during the game, but what happens beforehand can matter too. It's an extreme case but think about the field before the Eagles' preseason game. Surface type can be a small factor but I'm not overly worried. However, the heat may be an issue.
Tee Higgins left part of Sunday's game to get an IV because of the heat/humidity in Cincinnati. In Florida, two games are projected over 90 degrees. I have no insight into player's hydration habits but don't be alarmed if you see players taking additional breathers throughout the game.

Quick aside. How the heck are there three stadiums in Florida without a dome? Literally every other state along the gulf has a dome for its team. Even Georgia! And they're not even one of the gulf states. I don't get it.
Update: After getting dunked on by a few readers, average temperatures throughout the year and cost are the likely reasons. Nevertheless!
Detroit Lions (18.75-point implied total) at Green Bay Packers (29.75)
The forecast shows isolated thunderstorms in the Green Bay area as early as 1 PM EST on Monday. They'll continue up to game time which means the field will accumulate water throughout the day. But, again, I'm not worried. The Packers renovated their field back in 2018 to include synthetic fibers and a sand table of about 3,500 tons for drainage. They also have tubing that spans the field (along with heating coils) to melt snow during the winter and collect the runoff. Green Bay is well-equipped to handle the rain.
9/18 Update: Forecast shows the precipitation rate increasing to 0.07-0.08 inches per hour in the second half. Rainfall at this rate will be easily seen from the live camera but shouldn't change anything down on the field. Game script should dominate the pass/rush ratio for both teams. The closest example is the ATL-CAR game during Week 8 of last season. Because Carolina was trailing, their passing rate increased to 83.5% in the second half despite the rain. Since the rain won't get significantly worse until midway through the game, there's no real adjustment we can make at this time.
9/19 Update: Precip rate is up to 0.11 inches per hour in the second half but a thunderstorm is projected during that time. A lightning delay is possible, but our overall approach to the game should remain in place.
Denver Broncos (25.5) at Jacksonville Jaguars (19.5)
Jacksonville expects rainfall by 7 AM EST Sunday morning. That's six hours of rainfall on an open field. But, unlike Green Bay, Jacksonville doesn't have a sophisticated drainage system. They have sod. Last season, the Jaguars submitted a proposal to renovate the field conditions, but no work has been done to date. Rain can pool on fields like this, but it's nothing we can measure in terms of effects on the field. NFL operations due require the field to be covered up to 90 minutes prior to kickoff, but, at best, a slip on the field or a dropped ball will be the worst we'll see.
Buffalo Bills (25.75) at Miami Dolphins (22.25)
Somehow, the storms in Miami (Opa-Locka to be exact) are expected to show up at 1 PM EST and leave by 4 PM EST. Without any pre-game precipitation, and so little expected, the weather isn't a factor here. But I'll update as the weekend progresses.
9/18 Update: Rainfall is expected to jump to 0.13 inches per hour in the second half. It won't last the entire half, but this level of rainfall is extremely poor for a game. The closest example is the 2019 Week 7 matchup between Washington and San Francisco. Historical weather obs show rainfall of 0.1 inches per hour for multiple quarters. The conditions exacerbated an already slow-paced game between two run-first teams as there were just 33 passing attempts in the game. Hopefully, the storm passes quickly but expect a downshift in passing volume should it hold.
9/19 Update: Duration of the storm has increased to most of, if not all, the second half. Precip rate ranges from 0.16 to 0.21 inches per hour. Simply put, it'll be a downpour. Similar to Green Bay, a lightning delay is possible muting any concern. If not, my expectation for a significant drop in pass rates remains.
Tennessee Titans (23.5) at Seattle Seahawks (30.0)
Rain is expected in Seattle throughout most of the weekend. Regardless, Lumen Field uses turf on the field which is known to be water permeable with its own natural drainage. Between the field being covered and the surface type, our only concern is the precipitation rate increasing prior to the game.
Atlanta Falcons (20.0) at Tampa Bay Buccaneers (32.0)
Storms aren't expected until the early afternoon in Tampa (approximately 1 PM EST). The highest precipitation rate prior to kickoff will be 0.02 inches per hour. But, upgrades to the stadium's drainage system should keep the field in optimal conditions. Additionally, the rainfall is expected to decrease during the game. Unless the forecast changes, we can approach the game as if it were normal.