TJ's #Taek: Week 17 NFL DFS GPP Recap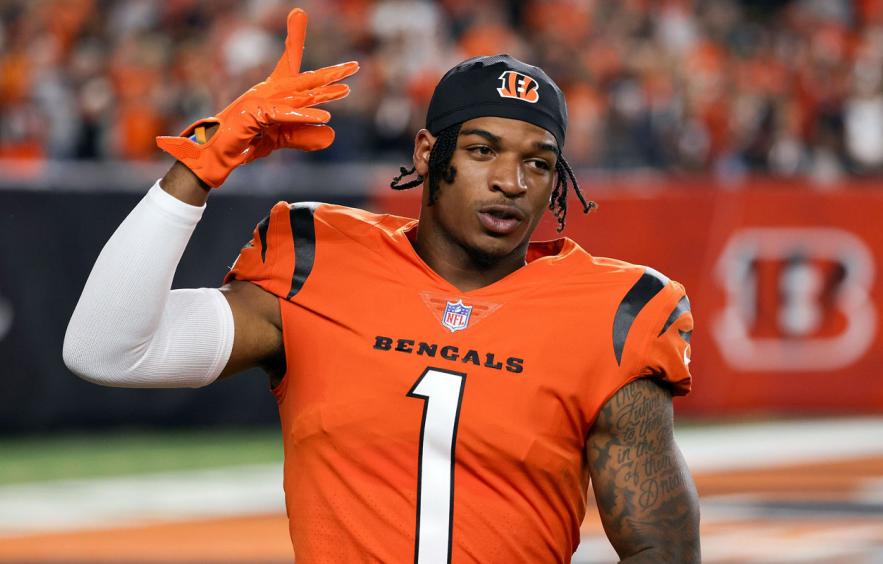 Dylan Buell/Getty Images
Week 17's winning lineups from the biggest contests on FanDuel and DraftKings can be used to tease out lineup-building strategies and offer clues on how you could have landed on a similar team. Reviewing your hits and misses each week is imperative if you want to be a profitable DFS player but examining winning lineups is also a useful exercise in cultivating a winning approach.
---
More GPP Strategy: QB | RB | WR | TE | DEF
---
DraftKings Week 17 Millionaire Winning Lineup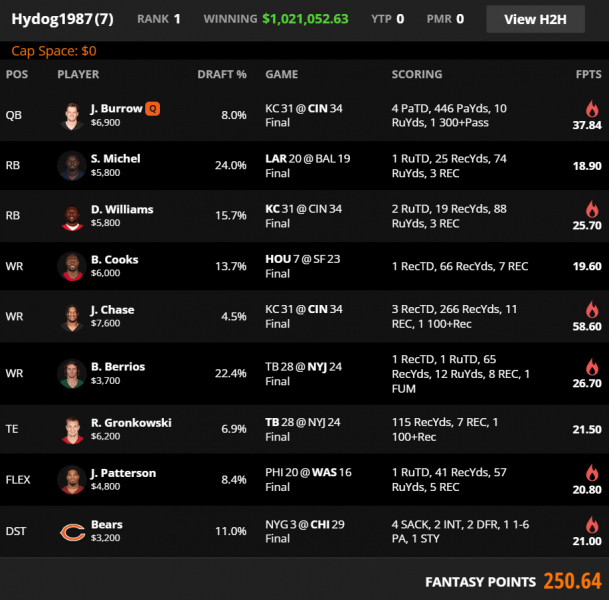 Ownership
This week's winning lineup had cumulative ownership of 114.6%, almost 25 percentage points higher than the average for all winning lineups this season. It was just the fourth time all season that a winning Millionaire lineup had two running backs on at least 15% of rosters. It was also just the fourth time that a winner used a defense with ownership above 10%.
Stacks
With five correlated players in the lineup, it was right at the average of 5.3 correlated players per winning lineup this season. It was only the second time that a Millionaire winner used a running back as a bring-back option in the quarterback stack. Of the 17 Millionaire winners, 12 have correlated their tight end with at least one other player in the lineup.
Flex
For the second time in as many weeks, the winning lineup used three running backs, making it the seventh time that a Millionaire winner flexed a running back. Eight of the 17 winners have flexed a wide receiver while two winners have rostered two tight ends.
Leverage
There were only two non-onesie players in this lineup with a sub-10% ownership percentage. The obvious difference-maker was a 4.5% Ja'Marr Chase who was in half as many lineups as his teammate Tee Higgins in a week where many lineups paid all the way up for Cooper Kupp as their high-salary receiver. This lineup further separated from the field with Jaret Patterson who not only was sub-10% but was also in a salary tier that no one was using at running back. Rob Gronkowski's very nice 6.9% provided leverage off of teammates Antonio Brown and Ronald Jones who were both in over 22% of lineups.
FanDuel Week 17 Sunday Million Winning Lineup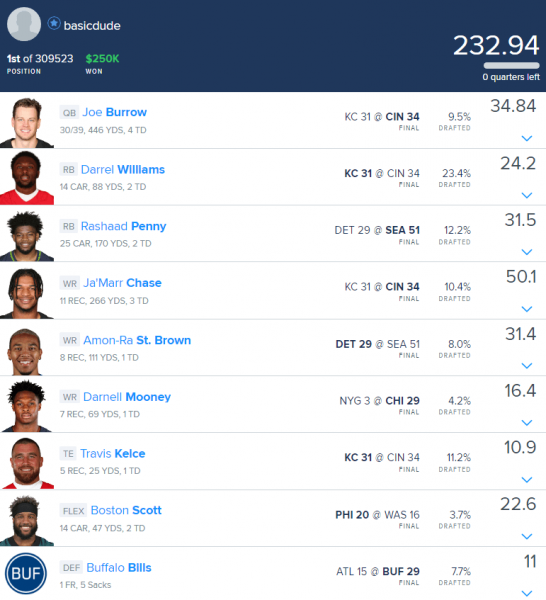 Ownership
The Week 17 Sunday Million winning lineup had cumulative ownership of 90.3%. For the season, winners have averaged cumulative ownership of 107%. This was just the second time all season that a winner rostered three wide receivers with ownership all at or below 10%.
Stacks
This was the most unique quarterback stack used in a winning lineup with two bring-backs from the opposite team. Of the six winning teams that used a bring-back with their quarterback stack, four used a tight end on the opposite team and two used a wide receiver. This was the first time that a running back on the team opposite the quarterback was used. All but two winners have used a mini-correlation with a running back included.
Flex
For the eighth time this season, the Sunday Million winner rostered three running backs. This is the same number of times that a winner has flexed a wide receiver while just one winner has used two tight ends.
Leverage
Despite having relatively low cumulative ownership, this lineup was overly contrarian with four players having at least 10% ownership and only two under 5%. Including a double bring-back was probably what separated this lineup from the other Ja'Marr Chase lineups. Boston Scott was a perfect salary pivot off of the much more popular Devin Singletary, although both players had similar scores.