Fantasy Football Weather Report: Week 11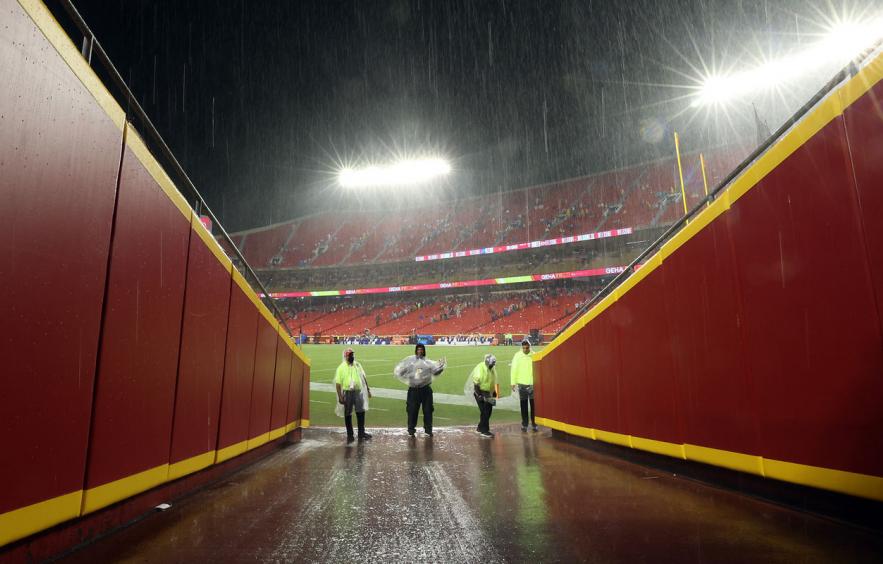 Jamie Squire/Getty Images
The winter season is nearly upon us, and everyone's on the lookout for the next bad weather game. We've some light snow and a little rain, but the elements haven't been the leading cause for chaos and upsets we saw this past week. Let me highlight a few takeaways from last week and then dive into the games I'll be tracking ahead of Sunday.
Week 10 Recap
Let's recap the game out in Pittsburgh. Tweets before the game mentioned light snow, but as I said in my final update, "chaotic events" were about the worst we could expect. The results emphasize two points we can use for future bad weather games. Pittsburgh's team-level metrics highlight what I've mentioned in previous posts about focusing on opportunity.
Rudolph vs. Roethlisberger's Last Three Games

| | Rudolph | Roethlisberger (Last 3) |
| --- | --- | --- |
| Plays Run | 68 | 69 |
| Neutral Pass Rate | 61.5% | 56.9% |
| Yards per Attempt | 4.8 | 6.8 |
| Yards per Drive | 32.4 | 28.9 |
| Red-Zone Pass Rate | 76.9% | 52.9% |
| Deep-Ball Rate | 6.0% | 9.0% |
Rudolph had the exact same aDOT in his first two starts in relief of Roethlisberger back in 2019, so his reliance on short passes wasn't a surprise. Plus, the Steelers' team-level intent largely remained intact. Everything from plays run to their passing rates looked similar to Roethlisberger's over the last few weeks.
Nobody expected a tie. However, seeing non-extreme conditions hold a team's intent relatively constant lends more credence to the idea that we shouldn't adjust until the elements get intense. But, even still, those decision points bring up another part of bad weather games.
We tend to overreact when we see/hear about wind, rain, or snow. Folks ask questions about benching players in those games or finding other options. My typical response is, "Who are your other options?" I discussed this on Wednesday with Justin Boone from theScore with basic guidelines for approaching these types of games as we head into the winter. In short, if you're considering adjusting your roster, look at your bench options first.
Najee Harris continued to own the Steelers' backfield with 30 touches while Diontae Johnson tied for first in targets at 12. That's what foundational players are supposed to do to your squad. Yardage totals and touchdowns are stats that vary every week anyway, regardless of the weather. So, unless you can find players with comparable workloads on your bench, we should leave our rosters untouched unless the conditions are at their worst.
Games to Monitor
Week 11 Games to Monitor

| Game | Temperature (Feels Like) | Chance of Precipitation | Max Precip Rate (in/hr) | Wind |
| --- | --- | --- | --- | --- |
| Ravens at Bears | 41 | 15% | 0 | 16 mph W |
| Cowboys at Chiefs | 40 | 0% | 0 | 16 mph NNW |
| Texans at Titans | 55 | 72% | 0.04 | 11 mph SW |
| Lions at Browns | 39 | 77% | 0.02 | 14 mph SSW |
| Colts at Bills | 40 | 55% | 0.02 | 13 mph SSW |
BLUF: The wind games aren't a concern as of right now. I'll dig into the particulars, but the game conditions will be fine unless the wind speed increases. Rain is only a concern for the Titans' game, and I'm only mildly worried there. At most, it'll be a nuisance with minor impacts on the game itself.
11/21 Update: Overall, no significant changes. Chicago's will see a max wind speed of 17 mph, but it'll be towards the end of the game. Lamar Jackson's status takes precedence over any weather concerns, so I'd focus on injury reports rather than the forecast. The rain in Cleveland is holding at 0.03 inches per hour keeping it to "slips and possible fumble" territory. It's the same for Buffalo (Orchard Park). Nashville is a little different.
The forecast is showing 0.15 inches per hour for the Titans' game, but for one hour until it quickly recedes to 0.06. This type of forecast popped up in a couple of games earlier this season and didn't have an increased impact on the game itself. Overall, my stance on the game is the same. The projected precipitation rate, along with it starting prior to kickoff, will be more of a nuisance than a game-changing factor.
Games Impacted by Wind
Baltimore Ravens (25.25-point implied total) @ Chicago Bears (19.75)
Dallas Cowboys (26.75) @ Kansas City Chiefs (29.25)
I'm grouping these two as they have the same maximum wind speed, but the nuanced analysis is slightly different for both. Let's start with Chicago.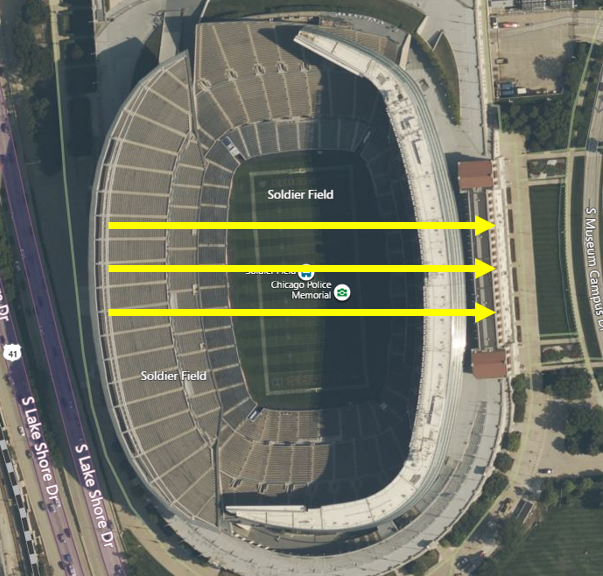 You can see how Soldier Field's orientation and the wind's vector will combine for a perfect cross breeze. Plus, the Bears' stadium is relatively short as it's only 151 feet tall. Usually, all of this would give me some pause, but wind speed won't pick up until 3 PM CST as of my writing. Kickers may have to adjust, but either passing game should be fine unless the conditions get worse. I'll have updates tomorrow and Sunday morning. Kansas City is a similar story.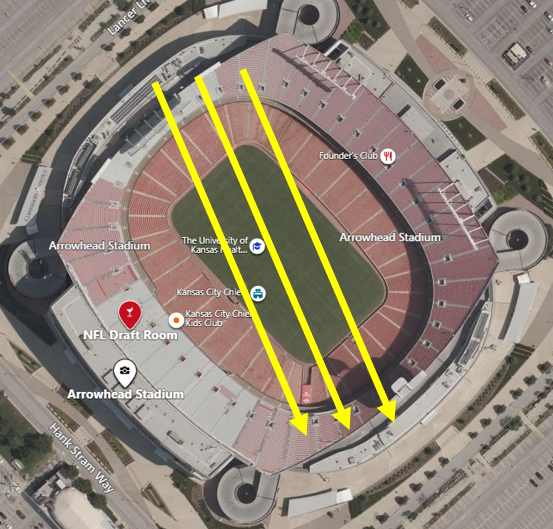 Any cross breeze at Arrowhead stadium would be less dramatic than in Chicago. The field points essentially in the same direction, so there's less to worry about in that respect. Plus, the forecast shows the wind speed decreasing as the game progresses. With the game having the highest total of the weekend, I'll need to see a significant change in the weather to move off of any plays.

Games Impacted by Rain
Houston Texans (17.25-point implied total) @ Tennessee Titans (27.25)
Detroit Lions (16) @ Cleveland Browns (27.5)
Indianapolis Colts (21.25) @ Buffalo Bills (28.25)
At 0.04 inches per hour, the Titans game carries the most concern out of all possible rain games. It's not just the in-game conditions, but pre-game, too.

I'd categorize it as "light rain" or a "drizzle," but Nashville Nissan Stadium uses grass/sod on their playing surface. Unless the grounds crew covers the field (up until two hours before kick-off per league protocol), in-game usage will deteriorate its condition quicker. It's why I said the rain would be more of a nuisance than an actual impact. Slips, fumbles, or tipped passes are possible, but team intent (pass rates, yards per attempt, etc.) should be unaffected. The same goes for the other two rain games, but on a lesser scale.
Cleveland's conditions may be slightly worse as the rain will start early in the morning, just like in Nashville. Also, the temperature will be in the high 30's. I'm expecting conditions similar to last week's Pittsburgh game without the flurries. However, we should limit our expectations with Baker Mayfield "more beat up than ever" and Detroit preparing to start Tim Boyle.