Fantasy Football Weather Report: Week 10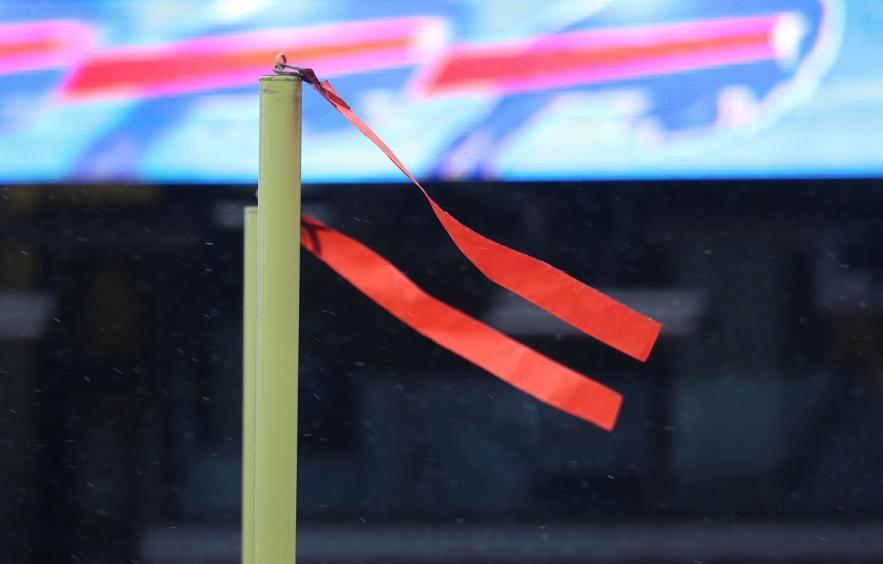 Tom Szczerbowski/Getty Images
I got the day off last Thursday, so there wasn't a weather report last week. I checked the forecast data, didn't see any rain, and the maximum wind speed in any game was 14 mph. So, naturally, I shut my computer down, poured myself some homebrew, and watched TNF undistracted. But, no such luck this week. Just a couple of minor concerns this week, but I wanted to touch on something I mentioned a couple of weeks ago real quick.
Week 8 Recap
Let's rewind to Week 7. A downpour like the conditions in the "2019 Mud Bowl" was in the forecast, but the boxscore results didn't match up. I reviewed the game the following week, noting that most of the typical opportunity and efficiency metrics were down for both teams. In short, the weather altered team intent. At least, that's what the data indicated.
The larger point centers on how we should approach lousy weather games. They all don't require a reaction. If you've noticed over the last two months, it takes a lot to get me worried. Part of it's due to my focus on a team's intent and viewing each game through that lens. A similar situation came up in Week 8.
Week 8 Weather Forecast

| Game | Temperature (Feels Like) | Chance of Precipitation | Max Precip Rate (in/hr) | Wind |
| --- | --- | --- | --- | --- |
| Steelers @ Browns | 53 | 15% | 0 | 16 mph W |
I wrote this game up in my weekly report and didn't think much of it. As I said, it takes a lot to get me worried. But I was listening to Establish the Run's Friday show, and the wind was brought up as a reason to like Pat Freiermuth. Again, it was Friday, so I fired off some takes in the chat, which wound up in an ETR promo video. It was all in good fun, but I made sure to look into that game afterward. If the winds were a concern, we'd see changes in intent.
PIT/CLE Team Intent from Week 8.

| | PIT | CLE |
| --- | --- | --- |
| Plays Run | 5.7 | -2.2 |
| Neutral Pass Rate | 0% | 9.90% |
| Yards per Attempt | 0.6 | -1.9 |
| Yards per Drive | 6.6 | -4.6 |
| Red-Zone Pass Rate | -8% | 4% |
| Deep-Ball Rate | -6.20% | -9.30% |
Both teams either met or exceeded their neutral pass rate, ran a similar amount of plays, and attempted passes at similar depths. Ben Roethlisberger was without two pass-catchers, and Baker Mayfield had just missed Week 7 due to the injury to his non-throwing shoulder. So, we shouldn't have expected many deep passes anyway. However, the main point is that team intent should continue to be our focus, and we shouldn't overreact when mild conditions come into play.
Games to Monitor
Week 10 Games to Monitor

| Game | Temperature (Feels Like) | Chance of Precipitation | Max Precip Rate (in/hr) | Wind |
| --- | --- | --- | --- | --- |
| Bills @ Jets | 86 | 51% | 0.02 | 10 mph S |
| Lions @ Steelers | 35 | 60% | 0.02 | 11 mph SW |
BLUF: There's no concern for this weekend. Rainfall at this rate can't even be attributed to chaotic events like slips or fumbles. Unless the storm patterns worsen, we can approach the games as we usually would.
11/11 Update: I re-ran my scripts, and the BUF/NYJ game forecast came out clear. The chance of rain was down to 1.0%, so the game should see no rain. I'll keep checking throughout the weekend, though.
11/14 Update: The max precipitation rate for the DET/PIT game is up to 0.04 inches/hour with a "wintry mix" expected by the end of the game (rain-snow mix). It will likely hold throughout half of the game on top of it being relatively cold (32 degrees). Mason Rudolph starting over Roethlisberger takes precedence over the weather, but we are in the "chaotic events" territory based on these conditions.
A fumble or tipped pass for an interception is already likely with Rudolph and Jared Goff playing, but the weather will exacerbate any negatives we might have for either passing game. We've also seen similar games from Goff, but the rainfall rate has been slightly worse. Plus, and this is something I need to dig into over the offseason, Goff's hand size (9 inches) is one of the smallest among active quarterbacks. Cold weather (affecting grip strength) mixed with a wet ball isn't exactly a recipe for success. Heinz Field does have 40 miles of piped underneath to heat the soil with drain pipes to collect the run-off so field conditions should be only slightly degraded. I wouldn't make any dramatic changes, but it does take the shine off of any ancillary players.
And, yes, I saw it's snowing in Green Bay. Snow will be long gone by kickoff (it's the late game for the main slate) and that field also has heated pipes. Other than it being cold, the game conditions will be fine.

Games Impacted by Rain
Buffalo
Bills

(30.3-point implied total) @ New York

Jets

(17.8)
Detroit
Lions

(17.0) @ Pittsburgh

Steelers

(25.5)

I'm grouping these two games because the advice is the same. Don't worry.

A precipitation rate this low isn't physically visible on the field nor in the boxscore. I took a quick look back on the season to find games with similar conditions shown on my initial Thursday look-ahead.

Half of the games went over their projected total. Two games (BUF/MIA and CHI/TB) were lopsided blowouts. I even used plays run and pass attempts as a crude measure of team intent. The results didn't indicate that rainfall was a factor. As a result, unless the conditions get worse (and I'll have updates on Saturday evening and Sunday morning), we can evaluate this game as if the weather wasn't an issue.