Fantasy Football Weather Report: Week 8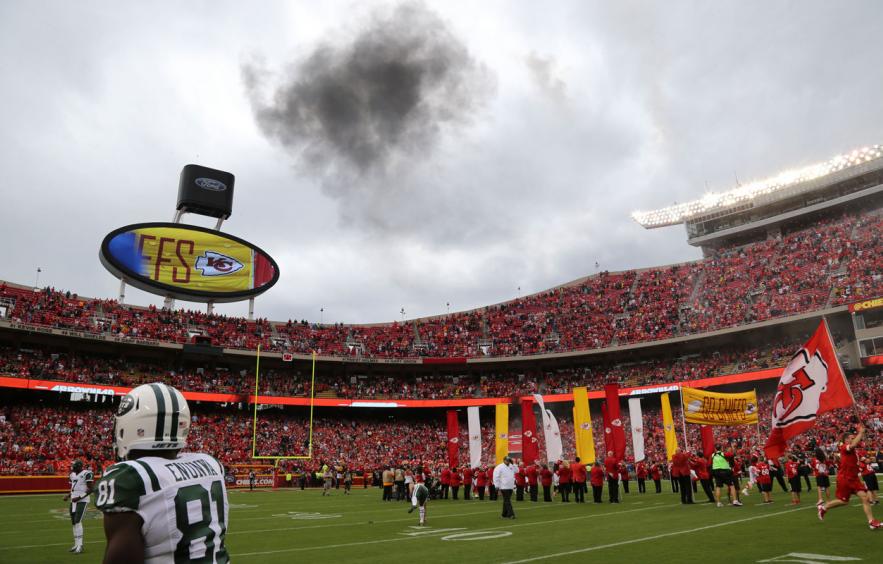 Al Pereira/Getty Images
We're just at the halfway point of the season, and we haven't seen anything too crazy from a weather perspective. The good news is that there's not too much to be worried about for Week 8 too. But, before we get to this weekend, I wanted to review the Sunday night game since we saw quite a bit of rain.
Week 7 Recap
I was in Chicago for the weekend, so I was driving back as SNF got underway. If you want to hear one of the stories from my time out there, listen to John Daigle recount our Saturday night which was, in a word, unforgettable. Regardless, I was excited to see how the game played out as the conditions were like the "2019 Mud Bowl," as I had noted. The historical weather obs agree with me.
Heavy rain during pre-game, the ground crew covered the field, and the downpour continued throughout the game. The game even started as expected. Six rushing attempts to two passes on the first drive. Joey Slye missed the extra point. Jonathan Taylor fumbled. It all made sense until football, like life, found a way.
The game blew past its 42.5-point total, and everyone got what they needed. At least, that's what the boxscore says. Three Indianapolis touchdowns came after passing interference penalties which set the Colts up with excellent field position. I saw the chatter on the TL once I got home, so I decided to dive under the hood.
Week 7 IND/SF Team Intent Metrics

| | SF | IND |
| --- | --- | --- |
| Plays Run | -10.8 | -1.8 |
| Neutral Pass Rate | -14.4% | -33.3% |
| Yards per Attempt | -1.0 | -2.2 |
| Yards per Drive | -15.5 | -10.3 |
| Red-Zone Pass Rate | 22.9% | -17.8% |
| Deep-Ball Rate | 5.8% | 7.6% |
Opportunity and team intent tell us a slightly different story than the boxscore. Every metric took a hit indicating the weather had some impact which should make sense given the conditions. My main takeaway is to focus on intent and find the players least affected by opportunity dips to better project the game.
Games to Monitor
Week 8 Games to Monito.

| Game | Temperature (Feels Like) | Chance of Precipitation | Max Precip Rate (in/hr) | Wind |
| --- | --- | --- | --- | --- |
| Steelers at Browns | 53 | 15% | 0 | 16 mph W |
| 49ers at Bears | 49 | 2% | 0 | 15 mph NW |
BLUF: No concern for this week. There are no rain games (the maximum chance of rain all weekend is 34.0%), and the greatest wind speed is 16 mph. As of Friday, the elements won't be a factor.
It does look like a storm system will be in the Buffalo (Orchard Park) area. The chance of rain is hovering at 33.0%, and wind speeds will increase from 11 to 14 mph as the game progresses. It's nothing to worry about now but worth monitoring over the next couple of days.
Temperatures in Denver and Kansas City will dip into the high 30s. There's no reason to worry, but just a heads up that we're getting into the cold-weather months. I only pay attention to the extremes (15 degrees or below), like with wind or rain, but we'll get into it more as the weeks progress.
10/31 Update: Winds for PIT/CLE will be in the 17-19 mph. Similar conditions were projected back in Week 3 and wind speeds wound up being 22 mph at kickoff. In that game, Mayfield had a 7.9 YPA (slightly below average) with a 64.7% neutral passing rate. Those numbers don't suggest any sort of significant shift in intent due to the wind. However, Cleveland's red-zone passing rate dropped to just 30.0%. His shoulder injury caps whatever ceiling he might've had if healthy anyway and Ben Roethlisberger's penchant for short passes won't be affected by the wind. All in all, there's no added concern for the game.

Games Impacted by Wind
Pittsburgh
Steelers

(19.5-point implied total) at Cleveland

Browns

(23)

The max speed (16 mph) isn't much of a concern, and the direction also keeps my worry at bay.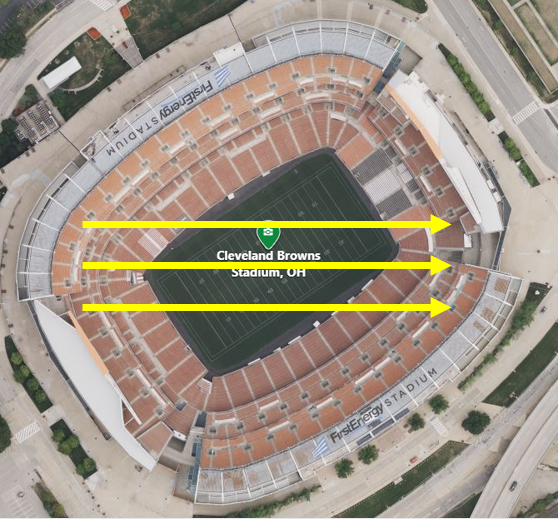 The winds were coming from the Northwest back in Week 6, which generated some cause for a crosswind. While it's still possible on Sunday, the stadium's positioning reduces the effect. And, of course, the wind speed itself won't play a part in the game's outcome.
Metrics for Wind Games at FirstEnergy Stadium

| Season | Week | Windspeed | Air Yards per Attempt | Neutral Pass Rate Diff |
| --- | --- | --- | --- | --- |
| 2020 | 5 | 16 | 8.7 | 8.90% |
| 2020 | 3 | 18 | 8.2 | -3.20% |
| 2020 | 14 | 18 | 9.6 | 10.10% |
I provided a similar table back in Week 6, but I've adjusted the windspeeds to match the forecast. Overall, intent for each passing game doesn't significantly change, and passing depth and rate remain stable, eliminating any concern for the matchup.
San Francisco
49ers

(21.5) at Chicago

Bears

(18)

A 15-mph wind is when I start to take notice, but there's no significant impact on the game. If the velocity holds, I'm not changing my approach to this game. However, if I were to get concerned about anything, it's the wind's direction.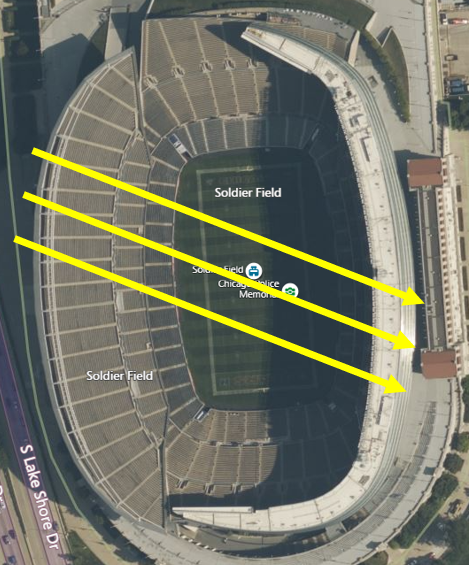 The conditions would have to shift to 20-plus for this to be a factor, but I'm mentioning it to be thorough. The stadium itself stands at 151 feet, so its vector may become an issue if the wind ticks up. Otherwise, we shouldn't change our stance on this game.