Leonard Fournette's Fantasy Value is Being Pillaged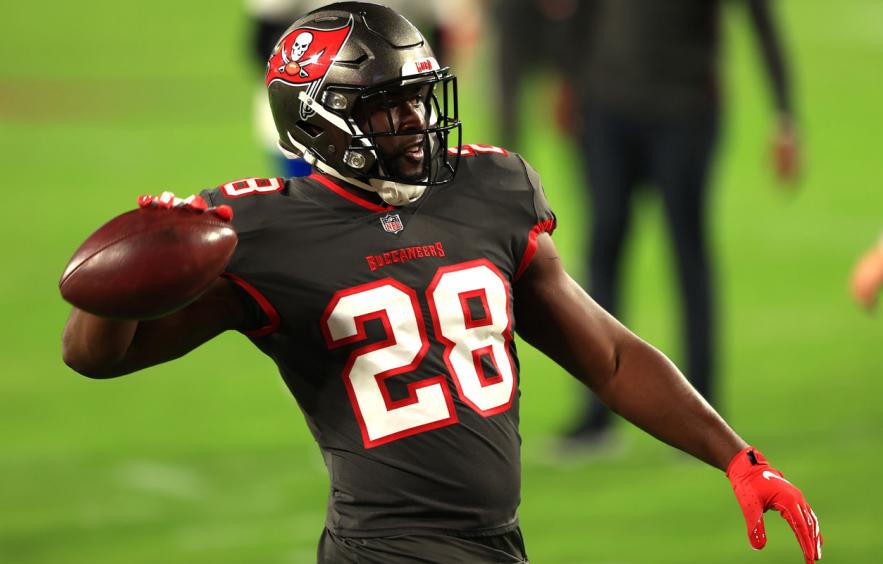 Mike Ehrmann/Getty Images
Uncle Lenny. Playoff Lenny. Lombardi Lenny. Crowded Backfield Lenny. No matter your favorite nomenclature for the former Jacksonville Jaguar, the Tampa Bay Buccaneers rode Leonard Fournette throughout the 2020-2021 NFL playoffs on their way to their second Super Bowl title. Regardless of your perception of his borderline replaceability, the team returned Fournette, the 10 other offensive starters, and all 11 defensive starters to run it back to the best of their ability.
---
Editor's Note: Read more player profiles from the 4for4 staff!
---
Will the Bucs give Fournette a similar workload to his 20.5 touches per game throughout the playoff run, or will a certain free-agent addition and continued tread on the tires result in a stagnant piece of the offense in the upcoming season? We'll look into exactly that, and what sort of fantasy output we can expect from the veteran in 2021.
A Pirate's Life is a Life For He
An expensive fifth-year option and a history with injuries had Leonard Fournette on the outs with the Jaguars immediately after the ending of the 2019 season. Rumors abounded that Jacksonville was looking for a premium pick for the running back, which then devolved into any pick, which in turn consigned to an all-out release, with no teams snagging him off of the waiver wire for his $4 million contract. Instead, Tampa Bay played the waiting game and signed him a few days after he cleared waivers, essentially ruining Ronald Jones and rookie Ke'Shawn Vaughn's fantasy value. It can be debated how much Vaughn would have seen the field in the first place, but there's no doubting Jones would have handled an even bigger workload without the former Jaguar crowding up his backfield.
*2020 numbers with the Cincinnati Bengals
Tampa Bay clearly recognized Fournette's declining efficiency in the ground game and utilized Ronald Jones' bruising style while building a lead, relegating Fournette (32% of his rushing attempts) and Vaughn (62%) too much of their usage in the fourth quarter to run down the clock. Considering the team had just spent a third-round pick on the position after bringing in a veteran presence in LeSean McCoy, it was apparent that the team didn't want Jones taking a plethora of third-down snaps, so where the addition of Fournette really hurt the incumbent's perceived bottom line was at the goal line. Both backs ended up with identical touchdown totals (five) from inside the five-yard line on almost identical usage (Jones' 10 attempts to Fournette's nine attempts).
By siphoning usage off of one another, neither of the main backs had explosive usage, leaving only a handful of fruitful fantasy performances between them. Jones would finish with 12.6 half-PPR points per game (RB23) while Fournette wrapped up 2020 with 9.5 half-PPR points per game (RB35). Not awful on either account, but one of them could have been a league-winner on the third highest-scoring offense in the NFL.

The Buc Starts Here
There is no doubt that drops are overrated. However, they may not be when it comes to how an NFL team is building its roster. Leonard Fournette and Ronald Jones combined to drop 12 passes out of the backfield and possibly created an impetus for Tom Brady prodding decision-makers to go sign veteran Giovani Bernard, who has dropped eight balls in the last three seasons combined. The signing further muddles a depth chart that was difficult to get a grasp on in the first place.
Bernard will come in and immediately ding the value of both incumbents by playing what head coach Bruce Arians calls the "nickel" running back, sliding in on third downs and their two-minute offense. Fournette, in particular, will miss out on a lot of the value he received from his 47 targets in 13 games and will force the team to rotate early-down usage, in theory sapping further usefulness. Also, keep in mind that Ronald Jones averaged 1.3 more yards per attempt behind the same offensive line, possibly giving us a hint that Fournette will get squeezed in both aspects of his game.
With his floor and ceiling both being compromised, the possibility of regression from his offense, and a long history of injury, it's hard to find the case for Leonard Fournette in your fantasy league this season.
Bottom Line
For Leonard Fournette to produce consistent fantasy numbers, he will have to convert at an incredibly high rate at the goal line, a task that will be difficult unless Ronald Jones is forced to miss time.
Buccaneers beat writer Greg Auman has Fournette in the 120 touch range, and that's after projecting ~ 40 more running back touches for the team as a whole. That would be even fewer than what Lenny managed in 2020.
Currently going as the RB38 (9.10) in Underdog drafts, he is mostly in line with our Half-PPR ranking of RB41. Regardless, I would prefer to wait for another round or simply take a stab at someone like Gus Edwards who is going in the same range.