TJ's #Taek: Week 5 NFL DFS Recap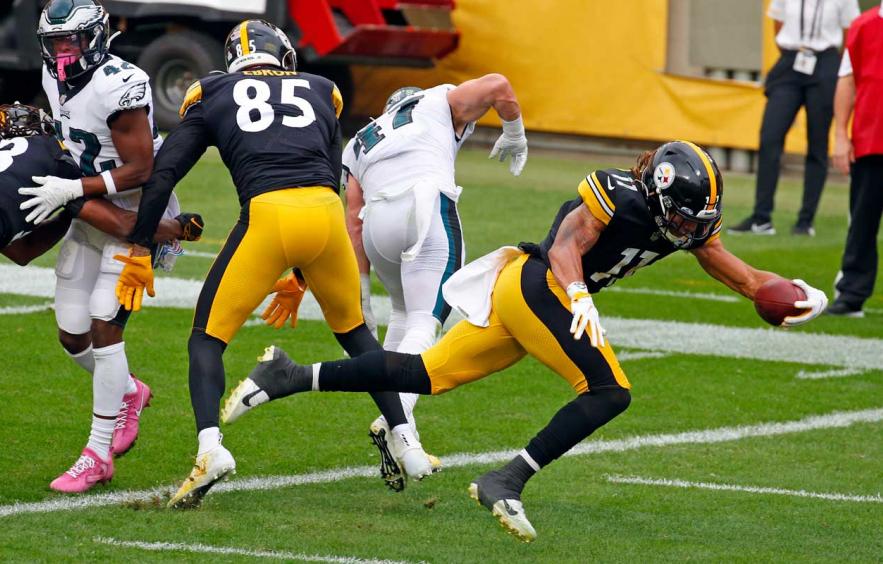 Justin K. Aller/Getty Images
Week 5's winning lineups from the biggest contests on FanDuel and DraftKings can be used to tease out lineup-building strategies and offer clues on how you could have landed on a similar team. Reviewing your hits and misses each week is imperative if you want to be a profitable DFS player but examining winning lineups is also a useful exercise in cultivating a winning approach.
DraftKings Week 5 Millionaire Winning Lineup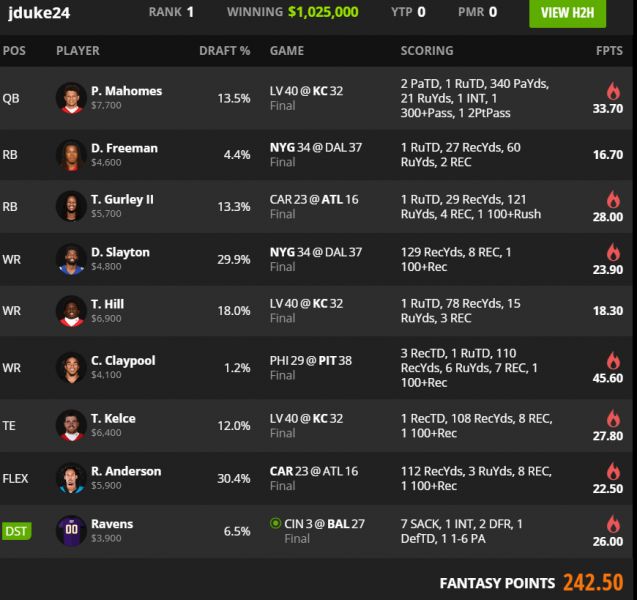 In this space last week, I noted that with four weeks of games in the books, we should expect the average ownership of winning Millionaire lineups to increase. With more reliable data, the most popular plays should hit more often and Week 5 saw the highest average ownership of a winning Millionaire lineup this season, with an average of 14.4%. Of course, this doesn't mean that every tournament lineup that you build should slant towards higher projected ownership but that a tournament portfolio should have a range of projected ownership levels.
One trend that did continue into Week 5 was the strategy to pay down for unpopular running backs. On average, 2020 Millionaire winners have paid $6,650 for their top back and haven't used a back that shows up in more than 16% of lineups. In 2019, those averages were $8,100 and 27%, respectively. This has led to a more balanced lineup build in terms of salary distribution, driven largely by the dominance of high-end quarterbacks. Millionaire winners are typically paying over $7,000 for their quarterback while that number was around $6,200 in 2019.
What Were the Indicators for the Low-Owned Plays?
While the most popular backs haven't been in many winning tournament lineups, the formula to find under-owned backs hasn't been surprising. Players who have a clear path to volume with touchdown upside are perfect contrarian targets. In Devonta Freeman's first game with the Giants, he saw 15 touches, accounting for 63% of the backfield work. It was logical to expect his workload to rise with a game under his belt and he served as a great leverage play off of his popular passing game. Since jduke24 only used three players in his quarterback stack, pairing Freeman with the popular Darius Slayton added a layer of correlation to Week 5's winning lineup.
A player like Chase Claypool is never going to be on the radar despite seeing 76% of snaps in the Steelers' last game before Sunday. With Diontae Johnson expected to be back at full health, Claypool was going to be third in the target order at best but an early-game injury to Johnson paved the way for the rookie's huge day. There is a takeaway here, however. Pat James suggested Johnson as a cash play, pointing out Philadelphia's shortcomings in the secondary. In these situations, it can be beneficial in large-field tournaments to attack a team weakness with an unpopular play such as a team's non-primary pass-catcher. These plays will never be core plays but sprinkling them throughout GPP portfolios can pay massive dividends.
FanDuel Week 5 Sunday Million Winning Lineup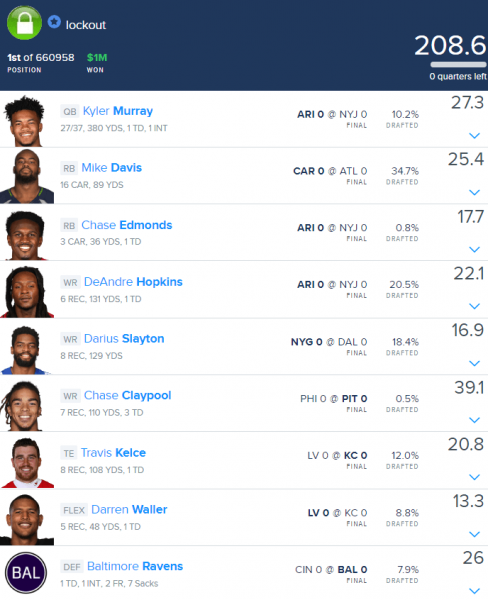 Despite having two players rostered on fewer than 1% of Sunday Million lineups, lockout's winning team carried the third-highest average ownership among winners this season, coming in at 12.6%. Chase Edmonds didn't have a monster game but he did enough in a timeshare to fill out the QB/RB/WR Arizona stack.
In addition to two very low-owned plays, what really separated lockout's lineup was the tight end in the flex, adding correlation with a tight end in the same game. This marks just the second time since the beginning of 2018 that a Sunday Million winner used a tight end in the flex spot. Most tight ends aren't going to be able to match the ceiling of running backs or wide receivers, but with Travis Kelce and Darren Waller both seeing WR1 type volume, this was a rare case where it was a feasible option.
TJ's Final #Taek
Every week in the 4for4 discord, I post data for most of the major tournaments available on the main slate. While understanding lineup-building concepts is essential to being a profitable DFS player, it's only half the battle. Proper game selection alone can turn a losing player into a winner. When looking for the most profitable long-term bets in terms of which GPPs to play, the formula is quite simple—we want flat payout structures that pay out a high portion of winners with the lowest rake we can find.
One reason DFS players might opt for bad tournament structures—besides chasing huge prizes—is the ability to cover all their bases, or hedge their player exposure for a relatively low dollar amount. Rather than forcing poor game selection in hopes of hedging, a more profitable option is to play multiple slates. Playing more slates not only leads to different lineup combinations but gives DFS players a variety of opponents that they might not have otherwise faced. Though this might sometimes limit upside, the long-term impact of being a strong game selector is as important as building good lineups.