Week 4 NFL Pick'em and Survivor Pool Picks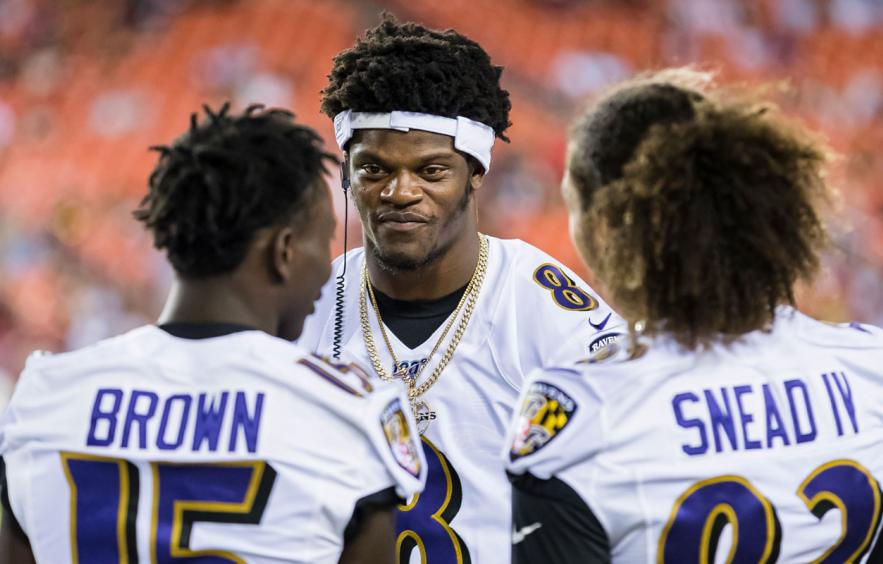 Scott Taetsch/Getty Images
In Week 3 we saw a mixed bag across the NFL, with some favorites doing what we thought they would, and a few projected winners falling short. There was even our first tie of the season, which helped no one.
With the help of TeamRankings' customizable tools and data, I'll go over the best value picks for Week 4, along with the top suggestions for survivor pools. With this info, you should be able to make smart decisions in order to get back on track or keep you going if you've had a strong start to the season thus far.
---
Editor's Note: Try TeamRankings with a Week 4 free trial.
---
Week 3 Recap
My picks went 3-1 on the week, with the Colts, Browns and Patriots all hitting paydirt. Sadly, Baltimore faltered in a primetime island game, in a battle I thought would be much closer.
Overall through three weeks, my picks in this column are 9-4, with three of those losses coming the first week.
Pick'em Pool Breakdown
Before I get into the picks, note I'm not suggesting you should make all of the picks listed below. The best Week 4 picks for your NFL pool depend on strategy factors such as your pool's size, rules and prize structure, plus situational factors like your current place in the standings and number of weeks remaining.
As usual, these picks are sorted according to where they sit on the risk/reward spectrum. I try to provide some of the best opportunities to differentiate your Week 4 picks from your pool opponents, by taking on only a modest amount of risk, or no additional risk at all.
Favorite Favorites
Baltimore
Ravens

@

Football Team

Via both Vegas and the TeamRankings model, the Ravens have the highest win odds on the week at 85.5% and are tied for the second-highest spread at -13. Washington is banged up on the defensive side of the ball which should be no match for Lamar Jackson and this Ravens offense, especially coming off the public beatdown on Monday night.

In Week 2, the Football Team had no answer for Kyler Murray, who slashed them for 353 combined yards and three total touchdowns. Jackson is a more seasoned version of Murray, which should not end well for Washington in Week 4.

Don't overthink this one and go with Baltimore with confidence in whichever type of pool you are in, and perhaps some bidders will decide to pick Washington in an upset after Monday night's mediocre performance.
Los Angeles
Rams

vs.

Giants

Also big favorites, but at home, the Rams are in a great spot to win with confidence this week. The Rams are averaging 29.7 points per game and have an implied team total of 30.25 in this matchup, to New York's 17.25. They face a decimated Giants squad who lost 36-9 last week to a Nick Mullens-led 49ers team and now has to travel across the country.

The Rams' Vegas odds are also set at just above 85%, with TeamRankings coming just under at 84.7%. Los Angeles is the number one choice by the public at 98.8%, so you'll win or lose with most people in your pool.
Sensibly-Priced Favorites
Dallas
Cowboys

vs.

Browns

This matchup is the seventh-highest this week in terms of both odds and public betting, with a 66% chance of a victory and 88% of picks going to the Cowboys. Yes, the Browns have a winning record, but they beat the two teams with the highest draft picks in 2020.

Dallas lost two tough contests against teams with postseason potential and should have their get-right week at home in Week 4. The Cowboys are currently a 4.5-point favorite and are projected to put up 29.75 points in the victory.
Buffalo
Bills

@

Raiders

TeamRankings has the Bills at 61% odds of winning, with the public sitting close to 70%, which presents some value this week. Josh Allen and the Bills offense continues to roll and they face a Raiders team that despite their 2-1 record, ranks 25th in points allowed and 27th in yards allowed.

A Raiders upset may be somewhat popular in pools this week which means less reward for the risk, so in this case, it may be better to stick with the three-point favorite.
Value Favorite Pick
Indianapolis
Colts

@

Bears

This is the one Week 4 contest where the public is picking at a lower rate than their Vegas odds to win. Apparently, Chicago's 3-0 record is making some believers, as the Colts boast 55% win odds while only 38% of bets are going in Indy's direction.

This may not be a lock, but since their Week 1 loss, the Colts easily beat out both the Vikings and Jets, while Chicago struggled to come out victorious against all three opponents this season, which included the Lions, Giants and Falcons.
Survivor Picks for Week 4
Win Odds: Top 5 Week 4 Picks
Stating the obvious here, but higher is better when it comes to win odds. Everything else being equal, you want to pick the team with the best likelihood of making it through.
Here are the five safest teams this week, according to the TeamRankings Data Grid model (chances to win in parentheses):
Pick Popularity
Diversifying your survivor picks from the crowd is an advantageous strategy, as the pool winnings can increase significantly if your pick hits and another popular pick loses.
Here are the five most popular survivor picks for Week 4 (referencing Data Grid mentioned earlier):
Future Value
The last piece of the survivor pool puzzle is future value. If you fire off a powerful team in Week 4, you won't be able to use them later.
According to TeamRankings, here are the top five teams in future value entering this week for a 100-entry standard rules pool:
Note: The numbers in parentheses are a proprietary rating of future value found in the TeamRankings Data Grid, which is also impacted by factors such as pool size.