TJ's #Taek: Week 15 NFL DFS Recap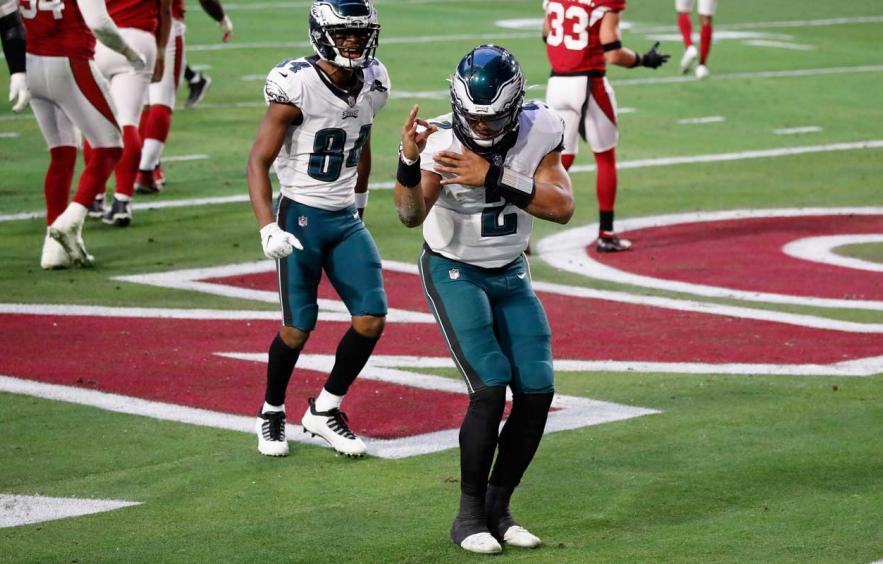 Christian Petersen/Getty Images
Week 15's winning lineups from the biggest contests on FanDuel and DraftKings can be used to tease out lineup-building strategies and offer clues on how you could have landed on a similar team. Reviewing your hits and misses each week is imperative if you want to be a profitable DFS player but examining winning lineups is also a useful exercise in cultivating a winning approach.
DraftKings Week 15 Millionaire Winning Lineup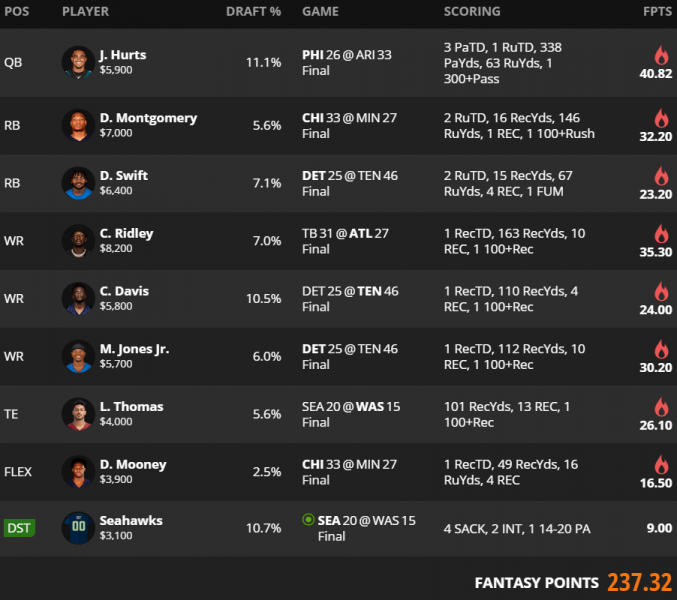 This week's Millionaire contest was just a $10 buy-in, compared to the usual $20 entry fee, which meant a larger field and the need to be slightly more contrarian than usual. This lineup was especially unique, though, even for the biggest fields. The 7.3% average ownership of jhudson1's winning lineup was the lowest average for a Millionaire winner since at least the start of 2019 and just the second in that span with an average ownership below 8%.
From a lineup-construction standpoint, what really stood out was the duo of mid-salary running backs in a week where the two most popular players on the slate were running backs priced at $7,400 and $9,500 while a $4,500 back was in 23% of lineups.
This was also the second time this season that a winner used a "naked" quarterback strategy, a quarterback without one of his pass-catchers. As we saw from the Week 11 Millionaire winner, the "naked" build works best with a low-salary, mobile quarterback, especially when that offense doesn't have a clear number one pass-catcher.
What Were the Indicators for the Low-Owned Plays?
The decision to avoid the salary tier of the most popular running backs of the week was unique in itself, but both running backs carried single-digit ownership and jhudson1 paired each with a low-owned wide receive from their respective offenses. Targeting the Detroit side made sense as a leverage play off of their opponents, who had the highest implied total of the week and the player with the highest ownership projection. David Montgomery was in a surprisingly low number of lineups coming off of the best three games of his career, but Darnell Mooney made sense as a pivot off of Allen Robinson, who drew double-digit ownership.
Calvin Ridley was also surprisingly low-owned with Julio Jones out and the Falcons matched up against Tampa Bay in what was expected to be one of the higher scoring games of the week. Going into Week 15, the Buccaneers ranked in the bottom 10 in schedule-adjusted fantasy points allowed to wide receivers.
Logan Thomas likely saw a late-week drop in popularity with Alex Smith declared ou, but the Washington tight end has seen steady volume regardless of who has been at quarterback. Seattle ranked in the bottom 10 in schedule-adjusted points allowed to tight ends going into this game.
FanDuel Week 15 Sunday Million Winning Lineup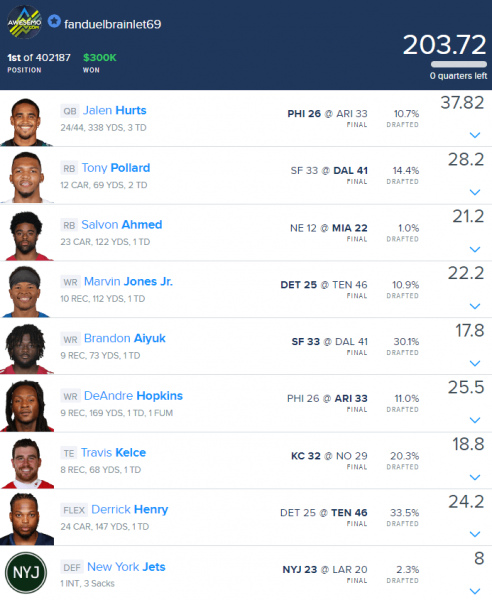 Contrary to the DraftKings Millionaire winners, the Week 15 Sunday Million winner was one of the chalkier winning lineups that we've seen this year with just two players in fewer than 10% of lineups, one of those being the defense.
Salvon Ahmed wasn't officially active until Sunday morning and 99% of DFS players chose to ignore that news even though Ahmed would be facing a New England defense ranked in the bottom 10 against running backs. DeAndre Washington was abysmal in Week 14 so there should have been little question about Ahmed carrying the load. Tony Pollard was also a late-news play which fanduelbrainlet69 took advantage of.
The Jets play was likely a FanDuel version of a strategy that is very prevalent on DraftKings—pay all the way down at defense and hop that they provide just a few fantasy points in order to make room for an additional high-salary stud.
TJ's Final #Taek
Week 15 was one of the more surprising weeks of the season for ownership—positions such as wide receiver had a ton of good but not great plays, which meant ownership had some wide ranges of outcomes. Another factor had to do with late-breaking news, especially as it pertained to Tony Pollard.
Once Ezekiel Elliott was declared out, Pollard immediately became one of the best values on the slate but he was in only 14% of Sunday Million lineups and 12% of Millionaire lineups—I erroneously projected him over 25% ownership on both sites. There are a few obvious reasons for Pollard's surprisingly low ownership: the average DFS player is bad at adjusting to late-breaking news, the industry doesn't have time to tout the new value as a great play, and players have a hard time breaking early-week biases.
The first two reasons are tightly intertwined. Whether it's a function of time or not having the confidence to make the decision on their own, a novice DFS player might decide it's best to trust a proven commodity rather than make a late lineup switch to a player such as Pollard, who might require a complete lineup overhaul.
As for being biased towards other players, Week 15 was a great example of that. With Ronald Jones declared out earlier in the week, Leonard Fournette was likely to be a cheap, popular running back on both sites, even though he was a healthy scratch the week before and his role was unclear against a Falcon defense that went into the week ranked first in schedule-adjusted points allowed to running backs. Once Zeke was declared inactive, it was clear that Pollard was the better play but many players either were too lazy to make the lineup change—since it required some shuffling—or simply didn't want to move off of the cheap value that they had been told all week was a good play.
Regardless of the actual reason for Pollard's low ownership, this is a great reminder that there is a huge edge to be had in reacting to late-breaking news. Those that adjust the best are often rewarded. Oftentimes, they don't even have to worry about high ownership no matter how good the new value is.