Monkey Knife Fight Plays: Week 15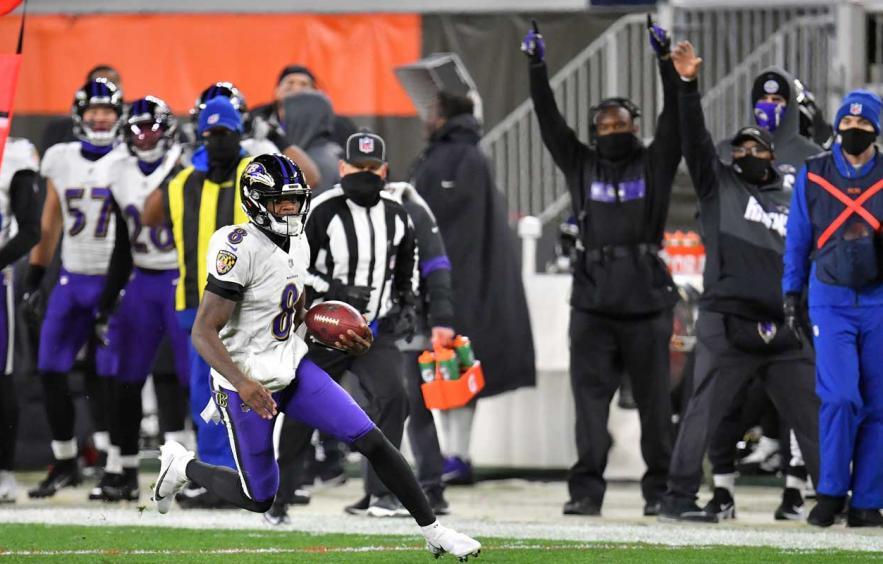 Jason Miller/Getty Images
Week 14 Recap: Week 13 was our best yet, hitting on nine of the 10 suggested plays. The only one we missed was CeeDee Lamb to record More Than 3.5 receptions. We had him projected for comfortably more than his Monkey Knife Fight line, but he inexplicably saw only two targets, catching both, but the Cowboys offense largely struggled. This was the second-lowest reception total of the season for the rookie receiver. With a 90% week in the rearview mirror let's crush Week 15.
For those reading this column for the first time, we scrape Monkey Knife Fight's contests against our projections. I'll go through 10 plays we feel confident in exceeding (More Than) or failing to reach (Less Than) MKF's projections by the percent likelihood we give the outcome. The percentage you see in parentheses next to each player's name is the chance we believe the More Than or Less Than hits, according to our projections.
Most of our recommendations will be to side with the Less Than on MKF, as they know the majority of fantasy players like to root for more of everything—more points, more yards, more receptions, etc.—and set their numbers higher than a normal median projection. Be sure to check out our Discord server and the #mkf channel where I'll post the full list of how our projections stack up against those of Monkey Knife Fight.
---
Before we dive in, a quick More or Less refresher:
More or Less - You will be drafting your team by choosing More or Less for a group of player statistics presented. You will be squaring off with your own predictions. Choose the coinciding number of tiers correctly to win the prize shown prior to entry.
Week 15 Saturday MKF Specials
With two games on Saturday, I'll start with a few of my favorite plays from those games.
Dawson Knox

, TE –

Bills

(84.4%)
MKF Line: 3.5 receptions
4for4 Projection: 2.0 receptions
Dawson Knox is actually our highest-rated play of the week when looking at both Saturday and Sunday's games. He has four receptions in each of the past two weeks but didn't record more than three receptions in any game prior. He only had one other game with more than three targets this season. Even with John Brown out, it's more likely Knox winds up with 2-3 receptions.
D.J. Moore

, WR –

Panthers

(84.4%)
MKF Line: 4.5 receptions
4for4 Projection: 3.8 receptions
We are back on a D.J. Moore Less Than reception play. With Teddy Bridgewater at quarterback, Moore has fewer than 4.5 receptions in 9-of-11 games this season. He has his blow-up games from time to time, but those largely come on big plays, not necessarily volume.
Aaron Rodgers

, QB –

Packers

(63.8%)
MKF Line: 295.5 passing yards
4for4 Projection: 284.4 passing yards
Aaron Rodgers has gone over 295.5 passing yards in just five of his 13 games this season. Despite Carolina's struggles against the pass and with the Packers installed as 8-point favorites, there is certainly a path where Green Bay runs the fourth quarter out.
Week 15 MKF Sunday Plays
Lamar Jackson

, QB –

Ravens

(82% and 78.6%)
MKF Lines: 175.5 passing yards and 69.5 rushing yards
4for4 Projections: 248.5 passing yards and 46.9 rushing yards
I'm not sure how this happened but our top two Sunday plays are both on Lamar Jackson. We have him projected to have 41.6% more passing yards and 32.5% fewer rushing yards than the lines Monkey Knife Fight is offering. I think part of it has to do with the Ravens playing against a hapless Jacksonville secondary ranked 31st in pass defense DVOA. Jackson has passed for more than 175.5 in 8-of-12 games this season and has rushed for fewer than 69.5 rushing yards in 8-of-12 games as well. Both are elite plays.
Michael Pittman

Jr. WR –

Colts

(71.3%)
MKF Line: 4.5 receptions
4for4 Projection: 3.6 receptions
Michael Pittman Jr. has only eclipsed 4.5 receptions in 2-of-10 games he has played this season. He has five targets in each of his past two games but he would have to catch every target in order to hit the More Than here.
Tua Tagovailoa

, QB –

Dolphins

(71%)
MKF Line: 235.5 passing yards
4for4 Projection: 202.4 passing yards
Tua Tagovailoa has gone over this number in exactly half of his games this season. New England isn't an overly imposing matchup, though, as they rank 25th in passing success rate and 31st in passing success rate allowed on the year.
Jalen Hurts

, QB –

Eagles

(68.3%)
MKF Line: 175.5 passing yards
4for4 Projection: 211.3 passing yards
Jalen Hurts is coming off a relatively strong game against an elite New Orleans defense where he threw for 167 passing yards. The Eagles were winning by three scores at one point and were not forced into any negative game script. As 6-point underdogs to the Cardinals this week, we can expect the Eagles to put a little more pressure on Hurts to throw the ball.
Jordan Akins

, TE –

Texans

(68.1%)
MKF Line: 3.5 receptions
4for4 Projection: 2.8 receptions
Jordan Akins has only gone over 3.5 receptions in 2-of-10 games this season. He now matches up against the Colts, who have been relatively stout against opposing tight ends this season. Akins only recorded two receptions on three targets last time he faced the Colts.
Antonio Brown

, WR –

Buccaneers

(62.2%)
MKF Line: 4.5 receptions
4for4 Projection: 5.9 receptions
This line should be between 5-to-5.5. Antonio Brown has more than 4.5 receptions in 3-of-5 games and only has one game with fewer than five targets. Brown should have an efficient day against a leaky Falcons secondary.
Editor's Note: The More or Less plays and projections were available at the time of this article being published. Please refer to MKF for the most up-to-date offerings.