Underdog Fantasy Best Ball Tournament Strategy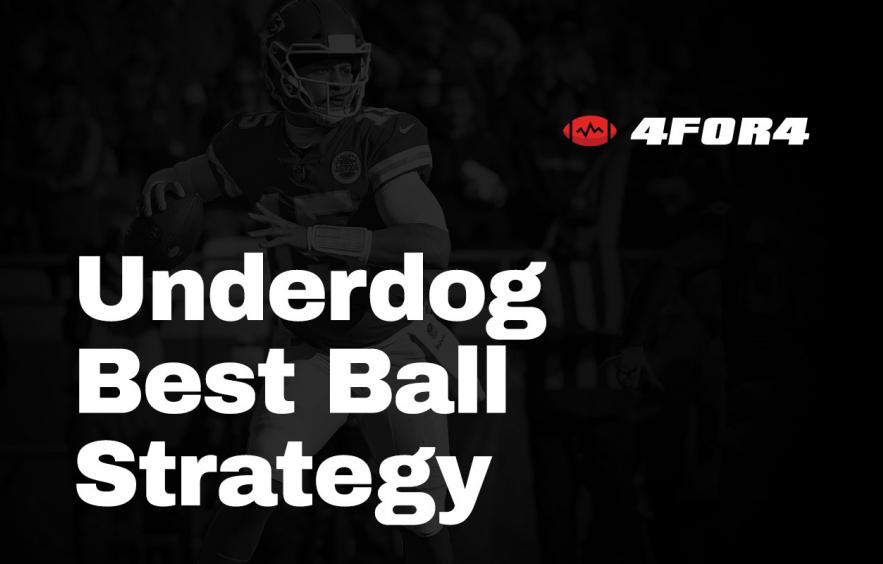 Underdog Fantasy recently launched its best ball product, including two massive tournaments, the $5 Bubble with a $100,000 prize pool and the $25 Best Ball Mania with a $1,000,000 prize pool. Here is the structure for each tournament.
Underdog Best Ball Tournaments

| Underdog Best Ball Contest | Buy-in | Entries | 1st place | Places Paid | # of Entries Advance to Round 2 (Week 14) | # of Entries Advance to Round 3 (Week 15) | Championship Round Entries (Week 16) | |
| --- | --- | --- | --- | --- | --- | --- | --- | --- |
| Best Ball Mania | $25 | 43,200 | $2,000 | 7,200 | 7,200 | 600 | 50 | Enter Now! |
| The Bubble | $5 | 22,500 | $20,000 | 5,616 | 5,616 | 468 | 39 | Enter Now! |
The following will breakdown strategies for large-field best ball tournaments such as these.
For those new to best ball, be sure to check out 4for4's Intro to Best Ball Leagues. Get familiar with general best ball strategy here.
Stacking
Stacking is an elementary concept in DFS but it is still under-utilized in redraft leagues. This roster-building technique pairs multiple players from the same team in an effort to create lineup volatility. While a head-to-head format—such as a traditional redraft league—can encourage managers to focus on their team's floor, there are few ways to get built-in upside in fantasy like stacking. In top-heavy payout leagues like many popular best-ball formats, targeting upside is extremely beneficial—in a massive tournament, it's a virtual must.
Unlike DFS, best ball limits our access to the entire player pool since we are at the mercy of a snake draft. While it's good process to plan out which offenses you would like to draft often, the reality is that players you want to draft won't always be there when your pick comes around. Rather than building teams around a stack, as is often the starting point in DFS tournaments, best ball stacks should come second to an optimal draft strategy, in terms of position allocation and player value.
Consider the following scenario. You're looking to stack the Texans on one of your Underdog Best Ball Mania teams. After drafting DeShaun Watson, you miss out on Will Fuller and Brandin Cooks. In this situation, simply pivot your plan to stack one of the pass-catchers that you have already drafted with your next quarterback. Maybe you took a tight end early and landed George Kittle—Jimmy Garoppolo is a great QB2 or QB3 to build correlation with your early-round investment.
However, here is some value in occasionally forcing stacks in large-field formats. If the plan is to load up on the Chiefs offense, decide how often you want to do that and go into a set number of drafts prepared to spend multiple early-round picks on Kansas City players—this includes being willing to spend an early pick on a quarterback, occasionally, a redraft faux pas.
Player Exposure
The idea of managing player exposure—how many times you draft a specific player—is valuable in best ball. Best ball managers playing hundreds—or even thousands—of leagues across multiple platforms and trying to squeeze out a profitable win rate in a collection of 12-man leagues benefit from knowing when they are drafting players too often—they save their floor by having at least a few shares of players that they don't like.
In a contest where you are looking to beat thousands of other entries, concerning yourself with your team's or portfolio's floor can be wasted energy.
Because we are at the mercy of the snake draft, it will be tough to get your favorite players from the early rounds as often as you'd like. It's rare—impossible almost—to get a top-three running back without a top-three pick, for example. In the later rounds, however, having 100% exposure to one of your favorite handcuffs or fliers might be an optimal strategy.
One caveat to this is staying aware of how often you draft players from offenses that you are targeting. While you can't always control how a single draft will go, there is more control over how often you draft players from one team across all of your rosters. My Underdog teams are currently made up of 6% Ravens and 5.2% players from Washington. It will be tough to have more than 7% or 8% exposure to any one team.
Gaining Leverage and Building Unique Lineups
Players with Low Rostered Percentages
In order to win a large-field tournament, a roster must be unique. That's usually achieved in DFS by rostering players that aren't in many other lineups. Best ball leagues don't offer that luxury, for the most part—almost every relevant player will be drafted in 100% of leagues.
Where best ball managers can differentiate their player pool is at the back end of drafts. Players extremely low on depth charts may go undrafted in many leagues. By drafting some players that might not even have an ADP on Underdog, you can set yourself up to have the only instance of your specific roster. Think of players such as D.J. Chark or Terry Mclaurin, who were mostly undrafted last year, but ended up posting starter-caliber numbers late in the season.
Athletic rookies or players early in their careers in unclear positional battles are often perfect targets late in drafts. Other league managers are often hesitant to roster unproven talent and fear losing early-season production while a player gets up to speed, but that risk is outweighed by having a unique lineup and built-in late-season upside when there is the most benefit to running away from the field—payouts increase rapidly in Weeks 14–16.
Unique Roster Construction
There are ways to construct a lineup that can make a roster unique without unpopular players. The general consensus is that each roster should be made up of 2–3 quarterbacks and tight ends, 5–6 running backs, and 7–8 wide receivers. How you get there will depend on the draft—anyone that spends up at quarterback or tight end, for example, will usually only roster two players at the position and wait until the later rounds to draft a backup. Some ways to pivot away from traditional roster builds include:
Doubling up on early-round talent at quarterback or tight end - Very few teams will be willing to take two of the top five or six players at either of these positions. Those that do could walk away with two explosive stacks, rather than just one stack that they fell into.
Rostering one player at a "onesie" position - This is an "all-in" strategy but it could pay dividends. The idea is that you are willing to take a zero for one week at a position in hopes that the player you drafted there dominates every other week.
Positional extremes - Hyperfragile and Zero RB draft strategies are just a couple examples of how to build a unique roster predicated entirely on upside.
Onslaughts - This takes stacking to the extreme. There is no rigid definition but in this format, any roster with four or more players from one offense is probably worthy of this moniker.
These aren't the only ways to challenge the status quo but some ideas to get you into a contrarian mindset. As mentioned in the stacking section, specialized roster-building techniques should complement an optimal draft strategy. Used sparingly, the methods laid out here will certainly help you differentiate your lineups from the field.
The Bottom Line
Best ball leagues are the perfect game for anyone looking for a new league with less work to do throughout the season or for those whose leagues might be on hold because of the uncertainty surrounding the season. Underdog's huge prize pools make best ball leagues even more intriguing. After understanding the basics of best-ball strategy, drafters entering large-field tournaments should explore how they can maximize upside while also building unique rosters. Those that signed up for a best ball league yet can get started here.