Tyler Higbee: Fantasy Football Fact or Fiction?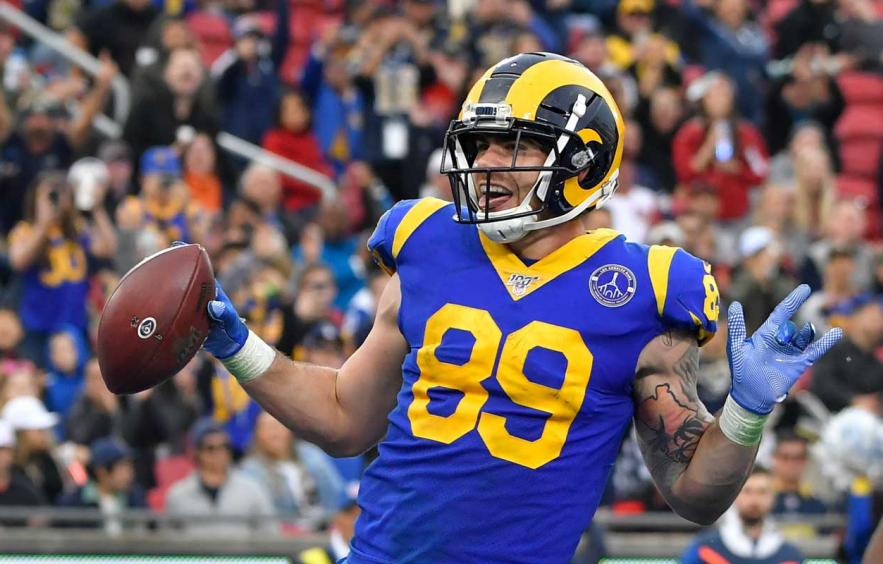 John McCoy/Getty Images
The scarcity of viable fantasy football assets at the tight end position is bound to make us all skeptical of positional breakouts. How do we know if it's real? How do we know who to trust? It's as though we've all been burned in a terrible break-up…over and over again.
4for4's own Jennifer Eakins has provided us a comprehensive write up of drafting strategy for the tight end position. However, if it wasn't enough for you, keep reading for some more gold.
Rams tight end, Tyler Higbee, is another hotly contested asset for the 2020 NFL Season. Was his 2019 breakout a fluke? Does Gerald Everett pose a legitimate risk to his fantasy value in 2020? What does the absence of Brandin Cooks do for the Rams offense? When considering Tyler Higbee's ability to reproduce the second half of his 2019 NFL season, there are plenty of things to consider.
Tyler Higbee

: The Man, the Myth, the Legend

The Rams kicked off the 2019 NFL Season with a wicked Super Bowl hangover. Gatorade was simply not enough to get them back on their feet. The offense looked stale. Sean McVay seemed off. Todd Gurley wasn't right. That is, until Tyler Higbee found his groove and exploded for 522 receiving yards in the final five games of the season.

Higbee was selected 110th overall in the 2016 NFL Draft out of Western Kentucky. He's a converted wide receiver with 10.25-inch mitts for hands, undoubtedly aiding him in his 2019 mega streak. Unfortunately, a knee injury kept him from participating in the Senior Bowl and NFL Combine which likely impacted his draft stock after an excellent senior year.

Though Higbee hasn't been a hot name in the fantasy scene since drafted in 2016, he has excelled as a blocker. In his four seasons in the NFL, Higbee has played a total of 1,603 total blocking snaps—that is a lot. He was good at it, too—it's what kept him on the field. He allowed just three total sacks in that four-year span. For context, Jonnu Smith allowed three sacks in 2019 alone.

Some may use Higbee's proficiency as a blocker against him, but in reality, this skill is the highlight of the tight end position. George Kittle? Proficient blocker. Rob Gronkowski? Proficient blocker. It's the skill that keeps tight ends on the field for 80% or more of offensive snaps. Are they in to block or will they leak out for a route? The duality can earn a pause from opposing defense and create space within plays.
Breakdown of

Tyler Higbee

's Snaps in 2019
Routes Run
Routes Run

Per Game
Blocking Snaps
Blocking Snaps

Per Game
Total Snaps
Total Snaps Per Game
Weeks 1-12
117
11.7
223
22.3
340
34
Weeks 13-17
165
33.0
170
34.0
335
67
Route data courtesy of Pro Football Focus.
As we can see, though Higbee was running more routes in his five-game span to end the 2019 season, he was also on the field for more blocking snaps. His average total snaps per game jumped from 34 in Weeks 1–12 up to 67 snaps per game in Weeks 13–17. His blocking ability didn't hinder him from running routes, it just kept him on the field for more offensive snaps.
Circumstances Surrounding the
Tyler Higbee

Breakout

Fellow Rams tight end and 2017 draft selection, Gerald Everett, was officially ruled out in Week 13 with a knee injury. With Everett out of the lineup, Higbee assumed a full-time role within the offense as both a blocker and route runner. This led to a five-game streak where Higbee played 85% or more offensive snaps per game.

At that time, the Rams produced an average of 29 points per game and 2.38 points per snap. This compares well with their prior averages of 22.6 points per game and 1.83 points per drive. Jared Goff completed more passing attempts and totaled more passing yards. The offense was humming, efficient, and productive.
What
Tyler Higbee

Accomplished in 2019

Regardless of what side of the fence you land on, it's imperative to understand what Tyler Higbee managed to accomplish in 2019. Following an injury to teammate Gerald Everett, Higbee absolutely exploded to finish the last five games of the season with 43/522/2. His 16-game pace in that span? 138 receptions for 1,670 yards and six scores.
Tight ends to have managed at least four-consecutive games of 100+ receiving yards since 2010:



Travis Kelce

Jimmy Graham

Tyler Higbee



That's it.



That's the entire list.

— Kate Magdziuk (@FFballblast) July 1, 2020
Once Higbee became the Rams' de facto TE1, he completely flipped the script for fantasy owners. He was a must-own asset and a league-winning waiver wire acquisition at the drop of a hat. Among tight ends in Weeks 12–17, Higbee ranked first in receptions (48), receiving yards among tight ends (542) and managed the most first downs—shoutout to Scott Fish.
Higbee ranked as the TE1 in PPR leagues in that span - a true achievement to rank above studs like Kelce and Kittle. If it was a fluke, it'd be a very tough one to manage.
Why We Can Expect to See More of Higbee in 2020
Higbee's unreal streak in 2019 has left many skeptical that he will continue to produce at a high level moving forward. There are a few reasons we can buy in.
The Rams' recent financial investment in their former fourth-round pick is one reason. Just prior to the start of the 2019 season, Higbee received a four-year/$29 million contract extension to make him one of the most well-paid tight ends in the NFL. The team had already shown a commitment to keeping him on the field with their delegation of snaps, but now, they've given him the money to back it up. Higbee will rank as the sixth-highest paid tight end in 2020.
Though Higbee's impact as a receiver left much to be desired in his first three NFL seasons, he more than made up for it in the final five games of 2019. When given a full-time role within the Rams' offense, Higbee demonstrated a connection with Jared Goff that will be hard to put back into the bottle. We have yet to see Goff develop that kind of connection with Everett.
Though Everett does have early draft capital invested, Higbee averaged a 109 passer rating when targeted in comparison to Gerald Everett's 87.6. He showcased his ability to stay healthy in a full-time role and his versatility as a pass-catcher. Most importantly, perhaps, we can note that once Everett returned in Week 16 (then no-longer listed on the injury report), he saw just four total offensive snaps in the following two games despite increased usage of 12 personnel groupings.
The Bottom Line
Tyler Higbee provides fantasy football managers top-five upside at a low-end price. He ranks as the TE9 in 4for4.com's ADP Fantasy Football Rankings though he proved that he can exceed that ranking in 2019.
Higbee saw an increase in routes run and blocking snaps to end 2019. His blocking ability did not prevent him from seeing snaps as a receiver.
The Rams signed Higbee to an extension that will make him the fifth-highest-paid tight end in 2020. Their financial investment and the production of the offense with Higbee taking more snaps would make it a wise decision to continue to involve him heavily moving forward.