NFL Draft Player Props: Jedrick Willis and Isaiah Simmons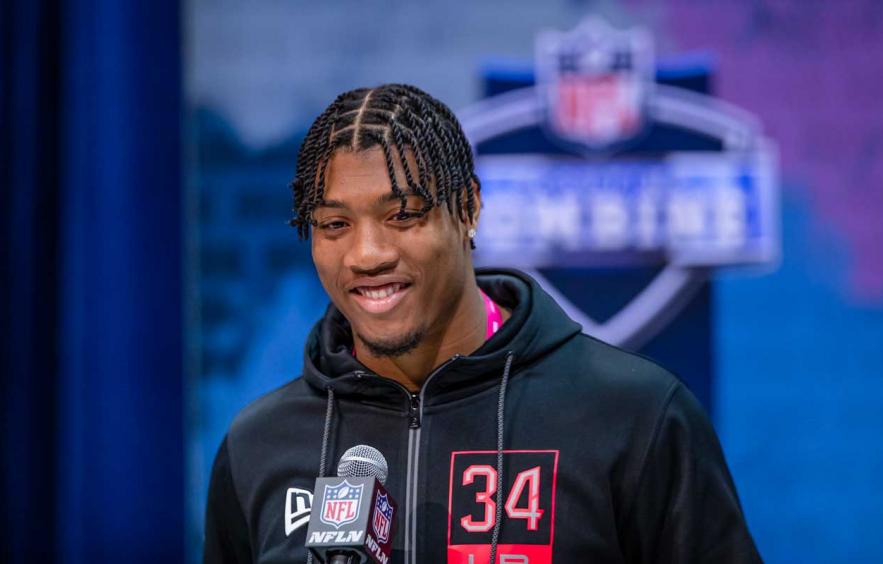 Micheal Hickey/Getty Images
As the draft approaches and information leaks, It's important to move quickly. The market will move within minutes of learning pertinent info. As the week progresses I will likely tweet out any bets that need to be pounced on immediately. Luckily we still have a few good bets on the board to take advantage of now.
---
---
Giants

' First Draft Pick: Jedrick Wills (+120)

Dave Gettleman isn't exactly known for having tight lips. Last year it was well-known he loved Daniel Jones and I recommended to my followers that you should bet on the Giants picking him at No. 6. The year prior, Saquon Barkley was essentially locked in as their selection at No. 2. I grabbed him to be their pick at +200. This year, it's Jedrick Wills.

Plugged-in beat reporter Jordan Ranaan has noted that there's lots of buzz that Jedrick Wills Jr. is their guy. Daniel Jeremiah echoed this sentiment a couple of days later, noting he believes it will be Wills. Barring any last-minute change, it is very likely to be Wills.

Beyond speculation from reliable sources, Wills played at Alabama. New HC Joe Judge is a former assistant at Alabama and still has plenty of connections within their organization. In a time where teams aren't able to get a close look at players or meet with them, trust is very important.

Earlier in the week, you could have gotten a better number but anything at + odds is a great play. I'm actually playing this all the way up to -120 and potentially even higher if more leaks solidify this 100%. You can also look to play Wills' O/U once it is back on the board. Prior to this news, it was at around 8.5.
---
Want in on the action? Get a sign-up bonus up to $1,000 with DraftKings!
---
Isaiah Simmons Over 6.5 (-139)
The early hype was that the NY Giants loved Isaiah Simmons. Those seemed to be unfounded as I just talked about above. Looking at the other possibilities in the top-6 is the best way to break down this bet.
Cincinnati (Pick No. 1): Joe Burrow
Washington (Pick No.2): Chase Young
Detroit (Pick No. 3): Have been connected to Ohio State CB Jeffery Okudah and also have a need at defensive line. Highly unlikely they go with Simmons.
NYG (Pick No. 4): Jedrick Wills
Miami (Pick No. 5): The Dolphins have a lot of holes but this pick is very likely to be either Tua Tagovailoa, Justin Herbert or an offensive tackle.
LAC (Pick No. 6): Career bridge-quarterback Tyrod Taylor is set to be their starter. They need to try and secure a franchise quarterback in Tagovailoa or Herbert.
There's a chance that either the Chargers or Dolphins try to trade up with Detroit at No. 3 to secure their quarterback of the future. This still puts Detroit in a great position to land a position of need in DL or CB and excludes Simmons.
At this point, Simmons doesn't really seem to fit anywhere in the top six. Once more news comes out that he may fall to the back half of the top-10 this line will move, fast. Even with the juice at -139, I'm still on the over. I would play this up until -180 at 6.5 and wouldn't bet it at seven. The Panthers could very well be the team to pick him at No. 7 overall.
Pick Summary
| | | | | | |
| --- | --- | --- | --- | --- | --- |
| Prop | Pick | Odds | Suggested Units | Limit Bet Down To | |
| Player to be selected with Giants' first draft pick | Jedrick Wills | +120 | 1 | -120 | Bet Now! |
| Isaiah Simmons Draft Position | Over 6.5 | -139 | 1 | -180 | Bet Now! |
Note: All advice in this article is based on odds available on the date of publishing.