Miles Sanders: 2020's Version of a Bellcow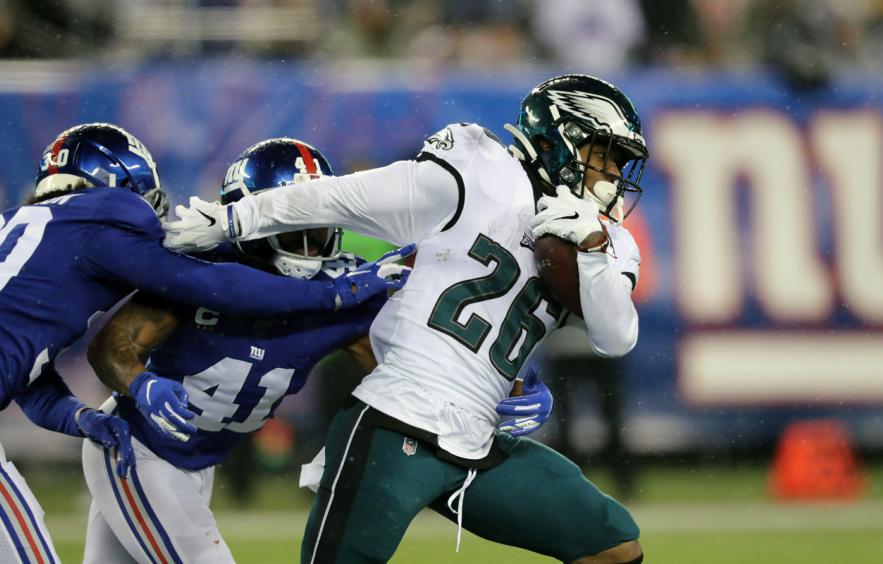 Al Pereira/Getty Images
The 2019 Philadelphia Eagles backfield was a muddled mess for the first half of the season. Rookie Miles Sanders fought tooth-and-nail to clear out his place on the field, taking on not only free agent Jordan Howard, but also classic Eagles backfield staples like Darren Sproles, Corey Clement and even the ghost of Jay Ajayi. Not to mention Boston Scott, who earned his own role in the offense as a Sproles-esque bowling ball between the tackles, and a safety valve in the passing game.
It's a wonder that Sanders made any impact at all in this three, four, five-headed rushing attack, but he persevered. Now he stands atop the running back pecking order in Philadelphia, but does he deserve it?
Miles Sanders

Rookie Season by the Numbers

Miles Sanders was one of four running backs to log at least 100 offensive snaps for the Eagles, and even though he finished the season far-and-away the most used player at the position, it took a number of weeks before we were able to see exactly what he could do as an integral part of the offensive gameplan.
Eagles

2019 Running Back Usage

| | Games 1-4 | Games 5-8 | Games 9-12 | Games 13-16* |
| --- | --- | --- | --- | --- |
| Total RB Snaps | 294 | 267 | 311 | 238 |
| Miles Sanders Snaps | 119 | 134 | 226 | 164 |
| Sanders % Usage | 40% | 50% | 73% | 69% |
*Didn't include Week 17 due to Sander's first-quarter ankle sprain
Sanders wasn't necessarily buried on the depth chart, but he was barely logging any more offensive snaps than Darren Sproles or Jordan Howard. He was also relegated to a handful of special teams snaps every week until the coaching staff realized risking a future star running back on kick-offs was a bad idea (after the Week 10 bye, Sanders didn't play a single snap on special teams). Sanders' usage grew exponentially after the bye, logging snap totals of 85%, 84%, and 87% immediately following the break.
His year-end push helped him to finish as the overall RB15 in half-point PPR scoring despite his lack of early-season playing time. In fact, he accumulated enough first-year yardage that he sneakily found himself in historical company. Miles Sanders is only the fifth rookie since 1990 to accrue 700+ rushing yards and 500+ receiving yards, joining some rarified air with some of the greatest running backs of the last three decades; both fantasy or otherwise.
Rookie RBs Since 1990 w/700+ Rushing and 500+ Receiving Yards

| Player | Year | Draft | Tm | Att | Yds | Y/A | TD | Y/G | Tgt | Rec | Yds | Y/R | TD | Y/Tgt |
| --- | --- | --- | --- | --- | --- | --- | --- | --- | --- | --- | --- | --- | --- | --- |
| Edgerrin James | 1999 | 1-4 | IND | 369 | 1553 | 4.21 | 13 | 97.1 | 82 | 62 | 586 | 9.45 | 4 | 7.15 |
| Saquon Barkley | 2018 | 1-2 | NYG | 261 | 1307 | 5.01 | 11 | 81.7 | 121 | 91 | 721 | 7.92 | 4 | 5.96 |
| Marshall Faulk | 1994 | 1-2 | IND | 314 | 1282 | 4.08 | 11 | 80.1 | 74 | 52 | 522 | 10.04 | 1 | 7.05 |
| Miles Sanders | 2019 | 2-53 | PHI | 179 | 818 | 4.57 | 3 | 51.1 | 63 | 50 | 509 | 10.18 | 3 | 8.08 |
| Alvin Kamara | 2017 | 3-67 | NOR | 120 | 728 | 6.07 | 8 | 45.5 | 100 | 81 | 826 | 10.2 | 5 | 8.26 |
*Table Data from Pro-Football-Reference.com
As you would expect, as Sanders demanded more usage in the offense, it quickly translated to a higher percentage of the team's running back fantasy output.
Eagles

2019 RB Fantasy Output

| | Games 1-4 | Games 5-8 | Games 9-12 | Games 13-16* |
| --- | --- | --- | --- | --- |
| Eagles RB PPG | 22.4 | 25.65 | 16.25 | 34.1 |
| Miles Sanders PPG | 6.8 | 12.3 | 10.9 | 21.7 |
| Sanders % of RB FPts | 30% | 48% | 67% | 64% |
*Didn't include Week 17 due to Sander's first-quarter ankle sprain
We've talked a lot about accumulative yards and fantasy points but what about rate stats? How did Miles Sanders' numbers look on a per-play basis?
Miles Sanders

2019 Rate Stats

| Stat | Rate | Rank (Number of qualifying RBs) |
| --- | --- | --- |
| Yards After Contact/Att. | 2.8 | 13th (45) |
| Yards per carry vs. 8+ in Box | 4.4 | 12th (43) |
| Yards per Reception | 10.2 | 13th (90) |
| Yards per route run | 1.61 | t-14th (90) |
Among his peers, Sanders proved that he can be efficient with the ball in his hands, whether he is forced to break a tackle to gain extra yards, create in a small area versus a defense primed for the run, or find lanes after the catch to make his routes worth as much as possible. Most importantly, Sanders made great strides in protecting the football; after averaging a fumble once every 36 attempts in Penn State, he fumbled only twice across 246 touches in his first year in Philadelphia.
Miles Sanders

Rookie Season by the Film

Coming into the 2019 season, there was still a question as to whether Miles Sanders was simply a great athlete who relied on his physical talent to produce at the running back position, or if he had all of the mental ability to take it to the next level of the NFL. Specifically, did he have the vision required to not only earn what was blocked for him, but the prerequisite post-snap reads to get into and through the teeth of the defense?
Early Season Processing Issues
Week 1 - Washington Redskins
Rookie jitters, maybe, but these are the kinds of reads that littered the tape in the early goings of the year. Despite a clear cutback lane, Sanders avoids the penetration against the left guard by bouncing the run outside into an awaiting defensive end, effectively killing the flow of his blockers, and therefore, the run.
Week 2 - Atlanta Falcons
Where Miles Sanders could be wiser as a decision maker. pic.twitter.com/JRK81wsqsH

— Matt Waldman (@MattWaldman) September 16, 2019
Here is another example of the rookie leaving easy yards on the field. He makes the correct initial read to kick the run outside but fails to realize that he has the first down (or more) if he simply cuts the run upfield. Sanders has the speed to beat the defensive end's angle and the power to bowl over or drive the defensive back past the first down marker.
Week 4 - Green Bay Packers
Miles Sanders - All Week 4 Runs (11-72-0)



Stats are better, first level vision slightly better, burst still there.. but poor finishing & not making DBs miss in space still stand out.



Only 3 forced missed tackles on the season (8.8%, 48th of 58 per @SportsInfo_SIS). pic.twitter.com/8BNqVKVexY

— Michael Kist (@MichaelKistNFL) September 27, 2019
You can see here he is still apt to kick things outside when the best proposition is likely to move against the grain of the defense. The best representation of his still-evolving mental processing is right there in the first carry of Week 4. It takes him two or three too many steps to realize his cutback lane is the width of a bus; he has the acceleration to completely disregard whether number 94 is going to fill the A-gap or the B-gap so there is no reason to continue to push this run towards the sidelines. With a quicker read, he would have been one-on-one with the middle linebacker five yards down the field as opposed to two yards down the field.
Week 7 - Dallas Cowboys
Miles Sanders doing Miles Sanders things on 3rd and 4. pic.twitter.com/oBsf1ovCCd

— J Moyer (@JMoyerFB) October 21, 2019
There's not much to say here. He has the perfect tempo up to the line to allow his blocks to form, he waits to set up his pulling tackle and he's in position to plant his right foot and burst through the hole, but he just….doesn't.
Filling the Mold of an NFL Running Back
Week 17 - New York Giants
Very nice by Miles Sanders here & the seal from Jason Kelce after helping w/the nose is *chefs kiss* pic.twitter.com/uvLB32BRdQ

— Michael Kist (@MichaelKistNFL) December 31, 2019
As we noticed in a couple of the clips above, a clean hole does not necessarily mean a running back is going to find it and burst through it. Both Giants' linebackers are screaming towards the edge of the tackle box and Sanders keeps his eyes on them up to and through the handoff from Wentz. As a result, he is able to cut tightly off of his right tackle who is sealing off the backside, plant his foot, accelerate to top speed and wreak havoc at the second level. What two months prior would have likely been a run that bounced outside for a minimal gain (or loss) has now turned into a 21-yard gain. This is only one example and certainly doesn't mean he has suddenly become 2013 LeSean McCoy but the lack of hesitation to make his read is very promising.
Week 14 - New York Giants
Miles Sanders providing tremendous pass protection. He simply does it all. pic.twitter.com/A0ucX4P4KY

— Victor Williams (@ThePhillyPod) May 16, 2020
We won't get into the weeds with pass protection, but if you want to earn the trust of your quarterback and offensive coordinator, holding a block for five full seconds is a good way to do it. Running backs aren't going to be tasked with taking on non-DBs often but Sanders at least shows that he is willing to get into the mix. Yet another facet of his game he improved as the year moved along.
Eagles

Offseason

Philadelphia has a unique situation unfolding over this offseason. 38-year old, nine-time pro bowl left tackle Jason Peters is currently a free agent, mulling retirement and the Eagles aren't even sure they're going to bring him back if he isn't retiring. That's because the forward-thinking franchise used their 2019 first-round draft pick on Andre Dillard, the heir apparent to the 16-year veteran.
Doug Pederson on Jason Peters possibly returning to the #Eagles: Have always said we'd remain in touch. Have ton of respect in Jason. But Andre Dillard was drafted to play LT. He has the skill set.

— Jeff McLane (@Jeff_McLane) May 19, 2020
While it's hard to make a positive out of losing a possible future Hall of Famer, the fact is Jason Peters has been battling injuries since 2016 and having a 24-year old first-round pick learn the ropes and build cohesion with a full complement of snaps is hard to take as a negative. My rankings currently have the Eagles offensive line ranked 10th, and we recently went over what that can mean for fantasy purposes.
As it pertains to the running back room, in particular, there is even better news and it comes in the form of less competition. Regardless of how you come away thinking of Miles Sanders after looking at his rookie numbers and tape, your opinion won't change the fact that this is now a two-headed attack in Philadelphia. Jordan Howard has headed down to Miami as a free agent and the Eagles have added two undrafted free agents in his steed; Michael Warren (Cincinnati) and Adrian Killins Jr. (UCF).
With Boston Scott cleaning up the excess snaps, the unquestioned king of the running back hill is Miles Sanders.
2020 and Beyond
With rookie Jalen Reagor teaming up with fellow speedsters DeSean Jackson and Marquise Goodwin, the Eagles offense should unpack the defensive box and give Miles Sanders more room to flex his agility and elusiveness in the open field.
Taking a look at our current half-PPR rankings, John Paulsen has Sanders as his RB10 and George Kritikos has him as his RB8 in dynasty. I see Sanders as a solid value in re-draft and best ball drafts where he's going at an average draft position of 2.05, as the RB12 behind Josh Jacobs and Nick Chubb. You could flip a coin between Chubb and Sanders in my humble opinion, but I'd certainly have him above Jacobs.
For an idea of what people are trading for Miles Sanders in Dynasty, I've taken a snippet of the recently completed trades over on Dynasty League Football's trade finder. I'll let you decide who is getting the most out of these deals:
Bottom Line
Miles Sanders gave us a lot to work off of in his rookie year, improving on the mental aspect of the game throughout the season.
The Eagles have made it obvious that they view the sophomore as their lead running back for 2020.
A top-10 offensive line will stay put, or possibly become stronger.
The improving rate stats and new towering usage have placed Miles Sanders snugly in the second round of drafts, with the possibility of finishing as a top-6 overall back.