James Conner's Demise is Greatly Exaggerated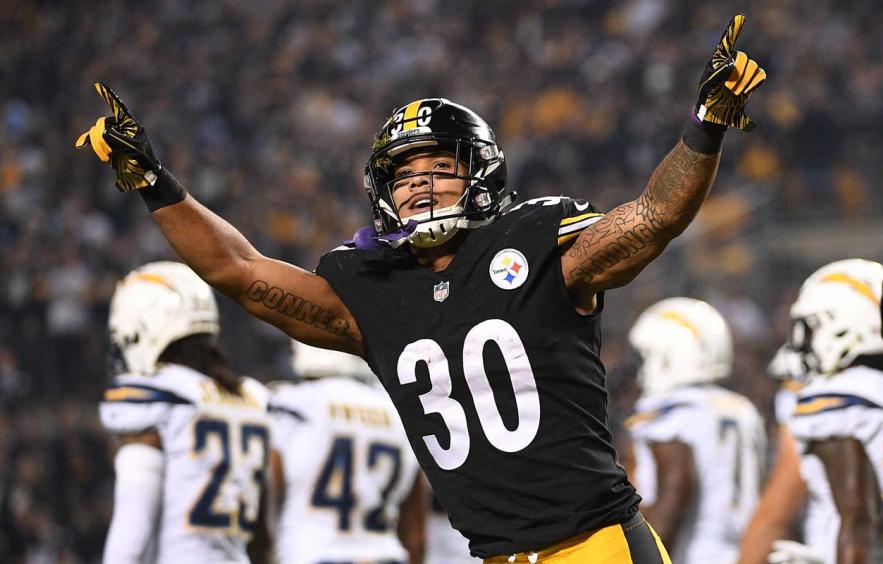 Justin Berl/Getty Images
Amid rumors of a second-round rookie running back heading to Pittsburgh, James Conner's fantasy value has been very much in question this offseason. As the second and third round of the NFL Draft came and went with no running backs coming off the board for the Steelers, that fantasy value began to peek it's head back out of the foxhole and begin its slow crawl back to relevance. Now, what can we expect from the 25-year old fourth-season running back moving forward?
---
---
Selected as the 105th overall pick of the 2017 Draft, Conner was coming out of a roller coaster ride of a college career. He was named the ACC Player of the Year as a sophomore after rushing for 1,765 yards and then missed all but a half of a game as a junior because of a torn MCL. While recovering from the injury, he was diagnosed with Hodgkin Lymphoma but miraculously returned the next season to rush for nearly 1,100 more yards.
Conner's rookie season began with questions of him seeing a full workload with LeVeon Bell in his first of two holdouts. Bell would instead go on to receive his usual mid-2010s dominant share of touches while the rookie rushed 32 times and didn't catch a single ball. Worst of all, he needed surgery towards the end of the year to repair the same MCL he tore in college.
LeVeon Bell opted out of the entire 2018 season and the healthy second-year running back compiled Bell-type numbers, racking up 1,470 total yards, 13 touchdowns, and 55 catches —good enough for an overall RB6 finish. These numbers would have been even higher —and Conner would have likely finished as a top-three fantasy running back— if he wasn't once again sidelined with a leg injury, as a high ankle sprain left him out of Weeks 14-16.
Fast forward to last season, a year that I'm sure was as frustrating for James Conner as it was for the fantasy players who had shares of him in their leagues. A shoulder injury in Week 8 would see him miss six full games, and finish the season having played only 33% of the team's offensive snaps. Couple that with his healthy games being played almost exclusively with Mason Rudolph and Devlin Hodges as his quarterback and you have the recipe for what can be described as a brutally disappointing season.
I try to avoid tagging someone with an "injury-prone" label, but we're seeing a pattern emerge. Clearly, being diagnosed and fighting through cancer has no weight here, but lower leg injuries year-after-year to a running back are not a good sign. Even if the Steelers brass has the utmost confidence in Conner's ability, it makes sense that they drafted Anthony McFarland in the fourth-round to add a little more insurance to their running back room.
Pittsburgh Steelers 2020 Backfield
Anthony McFarland adds to a now four-year trend of the Steelers picking a running back in the middle rounds. After all of the circus surrounding LeVeon Bell's contract situations and the high volatility of the position, it's hard to knock them for this approach. The James Conner injury and marginal quarterback play from Mason Rudolph and Devlin Hodges helped to boost the numbers of both Benny Snell Jr. and Jaylen Samuels (and Trey Edmunds, to a much lesser extent) last season.
Mason Rudolph (6.2 yards per attempt - 31st in NFL) and Devlin Hodges (6.6 YPA - would have ranked t-30th with enough qualifying attempts) spurned the Steelers to switch the focus of their offense to a more run-heavy approach. After finishing 2017 ranked 11th with a 59.7% passing rate (neutral game script) and 2018 with a 62.4% passing rate (second-highest), Pittsburgh passed the ball on only 57.8% of their offensive snaps in a neutral game script, and added wildcat snaps into the wrinkle, attempting to utilize both Jaylen Samuels and a second back on the field at the same time to reduce Rudolph/Hodges usage.
How did the currently-rostered Steelers running backs fare in this dilapidated offense?
I included Conner's 2018 numbers with Ben Roethlisberger to get a glimpse into what kind of output we could expect for this upcoming season when the 38-year old quarterback will suit up at full health. The inconsistent quarterback play that plagued the Steelers throughout the 2019 season forced the running backs into eight-man (and higher) boxes at a staggeringly high amount, putting the running game into a distinct disadvantage from the snap. Conner's slot usage (something that is typically a strong factor for better-than-average pass catchers) took a steep downturn and his yards after contact dropped an entire half yard per rush from 2018-to-2019.
We can't look at these numbers and dump the entire onus of blame onto Rudolph and Hodges —it's very possible that a long injury history is beginning to take its toll on Conner— but an efficient offense is a tide that raises all boats, and that begins with the quarterback.
Rookie Anthony McFarland adds an interesting component to the Steelers backfield that may have been lacking recently. As an explosive, open field monster, McFarland is the homerun threat that neither Jaylen Samuels or Benny Snell Jr. is. Although he's been a trendy late-round pick after the NFL Draft, he is lacking in the short-yardage aspect of his game and has problems in pass protection. Conner is no sure bet to be locked into the classic LeVeon Bell mega-usage role, but he won't lose an exorbitant amount of snaps to the rookie while McFarland sharpens his craft.
Reasons For Optimism
Independent of the improvement in quarterback play and the absence of the rumored second-round running back that we've already hit on, there are reasons to believe James Conner is set to have a productive season. There are five big ones right in front of his face; his offensive line. The group finished fifth in my end-of-year offensive line study, and even with some recent departures (Ramon Foster - retirement, B.J. Finney - signed with the Seahawks) they still look like a top-third unit heading into this season.
So with an improvement behind the center, a solid if not top-tier offensive line, the absence of a do-it-all running back to steal all of his snaps, and the resiliency that he has shown since college, what if James Conner is also a talented player?
One of the more underrated elements of James Conner's game is his vision. He processes defenses at the second level and manipulates defenses with good footwork and lateral agility. pic.twitter.com/SKViAJDkXJ

— Nick Farabaugh (@FarabaughFB) April 29, 2020
People have forgotten so quickly just how easy it was to well, forget, LeVeon Bell when James Conner took over for him in 2018. The transition was so seamless from the uber-patient Bell to the decisive, elusive, get-to-the-second-level and put your shoulder into someone Conner, that it was almost a given that any running back lining up with a Steelers jersey on was going to produce fantasy points. 2019 proved that theory incorrect, and with the offensive line getting mixed up and growing pessimism about the Steelers' chances in an improving AFC North, James Conner's average draft position could unfairly fall out of the top three rounds.
Have fun trying to tackle @JamesConner_ ?‍♂️

Happy birthday to the @steelers RB! pic.twitter.com/rQIbAP9OGK

— NFL (@NFL) May 5, 2020
Bottom Line
The rumored second-round pick that was coming to Pittsburgh in the NFL Draft ended up being fourth-round scatback, Anthony McFarland.
James Conner's two-year, 16-game pace is 1,500+ total yards and 14 touchdowns
Currently ranked as the RB22 in half-PPR formats, Conner is currently going in the mid-fourth round behind players completely bereft of upside; Kerryon Johnson and Devin Singletary.
The injury history is scary, but I'd rather bet on the talent than play doctor.