Fantasy Debate: Clyde Edwards-Helaire vs. Jonathan Taylor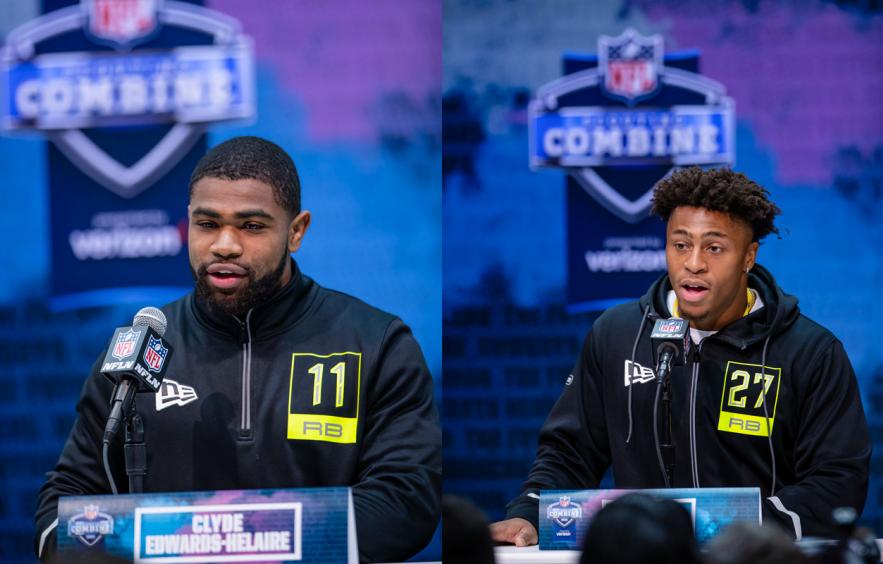 Michael Hickey/Getty Images
Clyde Edwards-Helaire and Jonathan Taylor are being drafted within a round or two of each other, depending on site and format. They are currently leaving boards as the RB14 and RB23, respectively. Joe Paeno will argue for Edwards-Helaire, while Justin Edwards takes the side of Taylor.
The Case for
Clyde Edwards-Helaire
Joe: "The Fresh Prince of Helaire"
Now, this is a story all about how

2020 got flipped-turned upside down

And I'd like to take a minute

Just sit right there

I'll tell you how to win your league - draft Clyde Edwards-Helaire.
The case for Clyde Edwards-Helaire is simple: the best college pass-catching running back was hand-selected by the best passer in the NFL and a coach who leads one of the most fantasy-friendly offenses for running backs. CEH was the first running back selected in the 2020 NFL Draft with the last pick of the first round. While every organization loves to praise their draft picks potential, there was an extra dose of admiration from the Chiefs GM Brett Veach and HC Andy Reid. When Veach compared CEH to Brian Westbrook, Reid doubled-down by saying he was even better than the Eagles' former All-Pro RB, adding, "He [Clyde Edwards-Helaire] just knows how to play the game. He can block for you. He can run routes. He's got tremendous vision and lateral abilities with cuts and route running, all those things. He's just a real good football player." Reid also highlighted Edwards-Helaire's pass-catching ability and noted it will give them some "nice matchups" on linebackers.
From a macro level, we know passing is more efficient than running the football and it's especially true in fantasy. In fact, a target is worth about 2.83x more than a carry. CEH will be receiving those golden targets from the best passer in the NFL. In 2019 at LSU, CEH caught 55-of-64 targets (86% catch rate) for 453 yards with 14 broken tackles. While Jonathan Taylor will likely be a prolific rusher behind a strong Colts offensive line, the vast majority of his fantasy points will be accumulated on the ground.
Taylor caught just 26 passes as a senior (which was a career-high) as the Badgers' workhorse and dropped 8-of-50 catchable targets in his career, a relatively high rate of drops for a running back. Beyond the drops, he racked up 19 fumbles at Wisconsin. I don't expect that to affect his career, but that could be something the Colts coaching staff is wary of in his rookie year. Some coaches react stronger than others to fumbles but when you are competing with two other backs for touches it certainly doesn't help. Taylor doesn't look to be slated for much of a role in the passing game with explosive pass-catcher Nyheim Hines still on the roster. HC Frank Reich noted that he sees the backfield as a "1-1 punch" with Taylor and incumbent starter Marlon Mack, with Hines playing a "prominent" role in the passing game. While the Colts' offensive line is certainly a dominant run-blocking unit, there are major questions about what kind of role Jonathan Taylor will have early in the year.
When looking to evaluate fantasy potential for the next season, understanding a players' range of outcomes is vital. For Taylor, there is zero doubt in my mind that he will be the Colts' future workhorse — but there is a less-than-zero chance that Reich legitimately wants to utilize an RBBC on early downs with Hines soaking up all the work in the passing game. This puts Mack and Taylor at about 10-to-12 carries with Hines seeing 2-to-3. With just 10-to-12 carries and no work in the passing game, you have a very, very low floor. Even though he should be effective with those touches, it's hard to bank on prolific efficiency, especially on the ground. The worst-case for CEH is to be in a true committee with Damien Williams. The big difference between CEH's floor and Taylor's is that CEH will be used in the passing game. So while his floor may only have him seeing 10-15 touches per game, a good chunk of those will be receptions (2.83X as valuable as carries). When you add in how much more explosive and efficient the Chiefs offense is than the Colts, I'm confident in saying that CEH has a much higher floor than Taylor and I don't think it's all that close.
Evaluating Taylor's ceiling in Year 1 is tricky because it likely comes via some sort of injury to Marlon Mack — or just severely outplaying him, which is definitely possible — if not probable, but might not happen until mid-season or later. If and when that happens, we're looking at about 15-20 touches per game for Taylor. This would put him in the fringe RB1 conversation on a weekly basis, but he still likely won't be used in the passing game barring an injury to Hines. Even if both Hines and Mack are out of the picture, Taylor's pass-catching chops are unproven and it wouldn't be surprising for the Colts to bring in another change-of-pace back. His unproven ability in the passing game ultimately limits his overall upside to a two-down back that will likely be TD dependent. It wouldn't shock me if Taylor finishes with more fantasy points on the ground, but CEH should easily make up for that by outproducing JT by three-to-four times as a receiver. The ceiling for CEH is legitimately a top-three overall fantasy running back. Reid has shown throughout his career that he will utilize running backs in a bell-cow role. If that happens, you are looking at a bell-cow back on an elite offense who would be considered an RB1 every week. Both Taylor and CEH are more talented than the incumbent starter but the difference is the upside when they beat that player out. CEH has a decisive advantage when considering both floor and ceiling.
Using our cumulative ADP at 4for4, there is a pretty sizeable disparity between their ADPs with CEH at RB14/24th overall while Taylor is RB23/50th overall. Even when considering the higher cost, CEH is the better pick, especially in half-point and full PPR leagues, considering his locked-in floor and a sky-high ceiling.
Jonathan Taylor is going to be a great RB but if you really want to win your league, don't leave the draft without the Fresh Prince of Helaire.
The Case for
Jonathan Taylor
Justin: As part of a three-headed backfield, there is no question that the Indianapolis Colts' newest running back is going to have to fight his way up the depth chart to garner a lion's share of the touches. It sounds like a sloped hill to climb, but it's hardly any different than other rookie running backs of the last half-decade not named Saquon Barkley, Ezekiel Elliot, or Christian McCaffrey.

What separates Jonathan Taylor from most rookie running backs is the competition (or lack thereof) in the backfield he finds himself in. Despite working behind an exceptional offensive line in 2019, Marlon Mack and Nyheim Hines couldn't get much going after taking what the o-line had blocked for them; of 68 qualifying running backs (minimum 50 carries), they ranked 39th and 58th respectively in yards after contact per attempt. This behind arguably the best inside blocking line in the league, setting Mack and Hines up with plenty of one-on-one situations against smaller second-level defenders.
Of 84 qualifying running backs (min. 20 carries), the 1st AND 2nd most efficient RBs on inside runs both came from the #Colts last year:



Jordan Wilkins

Jonathan Williams



Marlon Mack was 23rd

This offensive line is #good

— Justin Edwards (@Justin_Redwards) May 28, 2020
Once Taylor establishes superiority as a more efficient runner than his teammates —which should be sooner rather than later— he will begin to get the workhorse share of the Colts backfield work. And not just because of talent. Draft capital is oftentimes overstated, but allow me to indulge for a moment by mentioning this; of Chris Ballard's first four NFL Drafts as an NFL GM, he has never used higher than a fourth-round pick on a running back. That is until he traded up in the second round to select Taylor in April.

With more playing time comes more opportunities on the field with quarterback Philip Rivers, likely the most RB target-heavy passer playing today —Tom Brady eat your heart out.
2019

Chargers

Running Back Usage Vs. League Average

| Team | RB Touches | RB Tch % | RB Targets | RB Tgt % |
| --- | --- | --- | --- | --- |
| Chargers | 488 | 64.2 | 185 | 31.7 |
| NFL Average | 434 | 56.3 | 111.4 | 20.7 |
| Difference | 54 | 7.9 | 73.6 | 10 |
According to Next Gen Stats, Philip Rivers' average completed air yards has continued its nosedive since 2016, shrinking every year from 6.7 in '16to 6.3 in both 2017 and 2018, and finally down to a round 6.0 in 2019. As he continues to become less aggressive in his heightened age, his running backs reap the rewards. This mentality to incorporate running backs into the fold fits in perfectly for Taylor, who was one of the most targeted college running backs we've seen in recent memory during his senior year at Wisconsin.
Over the last three seasons, rookies have scored an average of 40% more fantasy points in the second half of seasons than the first half. We've seen this song and dance before. If Taylor doesn't hold the mantle of Indianapolis' RB1 to begin the season, we have time to switch things around for him to be a league-winner by playoff time.
Edwards-Helaire is going to be involved in the best offense in the league, but as an ancillary piece and as a luxury pick for a team that just won the Super Bowl. With a roster talented enough to win the Lombardi Trophy, times aren't as desperate to select players who are going to see the field right off the bat. Consider Isaiah Wynn, N'Keal Harry, and Andre Dillard, the three most recent first-round picks from the previous year's championship team. They were all selected with an eye on the future, not necessarily to bolster a formula that was working a month before the draft.
CEH's year-end numbers are going to end up being fine, but on a week-to-week basis, fighting for volume against Tyreek Hill, Travis Kelce, Mecole Hardman, and Damien Williams in his backfield, Jonathan Taylor is just going to have more opportunities. In this scenario, volume is king.
With a full round discount (according to current average draft position), give me the back in Taylor who is more likely to be a complete three-down back by the end of the season and isn't competing with a running back who almost just won the Super Bowl MVP for his team.