Fantasy Debate: Allen Robinson vs. Cooper Kupp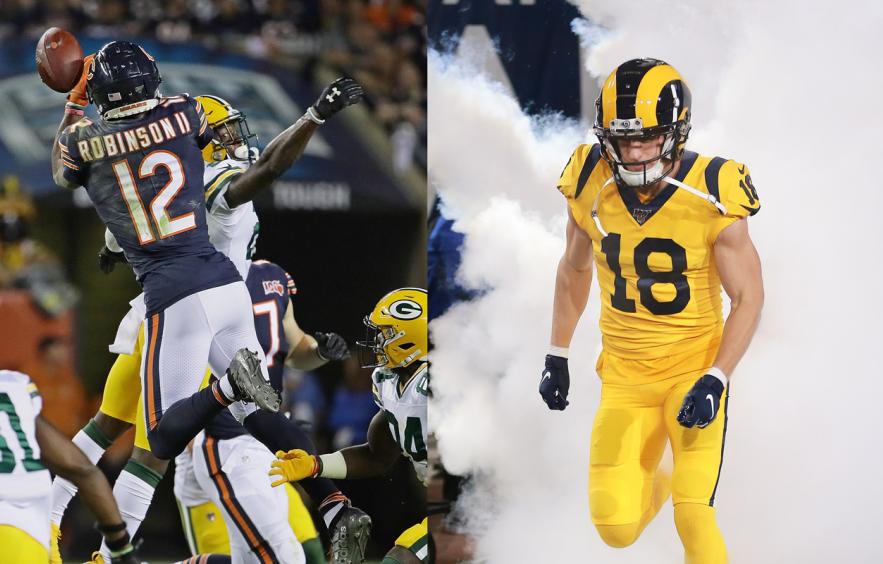 Jonathan Daniel/Leon Bennett/Getty Images
Allen Robinson is currently being drafted as WR14 in My Fantasy League formats, with Cooper Kupp right behind him as WR15. In this debate, Jennifer Eakins will argue for Robinson, while Brandon Niles takes the side of Kupp.
---
---
Jennifer: If both Allen Robinson and Cooper Kupp are sitting there at my turn, I'm rolling with Robinson every single time, and here's a look at why.
First on the list is his impressive ability to be quarterback proof. Robinson once posted a 1,400-yard season on the arm of Blake Bortles and put up 1,147 last year as a fantasy WR1 with the unspectacular duo of Mitchell Trubisky and Chase Daniel under center. While the thought of Nick Foles or another season of Trubisky tossing the rock isn't exactly sexy, we know Robinson can still produce top numbers without an elite arm.
Some may argue that the Bears fancy themselves as a run-first offense which could scare people away from Robinson here, but in the tough NFC North, Chicago may end up needing to pass more often than they'd like, pushing additional targets Robinson's way. Aside from possibly having to throw from behind, there's also their struggles at offensive line to consider.
In 2018, the Bears ran the ball the eighth-most in the league and slid all the way down to 21st last season. Meanwhile, the protection up front in Chicago plummeted from 11th according to PFF to 25th at the end of last season. The front office didn't exactly do too much to right the ship as they brought in a few bland free agents and drafted two seventh-rounders to help on the line.
With a team that could struggle running the ball, we turn to Robinson's competition, or lack thereof, as a factor in limiting his floor and ceiling. We're looking at 35-year old journeyman Ted Ginn and second-year wideout Anthony Miller. Miller has potential to shine opposite Robinson but does have a lengthy list of injuries—three separate shoulder issues—stemming back to his college playing days. The Bears drafted a speedy rookie wideout, Darnell Mooney, who should provide competition for Ginn at Z receiver. Oh yea, and a list of tight ends almost longer than a CVS receipt, none of who should threaten Robinson's workload, being that the position caught a total of 29 receptions all of 2019.
We love volume in fantasy football, but with Robinson, it's his specific type of usage that makes him so alluring. His 20 targets in the red zone last year ranked third, while he was also third in balls inside the 10-yard line. Not only does this make him a safe play at his current ADP, but one with plenty of upside as well.
When it comes to Cooper Kupp, last season was fairly inconsistent which gives me pause for 2020. Last year he was WR3 in half-PPR points per game in Weeks 1-8 with 17.3, then plummeted to WR34, posting just 10.4 a contest through the rest of the regular season. Sean McVay opting to bench Kupp at times is troubling, as last year he was on the field for just 29% of the snaps in Week 14 and only 61% in Week 16. At times, it appeared that McVay preferred Robert Woods and Brandin Cooks, and sometimes even Josh Reynolds, in two-receiver sets and Kupp was the odd man out.
Both Robinson and Kupp do have WR1 potential in 2020, but at their current draft spots, I'd rather take the player with a safer floor, less competition and guaranteed monster usage.
Brandon: I have nothing but respect for Jen and she has every right to be wrong about Allen Robinson and Cooper Kupp. I get it. Robinson is flashy. He's played well despite horrible quarterback play throughout his career. He's produced as a starter and he's a true outside threat. I understand the allure.
But if Robinson is tiramisu, Kupp is good old-fashioned pound cake. He may not be the most exciting option, but if you want a consistent dessert you can sink your teeth into, he's sure to appease.
While coming off similar seasons in production, Kupp was better in some key categories. He finished last year with a higher DYAR and DVOA—measures of total value and value per play— than Robinson, but most notable was his 70% catch rate, fifth in the league among receivers with at least 50 passes, according to Football Outsiders. Robinson was at 64%. And this isn't relegated to last season. Kupp has been at least 65% in each of his three years in the league, while this was the first time Robinson broke 60% in his entire career.
The difference in efficiency could theoretically be quarterback play and position. But the numbers don't support that. Jared Goff sports a career 62.4% completion percentage, compared to Blake Bortles (59.3%) and Mitch Trubisky (63.2%). Additionally, while Kupp lines up in the slot a lot more than Robinson—where short-to-intermediate routes are likely to result in a better catch rate—Robinson had nearly as many targets (78) within 10 yards of the line of scrimmage last year as Kupp (84). At some point, we have to entertain the idea that Kupp is simply better at catching the ball. Robinson caught just four more passes than Kupp last season, despite being third in the league in targets.
But wait? Isn't Nick Foles an upgrade over Trubisky? Maybe, but is there any evidence Foles has value outside of Philadelphia? He gets an incomplete in Jacksonville last year due to injury, but his stops with the Rams and Chiefs ranged from unremarkable to disastrous. In fact, outside of his 13-game surge in 2013, his years with the Eagles weren't even particularly impressive from a fantasy perspective. If you take out 2013, he averaged a pedestrian 215 yards, 1.14 touchdowns and 0.78 interceptions in 27 games over parts of four seasons. Those are barely streaming numbers. And this is going to provide an improvement for Robinson, who finished with less yards and touchdowns than Kupp did a season ago? Please.
All these arguments definitely point to Robinson being a good receiver. Someone who can thrive in bad situations. Someone who makes the most of his opportunities. But all the factors that have allowed Kupp to be the better fantasy receiver since entering the league in 2017 are still relevant heading into 2020. Kupp still has Jared Goff, who has averaged 279 yards and 1.74 touchdowns per game since head coach Sean McVay and Kupp arrived. There's no reason to think he'll get any less than his career average of 7.3 targets per game, and no reason to suspect he'll suddenly be less efficient in the same offense, with the same quarterback, with the same hands that helped make him a third-round pick out of Eastern Washington.
There's also no reason to assume the Rams offense won't continue to be better than the Bears. Kupp has averaged 0.53 touchdowns per game over the course of his career, compared to 0.45 for Robinson. That's no coincidence, as the Rams have finished significantly higher in points per game than the Bears in each of the past two seasons. While Chicago was ninth in 2018, they plummeted to 29th last year. Meanwhile, the Rams have ranked 11th, 2nd, and 1st in the last three seasons, respectively.
With both players available in the mid-to-late fourth round, according to current ADP, I'd much rather take the steady Kupp in a dynamic offense than bank on natural progression from Yosemite Trubisky or the relentless optimism that surrounds a largely underwhelming Nick Foles. While I like both players, when comparing the two, I'll take Kupp 10 times out of 10. No contest.
About Author