The Effect Emmanuel Sanders to the Saints has on Fantasy Football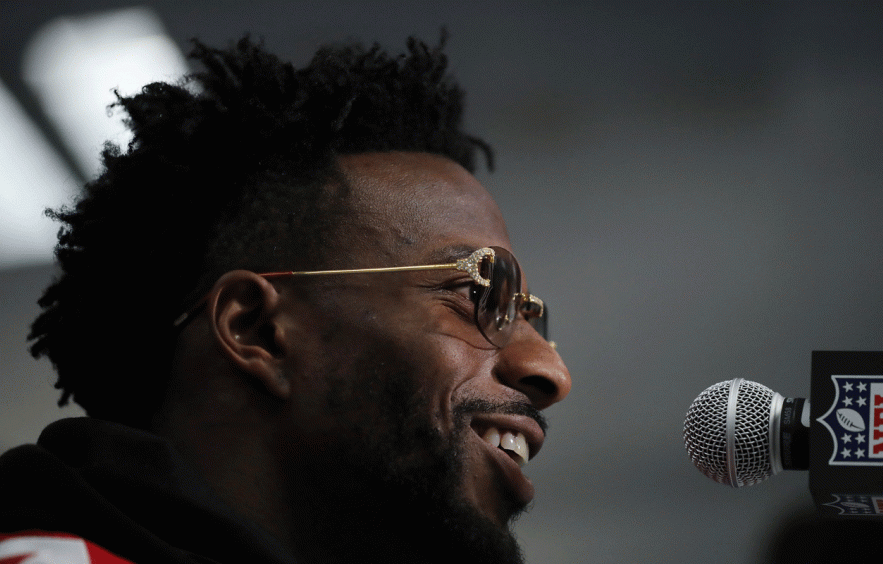 Michael Reaves/Getty Images
Set to put on his third uniform in just two seasons, Emmanuel Sanders inked a two-year deal with the Saints on March 20th worth $16 million. The 33-year old is just one year removed from a brutal Achilles injury and is entering his 11th season as an NFL wideout.
This piece will examine how Sanders' arrival will not only impact the Saints offense, but also what the 49ers fantasy outlook will look like after his departure.
How
Emmanuel Sanders

Enhances the

Saints

Offense

In his decade-long NFL career, Sanders has appeared in three Super Bowls for three different teams and is a player who can and does line up at every receiver spot on the field.

He had three-straight seasons with over 1,000 yards for the Broncos from 2014-2016 and was a solid fantasy WR2 in 2018 before his season was cut to just 12 games. Sanders ended as WR33 in half-PPR formats last season while recovering from surgery to repair that torn Achilles, and will now be over a year removed when the season kicks off.

When he got to the 49ers mid-season in 2019, perhaps Sanders' greatest impact was creating the opening for Deebo Samuel to bloom, which is not necessary when it comes to fellow wideout Michael Thomas. This move is more about what Sanders himself can add to the Saints' already powerful offense in 2020.

Drew Brees may be entering the inevitable battle with Father Time but he still averaged 294.1 passing yards per tilt in his 10 full games last season which would have been among the top five in the league. He still managed to throw the eighth-most yards per game despite getting only five throws in before his Week 2 exit due to injury.

New Orleans has been desperately missing that second receiver threat to pair with Thomas, especially evident in both their recent playoff losses. Thomas was targeted an obscene 186 times last season—tops in the league—and will most certainly still receive the bulk of the receiver work in this offense. However, Sanders should still be able to carve out a nice share for himself, as Thomas hasn't had any real competition at wideout in recent years with Ted Ginn Jr. and TreQuan Smith mostly nonfactors.

Brees has shown in the past that he's capable of supporting multiple fantasy-relevant wideouts. In 2016, Brandin Cooks, Willie Snead and rookie Thomas all saw 100+ targets, translating to finishes of WR8, WR31 and WR7, respectively, in half-PPR scoring that season.

Sanders doesn't have a ton up upside, as he'll still be a distant second to Thomas, while Alvin Kamara and Jared Cook should see plenty of volume, as well. Sanders's ability to work in short-to-intermediate routes still offers up a nice piece of the pie and provides a decent floor in PPR formats, as a reliable WR3.
Fantasy Impact of the
49ers

without

Emmanuel Sanders

San Francisco is coming off a Super Bowl appearance in 2019 and their offense remained mostly intact after the free agency flurry, minus Sanders. Same quarterback, same rushing attack and George Kittle ready to pounce in year four.

If we take a look at how targets were distributed from Week 8 on, when Sanders entered the fold, Kittle led the offense followed by Deebo Samuel, then Sanders.

His 5.3 balls per contest will need to be distributed elsewhere in 2020, and Sanders' replacement could come via the 49ers 13th-overall draft pick which they acquired from the Colts in a trade for DeForest Buckner a few weeks ago.

The 49ers are perennially searching for that wide receiver stand out—in fact, they've drafted at least one every season since 2003. San Francisco was 29th in the league last year in pass attempts with 478, and second in overall rushing both in attempts and yardage. Expect more of this style offense for 2020 from Kyle Shanahan which doesn't bode well for any of the 49er wideouts.

Depending on what happens at the draft, Samuel should remain their WR1 option, but is more of a WR2/borderline-WR3 for fantasy purposes. Kendrick Bourne and Dante Pettis have been underwhelming and both Trent Taylor and Jalen Hurd need to stay healthy for any fantasy relevance.
Bottom Line
Emmanuel Sanders landed in a great spot for him both in real-life football and for functions of fantasy. He gets an improvement at quarterback and is in an offense that threw over 100 more balls in 2019.
Heading into this season, Sanders should be valued as a WR3, but early ADP has him more in the WR4 to possible flex zone. He's leaving boards as WR44, somewhere in the 11th round. Now seems like a great time to invest in Sanders as his value should increase after the dust settles from free agency.
John Paulsen has the Saints wideout as WR35 in his rankings, which is nearly 10 spots above his draft spot.