Can Chase Claypool Climb the Steelers' Depth Chart?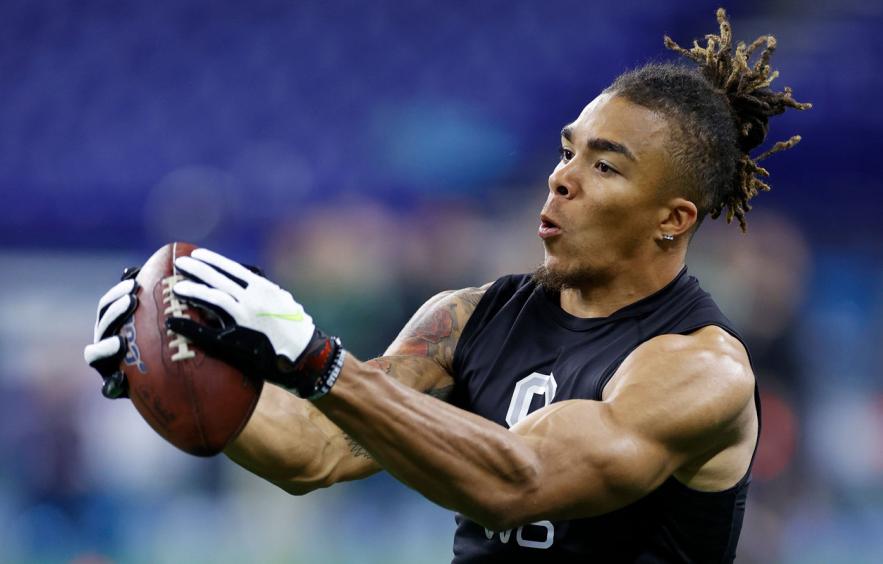 Joe Robbins/Getty Images
Chase Claypool was among the more polarizing position players coming into the NFL Draft. Questions swirled during the draft process around Claypool's true position, as to whether he's a tight end or a wide receiver, and that made his draft stock a huge question mark.
Ultimately, the Steelers pulled the trigger midway through the second round, selecting him with the 17th pick in Round 2. He will need to fit in with a young wide receiver group, a new tight end, and a recovering quarterback. What does that mean for his 2020 performance and where does he slot in long-term?
Chase Claypool

's College Career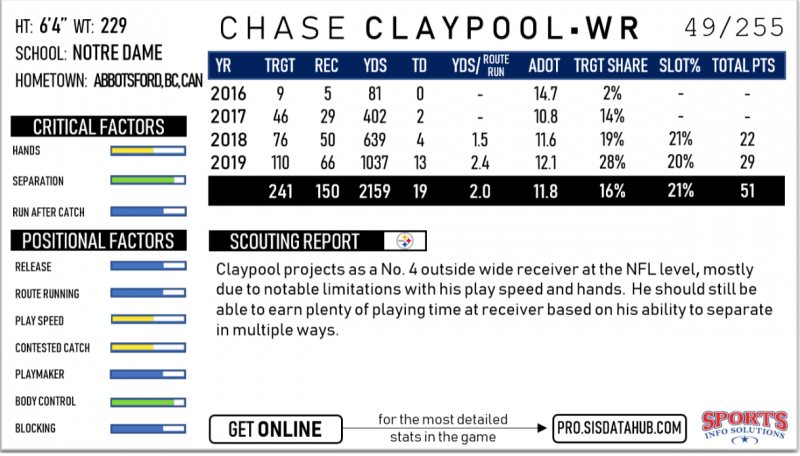 Growing up in Canada made Claypool's ability to get noticed by college recruiters very difficult. It took some highlight tapes and a social media push for Claypool to become a wanted man, eventually finding a home with the Fighting Irish at Notre Dame. His freshman season was spent behind Equanemious St. Brown and Torii Hunter Jr. among others, and he had more tackles (8) than receptions (5) largely as a special teams player.
Year two saw more of a step up in playing time and attention even if it was during a rough patch from a quarterbacking perspective. The team threw for just 20 touchdown passes, compared to 35 rushing touchdowns, and averaged less than 200 passing yards per game. That said, Claypool finished second in receptions (29) and receiving yards (402) for the team that year, good enough for 16% and 17% of the team's contributions in those categories. It seemed to foreshadow a junior year spike in production, especially with St. Brown heading to the NFL.
The 2018 season was overshadowed by the emergence of another wide receiver in Miles Boykin. While there is no shame to play co-lead to another Day 2 drafted receiver, along with a pair of NFL tight ends, Claypool didn't make the progression that some had hoped. Small upticks in reception (19%) and receiving yard (19%) market share was nice but didn't represent a true breakout.
It wasn't until 2019 where Claypool finally had the season that many hoped from the former top 20 positional recruit. He gobbled up 26% of the team's receptions for nearly 32% of the receiving yards and scored on seven of his eight receptions inside the 10-yard line. Exactly one-third of those 66 receptions went for 20-plus yards and finished the season strong with nine touchdowns in his last five collegiate games.
His downfield ability was never in question, nor was his versatility as a big slot or outside receiver with excellent run blocking and special teams skills to stick on an NFL roster. The outstanding issues resided more with an ability to separate as he relied on his physical stature (6-foot-4, 238 pounds) and deep speed (4.38 forty-yard dash) to win matchups.
The
Steelers

Offense with

Chase Claypool

The Steelers have always been willing to invest Day 2 picks into wide receivers with current players JuJu Smith-Schuster (2017), James Washington (2018), and Diontae Johnson (2019) all representing past selections during that time, making this the fourth-straight year they chose a wide receiver before Round 4. All remain with the team and have had varying levels of success over the past few years, making Claypool's fit from an opportunity perspective difficult to project. The 2019 target share for the Steelers has a lot of caveats.

Granted, 2019 receiver shares are skewed without the presence of Ben Roethlisberger, who is returning from injury. The receivers had to deal with Mason Rudolph and Devlin Hodges, a pair who somehow remain on the team despite being the equivalent of a malfunctioning t-shirt cannon. Smith-Schuster also missed a handful of games, giving Washington and Johnson extra opportunities, though neither of whom stood out with volume. Claypool could impact both Washington in the deep part of the field and Johnson as a potential slot option. Let's not forget Eric Ebron comes on board as well here.

Another thing to not forget is that JuJu Smith-Schuster is in the last year of his contract. This could be a way to leverage themselves during contract negotiations and have options if the Steelers cannot come to terms with the former top fantasy receiver. It wouldn't help much in 2020 but could break open the door to a year two breakout if that's the case.

Still, the Steelers did have some positive 2019 shifts. According to Sharp Football Stats, the Steelers went from 56% of pass plays in 2018 with three wide receivers up to 73% last year. While the addition of Ebron could mean some more two-tight-end sets with Vance McDonald, the glut of riches at wide receiver along with a competent quarterback will likely keep those three-receiver sets in high demand. That should give Claypool some repetitions both in the slot and outside to keep defenses guessing. Maybe even a few reps at tight end could be on the horizon in potential 12-personnel situations.
Bottom Line
A crowded depth chart presents some early hurdles, but positional versatility should give him a few more chances than expected.
The ceiling is low for Claypool in year one with 40-60 targets a realistic range with injury the only clear path to increased opportunity.
Claypool's early post-NFL Draft ADP in redraft leagues is around 159, making him a late 15th-round pick in 12 team leagues, potentially undrafted in many, and the WR59. 4for4's Rankings have him as the WR91 with just 29 receptions. Claypool is a stash in deep leagues hoping for more.
In dynasty, I have him as the 101st ranked dynasty asset and WR51 overall. He is my 17th ranked rookie but he is being selected more in the late second to early third of rookie drafts. That makes him a value for dynasty players looking to add an athletic player with upside.