3 Player Draft Specials to Bet: Player Draft Position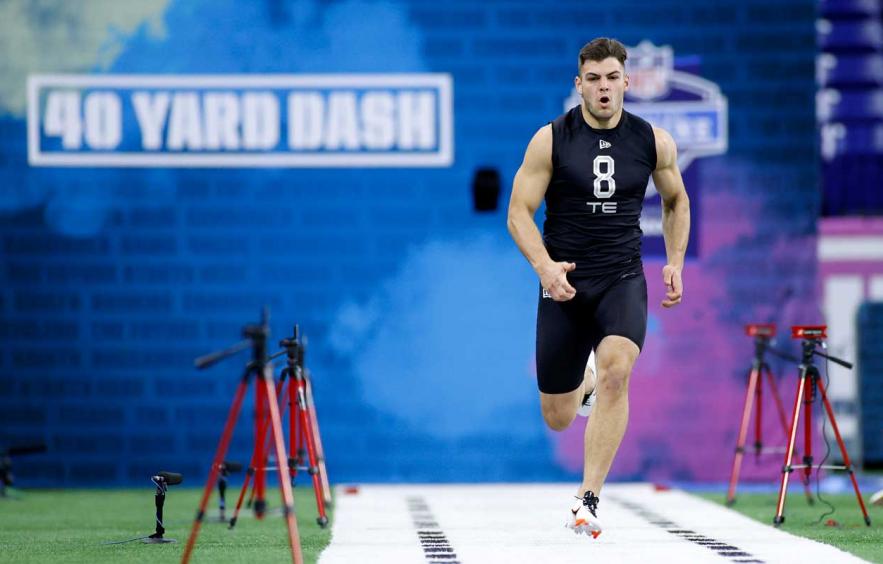 Joe Robbins/Getty Images
DraftKings Sportsbook is offering more player props on the 2020 NFL draft than anywhere else, with more options to bet than in years past. The most straightforward bets are prospects over/under draft position bets. You simply have to predict if a player will go before or after a certain pick number in order to win. There are some lines offering bettors real value. Here are my favorite three.
---
---
Josh Jones Under 28.5 (-125)
Josh Jones is one of the fastest risers throughout the draft process. After tearing up the Senior Bowl, he has been shooting up draft boards and appears to be locked in as a first-round pick. Jones's positional value combined with the scarcity of good NFL tackles makes him a near lock not to fall on draft day. DraftKings has four tackles with an over/under of 10.5 or lower, while Mekhi Becton (-400), Tristan Wirfs (-500) and Jedrick Wills (-335) are all heavy favorites to go in top 10. That means that two of 18 teams between picks 11 and 28 need to pick an offensive tackle as Georgia tackle Andrew Thomas is likely to go ahead of Jones as well and is +110 to go top 10.
Numerous teams in that span have a glaring need at tackle between the Jets, Bucs, Dolphins (twice), Jaguars, Vikings (twice), Panthers, and Seahawks. Tackles rarely fall on draft day as teams get desperate for them especially ones who excel in pass rush. Per PFF, Jones allowed just four pressures on 310 pass-block snaps last year and when you combine that with stepping up in competition during the senior bowl and dominating, he is sure to be high on the team's boards. As long as this stays under -140 I am willing to bet on it.
---
Want in on the action? Get a sign-up bonus up to $1,000 with DraftKings!
---
Cole Kmet

Over 44.5 (-137)

There is no positional group weaker than the tight end group in the 2020 NFL draft than tight end. While Cole Kmet is the heavy favorite to be the first tight end off the board (-286) this doesn't mean that he will be flying off the board come draft day. Any tight end going in the first round is +600, so we can safely assume that Kmet's best-case scenario is going in the second round. This line sets his over/under as being drafted in the first 12 selections of the second round. In that span, there is only one team with the need, roster construction, and draft capital who should even consider Kmet and that is the Colts with the 44th overall pick.

Indianapolis lost Eric Ebron in free agency, but still have Jack Doyle on their roster—tight end would be a luxury pick based on their current needs. The Colts just traded for DeForest Buckner using the 13th overall pick and head coach Frank Reich was quoted as saying they feel they have a win-now window with Phillip Rivers, so adding a developmental tight end makes little sense. Kmet would be considered a reach at 44, so I am willing to bet they pass and Kmet goes far lower than the 44th overall pick. This is a number I expect to climb, and would want to get in now and would be willing to bet it as long as it stays below -150.
K'Lavon Chaisson Under 16.5 (+100)
If there is one thing to take away from the recent drafts it's that teams are searching for pass rushers at the top of the draft. In the last five classes, at least two edge rushers went in the top 16, averaging three edge rushers in the first 16 picks and the second edge coming off the board by the seventh pick. Chaisson is the second-ranked edge rusher on Daniel Jeremiah's boards as well as The Draft Network's consensus big board. When I asked draft experts who the one player is that could surprisingly come off the board early, a frequent answer I got was Chaisson. This not only provides value at Under 16.5, but sprinkling 0.2 units on his prop to be a top 10 pick at +800 makes sense as well. Pass-rushers get driven up draft boards every year, and with the top pass-rusher being gone by pick two in this class, look for Chaisson to sail under his 16.5 number, with the Falcons at 16 desperate for pass-rush help as his likely floor.
Pick Summary
| Prop | Pick | Odds | Suggested Units | Limit (Bet Down To) | |
| --- | --- | --- | --- | --- | --- |
| Josh Jones Drat Position | Under 28.5 | -125 | 1 | -140 | Bet Now! |
| Cole Kmet Draft Position | Over 44.5 | -137 | 1 | -150 | Bet Now! |
| K'Lavon Chaisson Draft Position | Under 16.5 | +100 | 1 | -120 | Bet Now! |
Note: All advice in this article is based on odds available on the date of publishing.