3 NFL Draft Prop First Round Specials: Picks by Position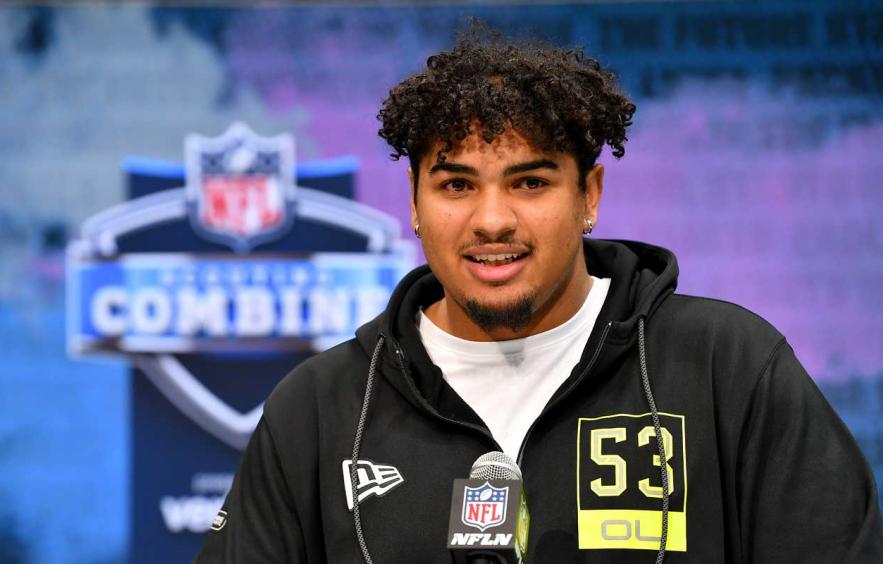 Alika Jenner/Getty Images
On DraftKings Sportsbook you can wager on how many players at different positions go in the first round of the 2020 NFL Draft.
When analyzing a position prop, I am looking at three key categories: the line, who are the locks of the position, and who are the question marks. I want enough sure things that I am not relying on multiple coin flips going my way in order to hit something close to even money. I also want to evaluate the position importance and past drafts to make sure I am not facing a rush of late first-round guys if I am on the under.
---
---
Cornerbacks Drafted in the First Round: Over 4.5 (-115)
There are two first-round locks with Jeffrey Okudah having an o/u of 4.5 and C.J. Henderson having an o/u of 15.5 with a -152 on the under. Those are the top two corners in the class, and both could easily go in the top 10, pushing every other corner up the board. After the top two, we have uncertainty on who cornerback three is—what we don't have uncertainty on is that teams need corners in today's passing league. In three of the last five drafts, five corners have gone in Round 1. In the last two drafts, only four combined corners went in Round 1, but they had weaker corner classes, which just might push guys up the board this year. Another likely lock is Kristian Fulton (o/u 24.5) who is -715 on Draftkings to go Round 1. We are up to three "locks" and only need two more players to go. DraftKings lists the remaining corners to go in the first round as Jaylon Johnson -177, A.J. Terrell -177, Trevon Diggs -150, Jeff Gladney -121, and Damon Arnette +200. To hit the over, you need two of the five players to go in Round 1 with four of them favored to go there. You also have team needs on your side with the Vikings, 49ers, and Chiefs top needs at cornerback in the last eight picks of Round 1. There is good value on the over and it is worth betting for one unit.
Offensive Lineman Drafted in the First Round: Over 6.5 (-121)
There may be four offensive linemen off the board in the first 11 picks. Tristan Wirfs, Mehki Becton, Jedrick Wills, and Andrew Thomas all have an o/u of 10.5 or lower. From there, Austin Jackson and Josh Jones should be pushed up the board, likely going in the late teens or early twenties. They are both -500 to go in Round 1 on DraftKings. We already have six offensive linemen who appear to be locks to go in Round 1. The league is desperate for offensive linemen and makes them a priority on draft day—last year, in a much weaker class, there were seven tackles gone by pick 38 and that was with none going top 10. This year, four might go in the top 10. On top of the six tackles, Isaiah Wilson has been gaining steam—teams are said to be all over on him but he is -400 to go Round 1 on DraftKings Sportsbook while interior offensive lineman Cesar Ruiz and Ezra Cleveland are -167 and -134, respectively, to go in the first round. With six locks and three potentials, the over seems like a no-brainer here.
---
Want in on the action? Get a sign-up bonus up to $1,000 with DraftKings!
---
Wide Receivers Drafted in the First Round: Under 5.5 (+200)
By the time pick 16 comes along, expect three receivers off the board with Jerry Jeudy, CeeDee Lamb, and Henry Ruggs all with an o/u of less than 13.5 and Justin Jefferson seems to be locked in as a first-rounder as well with an o/u of 21.5. With the odds at +200, that's implying that there is a 33.3% probability less than six receivers are taken. Most sites have moved this number to under 6.5 with the juice on the under as the consensus thinking is six receivers go in Round 1. However, there is a legit chance that just five go in Round 1 and getting plus money on the under seems like a way to win two units for the price of one. Many will talk about this being a historic class and they are right, but that can push people down the board just as quickly as it pushes them up. Why take a receiver at the end of Round 1 if you can get a similar talent in Round 2? In the last three drafts combined, there have only been five total receivers taken in the first. Guys like Tee Higgins, Brandon Aiyuk, Jalen Reagor, Laviska Shenault, Denzel Mims are said to be all over the place on people's boards and could easily be early day-two picks instead of late day one. For half a unit to win a unit, the risk is worth the reward to go under on 5.5 receivers.
| Prop | Pick | Odds | Units | Limit | |
| --- | --- | --- | --- | --- | --- |
| Total Cornerbacks Drafted in the First Round | Over 4.5 | -115 | 1.0 | -125 | Bet Now! |
| Total Offensive Linemen Drafted in the First Round | Over 6.5 | -121 | 1.0 | -130 | Bet Now! |
| Total Wide Receivers Drafted in the First Round | Under 5.5 | +200 | 0.5 | +180 | Bet Now! |
Note: All advice in this article is based on odds available on the date of publishing.