3 Long Shot NFL Draft Props: Position of First Round Pick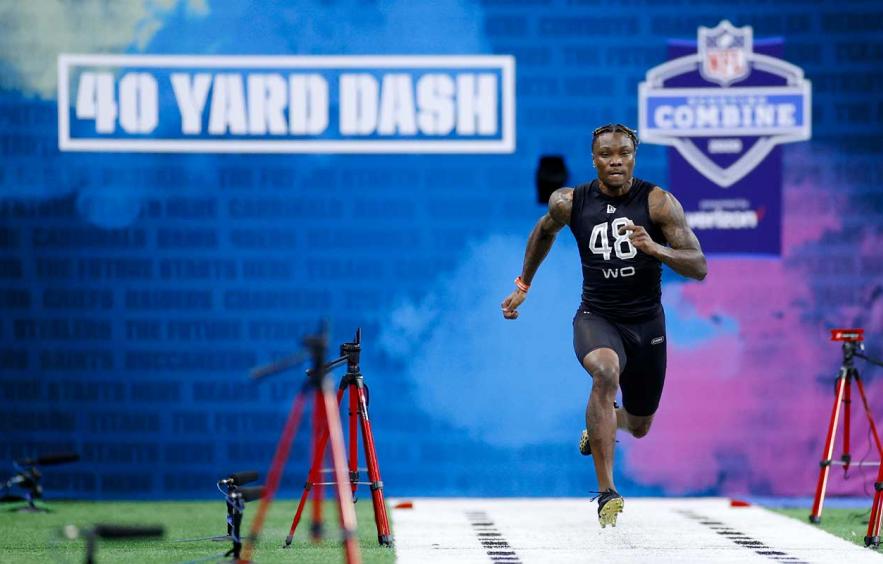 Joe Robbins/Getty Images
As the NFL Draft continues to inch closer, DraftKings Sportsbooks continues to increase the number of events you can wager on.
Like player landing spot longshots, team position long shots are worth taking a stab at for a fraction of your typical unit. The goal is to hit one or two that pays off all the rest. The NFL Draft is the most variance-heavy event in all of sports and sometimes it is important to brace it.
---
---
Position of 49ers First Drafted Player: CB (+700)
Embrace the variance that is the 49ers' first pick. They have picks 13 and 31 in this draft, but after that, they don't pick again until 156th overall. This roster is loaded, but you always want more depth and there are three major needs this team has. One at wide receiver where the 49ers are -177 to use their first pick on the position, two at defensive line (+300), and the third is cornerback, which is listed at +700. The 49ers are potentially in a prime position to land a receiver, though their top guys could easily go a few picks ahead of them, with both CeeDee Lamb and Jerry Jeudy's draft props having them projected gone by 13. At defensive tackle, their need is more of a bonus after trading DeForest Buckner, still having one of the best defensive lines in football.
At cornerback, this team had to bench Ahkello Witherspoon during the playoffs because he kept getting dusted and Richard Sherman just turned 32 years old. C.J. Henderson's o/u jumped to 12.5, potentially putting the stud corner on the board for the 49ers. If they trade back, they could drop to the early twenties where the class has a ton of potential corners coming off the board. I think they should be closer to +400 to take a corner and it should certainly be higher than the defensive line odds. Not to mention if they stay put at pick at 31 there is likely to be more receiving talent than corner talent at that pick, while at 13, Henderson would be a tier above the rest.
---
Want in on the action? Get a sign-up bonus up to $1,000 with DraftKings!
---
Position of Buccaneers First Drafted Player: WR (+800)
Evan Silva tweeted the other day that sometimes the best thing a team can do is add to a strength. The Bucs drafting a receiver would be exactly that, having arguably the best tandem in football in Mike Evans and Chris Godwin. The Bucs are -400 to take a tackle with their first pick and wide receiver is the next closet offensive position at +800. While I think its most likely the Bucs take a tackle, what if the top four are gone? With Wills and Wirfs both -400 or higher to go in the top 10, Andrew Thomas having his o/u set at 10.5, and Mekhi Becton being +1000 to go to the Bucs what do they do? Do they reach for Josh Jones whose o/u is at 28.5? Do they take Henry Ruggs whose deep speed would open up this offense for Evans and Godwin to have single coverage and give Brady all the weapons he could ever dream of? Ruggs o/u recently dropped from 14.5 to 13.5, which would suggest there is some fire with this smoke.
Position of Seahawks First Drafted Player: RB (+3000)
Oh man, this bet is worth three bucks to win 100! Not only would twitter explode, you would get a laugh, but you would also have a crisp Benjamin in your pocket. The Seahawks love running backs and their offensive philosophy is stuck in a different century, probably a century before they figured out basic mathematical concepts. Right now, both of their top backs are coming off of season-ending injuries and they have said they want to add to the backfield. As the odds sit right now, the over on 0.5 running backs going in the first round is -200. The projected first back off the board is DeAndre Swift who has an o/u of 26.5 and guess who picks 27th? While the pick would make no logical sense, there are enough signs pointing to +3000 being a solid long-shot bet.
| Prop | Pick | Odds | Units | Limit | |
| --- | --- | --- | --- | --- | --- |
| Exact Playing Position of 49ers' First Drafted Player | Cornerback | +700 | 0.15 | +600 | Bet Now! |
| Exact Playing Position of Buccaneers' First Drafted Player | Wide Receiver | +800 | 0.15 | +700 | Bet Now! |
| Exact Playing Position of Seahawks' First Drafted Player | Running Back | +3000 | 0.03 | +3000 | Bet Now! |
Note: All advice in this article is based on odds available on the date of publishing.