NFL Week 5 Betting Picks & Preview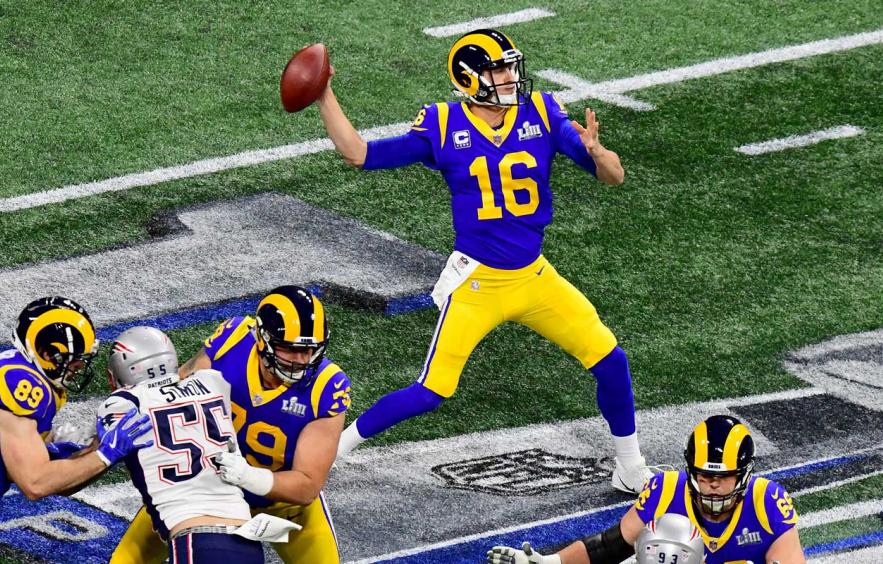 Scott Cunningham/Getty Images
Week 4 Recap: I selected four underdogs last Sunday, and three of those dogs won outright (Titans over Falcons, Jags over Broncos and Saints over Cowboys). Meanwhile, the Vikings got me again. Sorry, let me correct myself: Kirk Cousins got me again. As I noted in my write-up, Cousins clearly bet the Packers three weeks ago when I took Minnesota and the points in Green Bay and did so again last Sunday in Chicago. This is all unsubstantiated, of course, but I don't want to blame myself for backing a bad quarterback so I'll just stick with that narrative.
After posting back-to-back losses in the first two weeks of the season, I've now rebounded for back-to-back winning weeks. Sitting at 8–6 ATS on the year, below are my selections for Week 5.
301 Los Angeles Rams at 302 Seattle Seahawks
Spread: Rams +1.5
O/U: 49.5
Time: 8:20 p.m. ET, Thursday
The Bears (more specifically, Vic Fangio) laid out the blueprint on how to defend Sean McVay's offense and opponents, including the Patriots in the Super Bowl, have copied that plan early in 2019. In efforts to limit the Rams' outside zone rushing attack, opponents have used a 6-1 defensive front while playing either Cover 4 or Cover 3 behind it. While everyone continues to focus on what's wrong with Jared Goff, the key to the Rams' offensive struggles so far has more to do with teams limiting their gains on early downs.
That said, the Rams' 55–40 loss to the Bucs last week has created value for bettors on Thursday night. The Seahawks are 3–1 but they surrendered 429 yards to the Bengals' offense in Week 1, beat the Steelers when Ben Roethlisberger got hurt in Week 2, played sloppy in a Week 3 loss to a Drew Brees-less Saints and dominated an overmatched Cardinals team in Week 4. The Rams, despite their ugly loss last week and their early-season issues, are the better team in this matchup.
Pete Carroll wants his defenders to play fast, so he often keeps things simple with his schemes. I doubt he changes things up too much for the matchup on Thursday and thus, I like the Rams to have more success offensively than they've had in the first month of the season. Seattle is also banged-up along its offensive line, which is never a good thing when Aaron Donald is on the other side.
NFL Week 5 Selection: L.A. Rams +1.5
451 Baltimore Ravens at 452 Pittsburgh Steelers
Spread: Steelers +3.5
O/U: 44.5
Time: 1:00 p.m. ET, Sunday
A lot was made in the offseason about how the Ravens lost C.J. Mosley (Jets), Za'Darius Smith (Packers), Terrell Suggs (Cardinals) and Eric Weddle (Rams) from their defense. Neither the Dolphins nor the Cardinals were able to take advantage of those departures the first two weeks, but the Chiefs and Browns combined for 73 points versus the Ravens the last two Sundays.
Granted, it's not as if Patrick Mahomes won't rack up over 500 yards of offense against other opponents this season. That said, the Ravens' issues defensively versus the Browns last Sunday were eye-opening. The Steelers don't possess the offensive weapons that Kansas City or Cleveland does, but clearly the holes in Baltimore's defense are starting to become pronounced.
On the other side, the Browns used a blitz-heavy game plan against Lamar Jackson and it worked. I expect the Steelers to use the same strategy on Sunday to keep the dynamic signal-caller in the pocket (where he has made strides but is still developing as a passer).
Granted, Pittsburgh is banged-up offensively, but I still see plenty of value getting the Steelers as a home dog versus a Ravens team that clearly has some issues right now.
NFL Week 5 Selection: Pittsburgh Steelers +3.5
465 Tampa Bay Buccaneers at 466 New Orleans Saints
Spread: Bucs +3
O/U: 46.5
Time: 1:00 p.m. ET, Sunday
As readers know, I loved the Saints last Sunday night as a home dog versus the Cowboys in prime time. Dallas had yet to be tested and New Orleans is always tough to beat inside the hostile Superdome, especially at night. That said, while I liked the situational spot for the Saints last week, I don't this weekend.
The Bucs won't score 55 points again as they did in L.A. last week, especially with the Saints playing as well defensively as they have the following two weekends. Still, for as impressive a win as that was last Sunday night versus the Cowboys, let's not overlook how pedestrian Teddy Bridgewater played again. He's never going to be a quarterback that takes shots vertically on a consistent basis but there were several times throughout that game when Sean Payton showed a lack of trust in his signal-caller. In fact, I wouldn't be surprised if we see more packages designed to get Taysom Hill on the field.
Nevertheless, the Bucs clearly have defensive issues, but they also can put up points in a blink. Turnovers are always a concern with Jameis Winston but I see Tampa hanging tough in New Orleans for a second consecutive year. The Saints are 1–5 against the spread in their last six home games and 2–7 ATS in their last nine games overall. The Bucs, meanwhile, are 4–0–1 against the number in their last five road games and have covered in five of their last seven games dating back to last season.
NFL Week 5 Selection: Tampa Bay Bucs +3
2019 ATS Betting Record
Week 1: 1–2
Week 2: 1–2
Week 3: 3–1
Week 4: 3–1
Season Total: 8–6 (57%)