The RB-DEF Stack: Analyzing Game Script in NFL DFS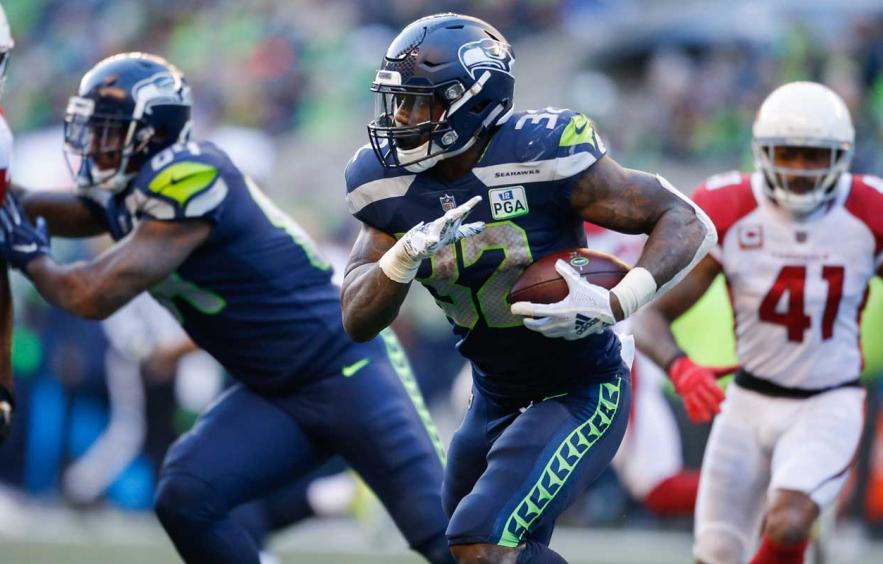 Otto Greule Jr/Getty Images
The process starts and ends with the following: identifying teams most likely to have game script on their side.
Once we spot a few teams (seemingly) set up for success on a given Sunday, we know stacking said team's running back with its defense is a smart and contrarian play for DFS tournament purposes. The correlation between RB1 scoring and D/ST scoring isn't the strongest—it's certainly no QB/WR1 correlation—but it has enough relation for us to construct a lineup or two each week using a running back and his team's defense.
It all makes sense on a basic level—we know teams that seize and keep the lead run the ball more than teams that fall behind, and we know fantasy defenses facing inaccurate quarterbacks trapped in an ocean of negative game script can thrive. That's where the turnovers can be found—the only thing that really matters in D/ST scoring.
Each week this season, as I did in 2018, I'll highlight running back-defense stacks on FanDuel and DraftKings, pinpointing where we might get a solid defensive performance and the volume-driven running production that often comes with a good defensive performance. We have data showing RB1s—and only RB1s—get a production bump when their defense scores at least 15 fantasy points.
Let's take a look at last year's top-10 fantasy defenses to see what sort of volume their runners enjoyed.
Top Defenses vs Rushing Ranks, 2018

| Team | D/ST Finish | Rushes Per Game | Rushes Per Game Rank |
| --- | --- | --- | --- |
| Chicago Bears | 1 | 28.6 | 8th |
| LA Rams | 2 | 29.0 | 6th |
| Houston Texans | 3 | 28.5 | 7th |
| New England Patriots | 4 | 31.5 | 3rd |
| Baltimore Ravens | 5 | 33.8 | 1st |
| Minnesota Vikings | 6 | 22.3 | 27th |
| Kansas City Chiefs | 7 | 24.0 | 24th |
| Denver Broncos | 8 | 24.6 | 19th |
| Seattle Seahawks | 9 | 32.8 | 2nd |
| Tennessee Titans | 10 | 28.5 | 9th |
While not every elite fantasy defense was hammering the rock on the ground, seven of the above 10 teams finished top-10 in rush attempts per game. Absent from this list are Buffalo and New Orleans, fourth and fifth in rushing attempts, respectively, though both teams barely missed the cut as top-10 defenses in 2018.
Baltimore is an exception here, as Lamar Jackson led the team in 2018 with 147 rush attempts. Take away his designed runs over the final six weeks of the regular season and the Ravens don't look as run-heavy, though Baltimore running backs were second in carries once Jackson took over as the team's starter. Starting running back Gus Edwards, for what it's worth, never had fewer than 16 carries in a Lamar Jackson start; we're not discounting the Ravens as a team that could feed their runners when they get a lead. Anecdotally, I'm not sure the Ravens will want to expose their quarterback to walloping hits when they're playing with a comfortable second-half lead.
Minnesota sticks out like a sore, pass-heavy thumb in the above chart, much to the chagrin of committed run establisher Mike Zimmer. I should note that the Vikings notched a cool 27.9 runs per game in the final month of the season after the team axed its offensive coordinator for establishing the pass too much. That would have ranked inside the top-10 in rushing volume on the year. All indications out of Vikings' camp this summer have shown the team is ready and willing to run the ball so Zimmer can feel better about himself as a Football Guy.
Stacking running backs with defenses is particularly tasty when injuries and other unforeseen situations give us a low-priced RB1 whose team is a big home favorite. Sure, you, your grandmother, and your second cousin will be on that running back in DFS, but very few players will stack that guy with his defense because that defense—more than likely—is among the priciest on the DFS slate. But paying up for defenses with prime matchups is often required if we're going to roll with the week's best RB-defense combos. Embrace it. Accept it.
Join me during the NFL regular season to do the old double dip on positive game script.