The Late-Round Tight End With Sneaky Upside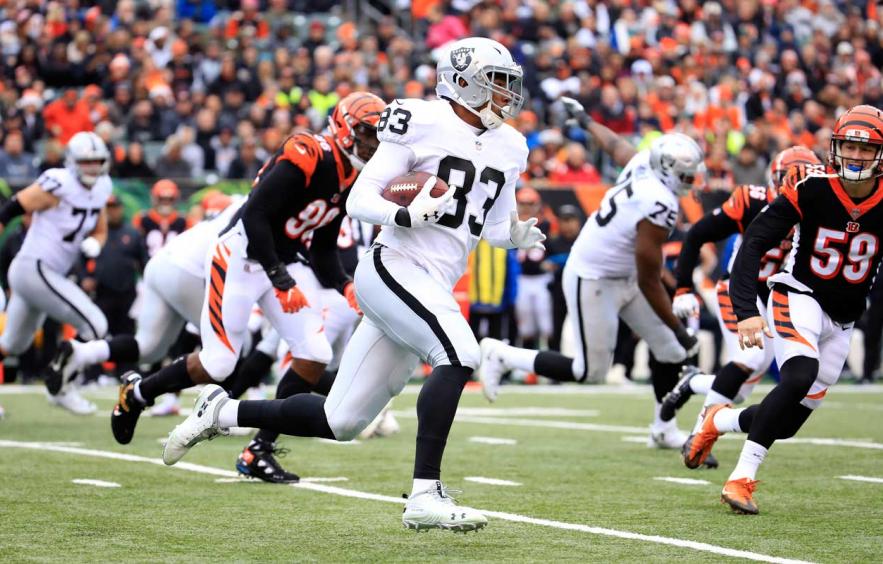 Andy Lyons/Getty Images
Who is this massive tight end humiliating Raiders defenders in training camp and drawing the praise of Oakland coaches?
His name is Darren Waller, he has a sparkling athletic profile, and he could fall into a bunch of targets in an offense that will surely be forced into pass-heavy mode throughout 2019.
We're one year removed from Jared Cook leading the Raiders with 101 targets, one season after drawing 85 targets from Derek Carr. Antonio Brown desperately wants to use an unsafe helmet and could miss the entire season in protest of the NFL's helmet regulations, raising the possibility for another 150 targets to be available in this putrid Oakland offense, though that now looks unlikely. Waller would almost certainly see a chunk of those targets; the Raiders have no alpha pass catchers outside of Brown who would command dominant opportunity.
Darren Waller

's Athletic Profile

Waller, locked in as the team's starting tight end, has a whopping 29 targets over 22 games as a pro, mostly playing second- and third-string roles for the Ravens and Raiders since 2015 (he missed the entire 2017 season due to injury). The 6'6", 255-pound tight end shines as a prospect, ranking in the 96th percentile of tight end catch radius, 89th percentile in burst score, and 82nd percentile in agility score, according to Player Profiler. Oh, he's fast too: Waller ranks in the 99th percentile for speed score among tight ends.

What does all this mean for fantasy purposes? Maybe nothing if he doesn't see the ball in Oakland. If he does, these sort of measurements would indicate Waller, who was listed as a wideout at Georgia Tech, could be valuable for fantasy managers if he's truly an integral part of an NFL offense—even the Raiders. Waller could easily join the ranks of late-round tight ends who could prove critical for fantasy players fading the position in 2019.
Opportunity for Targets
I did the math this summer on how much bad teams pass the ball and found that the worst of the worst average 550.7 passing attempts, which would have ranked 16th in the league last season. It's fairly safe to assume the Raiders will be among the NFL's most atrocious teams in 2019, and Carr has thrown more than 550 times in four of his five NFL seasons. An 18% target share would net Waller 100 targets in 2019. That's hardly a make or break number for a tight end who's not being drafted in most 12-team leagues. Backup tight ends are going off the board behind Waller and there's no chance his redraft cost will rise by much over the next few weeks, even with a little Hard Knocks hype. Even a 13-14% target share would prove valuable for a player who is essentially free in redraft leagues. And if Oakland is forced to go truly pass-heavy in 2019, that relatively modest target share would be far more appealing than it would on a team obsessed with run-pass balance.
Waller showed a little flash in 2018's final game, a blowout loss to the Chiefs in which he caught three of three targets for 23 yards while Cook saw five targets. This doesn't tell us much, I know, but it's not a negative to see our guy produce something when given the chance. We don't have much to draw from seeing that Waller has never received more than three targets in his 22 games as a pro. Whatever the reasons Waller was never given a shot at a starting gig in Baltimore, he has the job now. That's all that matters to us.
The Bottom Line
All we're seeking in late-round tight ends are guys who could stumble into reliable week-to-week opportunity, most likely in offenses that aren't stacked with top-shelf pass-catching options. That's precisely what we have with Waller. We can hardly be picky with the pedigree of a late-round tight end target; when we find an option whose size-speed combination stands out, it deserves our attention, however fleeting.