How Tevin Coleman to San Francisco Impacts Fantasy Football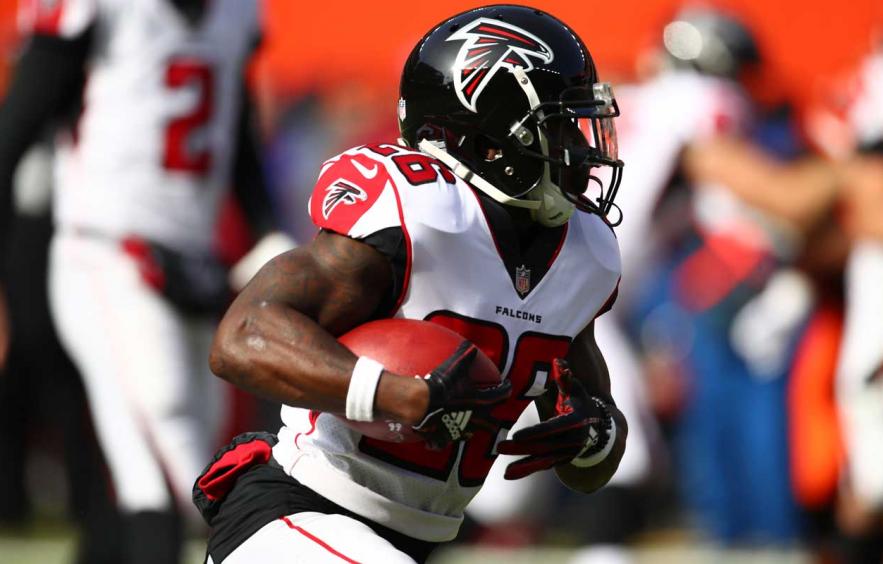 Gregory Shamus/Getty Images
Tevin Coleman is headed west to the Bay Area, on a two-year deal with the 49ers worth $10 million. This signing reunites Coleman with San Francisco head coach Kyle Shanahan, who served as the RB's offensive coordinator in Atlanta for two seasons.
Coleman didn't exactly do himself any favors in 2018 when he was thrust into the lead back role due to an injured Devonta Freeman, as he only had 167 carries and 44 targets, and was outplayed by fourth-round rookie Ito Smith down the stretch. However, Shanahan obviously believes in Coleman's potential and inked a deal to bring him to town to join an already crowded backfield.
Here's a look at how the 25-year-old's cross-country move impacts both the 49ers and Falcons for this upcoming fantasy season.
How
Tevin Coleman

Impacts the

49ers

I've been waiting to write this piece thinking Jerick McKinnon would have been released by now, but after $3.7 million of his salary guarantee hitting on April 1st, it appears he will remain a 49er for 2019. As it stands currently, Coleman joins the RB grouping of McKinnon, Matt Breida, Raheem Mostert, Jeffrey Wilson and Matt Dayes, with Kyle Juszczyk as the fullback.

With a healthy McKinnon in the fold, it would make sense for him and Coleman to replicate the usage of Freeman/Coleman in Atlanta, with some Breida in the mix. With Shanahan running the Falcons offense from 2015-2016, Coleman averaged 9.4 touches to Freeman's 19.5, in contests they were both healthy and on the field. McKinnon isn't exactly the back that Freeman is, and certainly has injury concerns, but clearly, Shanahan sees Coleman as more of a complementary role player rather than a workhorse in the backfield. We can also see confirmation of that based on his two-year, $10 million deal. We can't totally dismiss Breida here, as he did end last season with the most touches among 49ers RBs, but it also needs mentioning that both Alfred Morris and Raheem Mostert missed significant playing time along the way.

Running backs have seen similar usage in both Atlanta and San Francisco with Shanahan calling the shots. In his two years in Atlanta, their offense averaged 420.5 rushing attempts with 125.5 average targets, while the 49ers last two seasons saw an average of 415.5 attempts with 136.5 average targets. All of this equates to an average 59.8% touch share to RBs, which bodes really well for all RBs in that room. There's no concrete information to think he'll change his ways, so even with an RBBC situation, Coleman could see close to 175 carries and 40 targets in 2019, even with McKinnon on the roster.

Coleman is currently being drafted in the late-fifth round as RB27, and 4for4's Director of Forecasting John Paulson has him ranked as RB29 heading into the season. The three-headed monster of a backfield is something that could give people some pause, but the usage should be there as an RB3, with more upside than most in that same ADP range.
How
Tevin Coleman

's Departure Impacts the

Falcons

Assuming Freeman is healthy this season, he should resume his role as lead back in Atlanta. In 2017, the 27-year-old played in 14 games, and averaged 16.6 touches per contest. With Coleman now out of the equation, it's up to Smith to provide a change of pace and assume the second fiddle role in the Falcons backfield.

Last season, Atlanta was 27th in the league as a rushing offense, and had the third-fewest amount of attempts in the NFL with just 351, a whopping 196 fewer than Baltimore, the team with the highest amount of ground attempts. There's certainly room for improvement, but they will need both Freeman to stay healthy and Smith to step into a larger role in his sophomore season.

Currently, Freeman has an ADP of RB21, coming off boards in the fourth round, with Smith's ADP sitting at RB45, as a late-10th rounder.