FanBall Week 5 AAF Breakdown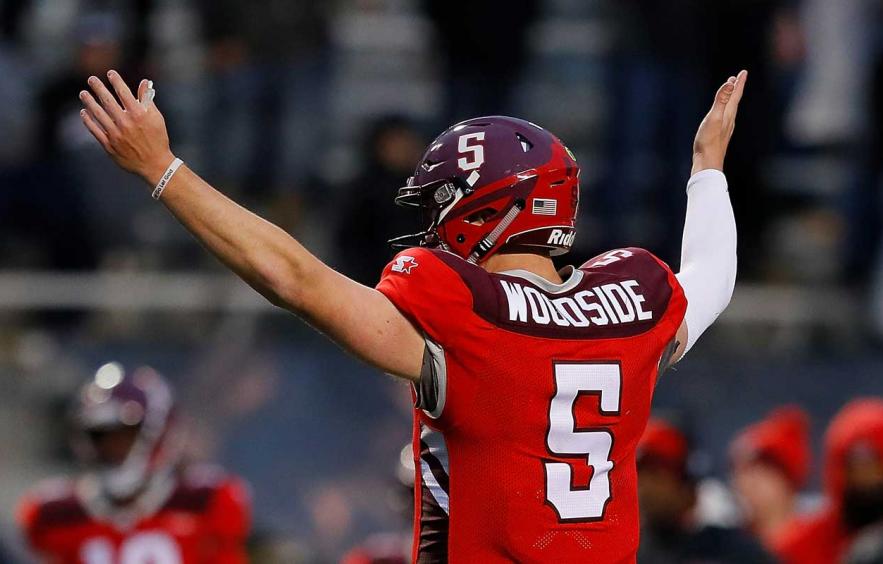 Kevin C. Cox/Getty Images
Note: All stat lines reference the previous week's game, unless otherwise noted. If there is no injury news about a team, the team has not released injury reports to the public/beat writers so be sure to check back for updates as injury news continues to be released closer to lock!
Jump to Season Long Touch and Target Shares
Orlando Apollos (-4) vs Birmingham Iron O/U 34
Apollos Running Game
The Orlando running game has been pretty efficient as of late, averaging 4.69 yds/car over the last three weeks. The problem with them is just picking who is going to get the very valuable touchdown of the three-headed monster they have. The carries are spread out evenly enough that it's been difficult for any of the backs to really pick up traction and approach the 100-yard bonus. Last week, the backfield was led by De'Veon Smith(12 car, 51 yds, 4.3 yds/car) who had his best game of the season, seeing four more carries than either D'Ernest Johnson (8 car, 31 yds, 3.9 yds/car) and Akeem Hunt (8 car, 35 yds, 4.4 yds/car, 1 TD), who scored the only rushing touchdown for the team. They'll be going up against a middle-of-the-road front seven this week.
Apollos Passing Game
The Apollos were blessed in the draft with an absolute stud in QB Garrett Gilbert (22/32, 244 yds, 7.6 yds/att, 1 TD) who has played his way into leading the league in both passing yards and fantasy points scored. Gilbert owes a lot of that success to monster receiver Charles Johnson (12 tgts, 9 rec, 105 yds) who leads the league in receiving yards (410), targets (32), and is second in the league in air yards (438). Johnson has eclipsed the 100-yard mark twice in four weeks with, nearly breaking 200 yards in one of those efforts. This week, Johnson will have his hands full at least half of the time with CB Jamar Summers of the Iron who PFF grades at 89.4 and has allowed a paltry catch rate of 27% on the season. Johnson runs half of his routes on the other side where he'll get the much more susceptible Elijah Campbell who PFF grades out at a 60.8 and allows a 75% catch rate. I fully expect Steve Spurrier to do what he can to get his stud open to keep the Iron out of the game as much as possible. After Johnson, we have Rannell Hall (5 tgts, 4 rec, 57 yds), and Jalin Marshall (6 tgts, 4 rec, 27 yds). Marshall started the season hot in the first two weeks, catching a touchdown in each of the first few games but has since fallen off, catching only five balls for a total of 43 yards over the last two weeks.
Iron Running Game
If I could just write this portion of the article and leave it as just "Trent Richardson" (8 car, 15 yds, 1.9 yds/car, 1 TD), believe me I would but a new character has appeared in the backfield in Brandon Ross (9 car, 64 yds, 7.1 yds/car). After playing zero snaps in Weeks 1–3, it seems HC Tim Lewis has finally gotten enough of Trent Richardson's unreal inefficiency he's best known for. The Apollo have a middle-of-the-road run defense and are definitely susceptible to rushing attacks but Ross out-carried Richardson last week and we have to wonder if we see something similar this week. It should be noted that Ross didn't log any red zone rushes last week to Richardson's three so we have to keep a potential ceiling in mind.
Iron Passing Game
The Iron are all over the leaderboards when it comes to their passing game with Luis Perez (19/39, 202 yds, 5.2 yds/att, 2 INT, 1 2PT) being a distant second in passing yards to Garrett Gilbert and Quinton Patton (6 tgts, 2 rec, 17 yds) ranked third in the league in receiving yards (226) and targets (27) while leading the league in air yards. The problem with Patton has been his hands and week after week I pray that he channels the powers (or glue) of Clifford Franklin from The Replacements. But until Gene Hackman makes a cameo on the sidelines, it'll be hard to trust Patton and in this passing attack we'll have to look elsewhere, but it's extremely thin. Trent Richardson (8 tgts, 5 rec, 19 yds) actually led the team in targets last week, followed by outside receiver L'Damian Washington (7 tgts, 3 rec, 35 yds). L'Damian would be the obvious choice here, but the Apollos are very stout with their outside cornerbacks. Slot receiver Tobias Palmer draws the easiest WR/CB matchup versus Apollo slot corner Bryce Canady, but Palmer's workload is extremely thin and makes it difficult to get to him.
Pat's Thoughts
At $6,800, Garrett Gilbert is you prototypical cash game quarterback but I don't know if I'll be willing to pay this price for him on the road against the Birmingham defense. Charles Johnson ($7,900) is in the same boat of being priced insanely high regardless of the matchup. We should keep in mind that tough defensive matchups don't necessarily affect a player's true ceiling, but their floor and median projection may be lowered slightly. Playing these guys this week will just depend if defenses matter to me by Saturday.
If I told you I was confident in fading Trent Richardson ($7,300) this week I'd be lying. His price is insanely high for his production, but with PPR scoring and his touchdown equity, it's hard to argue that it's not worth paying for when we have so many running backs in this league struggling to hit double-digit points.
Salt Lake Stallions vs San Diego Fleet (-6) O/U 36
Stallions Running Game
Last week, we finally saw Branden Oliver (17 car, 71 yds, 4.2 yds/car) run away with the lead back job, toting nine carries more than backfield mate Joel Bouagnon (8 car, 30 yds, 3.8 yds/car, 1 TD). The Fleet's defense played above their heads last week, holding the Memphis rushing attack to a paltry 3.5 yds/car. We should expect regression on the side of the Fleet defense and I wouldn't have any quips about looking towards this rushing attack—outside of last week, the Fleet have surrendered an average yds/car of 4.28 to their opponents.
Stallions Passing Game
Led by former Baltimore Raven Josh Woodrum (16/22, 161 yds, 7.3 yds/att, 1 2PT), the Stallions' targets are spread out just about as wide as they can be. Team target leader Kenny Bell led the team with five targets in Week 4, catching three of them for a lowly 25 yards and Adonis Jennings (3 tgts, 2 rec, 43 yds) and De'Mornay Pierson-El (2 tgts, 2 rec, 24 yds) didn't do much either. This week going up against a much softer secondary in the Fleet, we can expect positive regression for all of these players. Pierson-El will have the easiest matchup of the bunch in Fleet CB Ron Brooks who PFF grades out to a 44.9 grade allowing a 53% catch rate.
Fleet Running Game
Last week was the first time we saw a true Alvin Kamara/Mark Ingram split for the AAF version of the popular NFL rushing duo with Terrell Watson logging 10 carries for 43 yards to go with a 2-point conversion and Ja'Quan Gardner toting the ball nine times for just six yards. It should be noted that the lack of efficiency in both backs could stem from Express HC Mike Singletary making it their game plan to stop the run as this performance from them last week is well below their usual mean performance. The Stallions haven't been the easiest team to rush against, allowing fewer than 4.0 yds/car on the season, but with the injury to starting QB Philip Nelson, we can expect Mike Martz to get as creative as possible with his backfield.
Fleet Passing Game
Last week, we saw a great game from QB Philip Nelson (9/12, 110 yds, 9.2 yds/att, 1 TD) until he got injured, but his backup Alex Ross (8/18, 80 yds, 4.4 yds/att, 1 TD, 1 INT) performed decently enough to keep the Fleet in the game, albeit running for his life on more than half the plays.
After Ross came in we saw the receivers and tight ends get target counts as follows:
Escobar - 3
Brown - 3
Johnson - 2
Baugh - 2
Ford - 2
Spruce - 2
Owusu - 1
Gardner - 1
With target counts like this, it will be hard for us to bank on anything on this side of the ball for the Fleet and I'll most likely be looking elsewhere for receivers.
Pat's Thoughts
Branden Oliver ($6,400) along with De'Mornay Pierson-El ($5,000) will be my top two plays from the Stallions, as volume will rain victorious here against a fast-paced team in the Fleet.
Like last week, Terrell Watson ($5,200) and Ja'Quan Gardner ($5,600) will be on my radar, especially with the price drop that Gardner experienced. Unfortunately, with Alex Ross ($5,600) at QB, I don't think I can go there as the passing game isn't quite the same with him in there. If you want to punt QB, his price makes it extremely reasonable to fit in studs in your other roster spots.
Memphis Express vs Atlanta Legends (-1.5) O/U 38.5
Express Running Game
In Week 4, we saw Mike Martz do all he can to stop the Express rushing attack from succeeding which led to a horrible performance from workhorse back Zac Stacy (18 car, 39 yds, 2.2 yds/car). This week, however, the league's worst rushing defense provides him with the perfect bounceback spot. The Legends have allowed 4.75 yds/car on the year and 5.3 yds/car if you take out the game against the Iron and King Inefficiency himself, Trent Richardson. After allowing 110 yards on 14 carries to Jhurell Pressley last week, Stacy won't have any time finding his place in a ton of lineups this week.
Express Passing Game
Last week, we saw the Atlanta defense stun all of America by containing the Hotshots offense to only 172 yards total passing. Can the Atlanta defense keep playing above their heads and win two in a row? I'd bet against that if I could, especially with how improved the offense is under QB Zach Mettenberger. Mettenberger completed 18/25 passes for 174 yards and a touchdown last week. The top two receivers on the team, Reece Horn (4 tgts, 4 rec, 63 yds) and Alton Howard (5 tgts, 3 rec, 39 yds), led the way for the Express, leading the team in targets and yards for the week. Howard will have the easier matchup of the two against slot CB Carlos Merritt who PFF grades out to a 45.8 allowing a catch rate of 71%. Reece Horn will go up against Donatello Brown who PFF grades out to a 64.6 and has allowed an unreal 100% catch rate on the season.
Legends Running Game
With Akrum Wadley out, the Legends turned to a running back by committee approach last week and it was just as messy as you'd expect. Brandon Radcliff (12 car, 48 yds, 4.0 yds/car), Denard Robinson (9 car, 43 yds, 4.8 yds/car, 1 TD), Tarean Folston (5 car, 21 yds, 4.2 yds/car), and Lawrence Pittman (3 car, 9 yds, 3.0 yds/car) all received time in the backfield and it will be tough to find any merit rostering these guys this week. The rushing leader last week was actually Aaron Murray, carrying the ball seven times for 54 yards so that should tell you all you need to know about this rushing attack if you haven't gotten the gist already. It should be noted that Denard Robinson scored the lone rushing touchdown of the game and received three red zone carries last game. With the Express allowing 4.8 yds/car on the year, we can expect efficiency to come out of this committee but figuring out which one and getting to value for that back will be difficult with how thin everyone's carries are spread out.
Legends Passing Game
Aaron Murray (20/33, 254 yds, 7.7 yds/att) came in the game in the first quarter last week to replace an injured Matt Simms and I'd be surprised if Simms comes back to reclaim his spot this week—Murray played one hell of a game and was a huge reason in the Legends upset of the Hotshots. Unfortunately, the receiving game was led by RB Tarean Folston (7 tgts, 5 rec, 66 yds) and the actual receivers on the team seem to want to do anything but catch the ball. Seantavious Jones is fifth in the league in air yards, but once again last week had a catchless day. The two notable performances from this receiving corp came from the "good" Jones bro in Malachi Jones (4 tgts, 2 rec, 50 yds) and reserve WR James Quick (5 tgts, 3 rec, 37 yds).
Pat's Thoughts
From the Express, Zach Mettenberger ($6,100) and Zac Stacy ($6,300) are my two favorite plays and their pricing against Atlanta is extremely generous. With them being at the bottom end of the mid-range, there is definitely an attainable ceiling for both players to absolutely blow value out of the water and I would not mind stacking them together here.
Aaron Murray ($5,900) may just be my favorite play of the week and it may come back to bite me going against Mike Singletary's defense but so be it. The Memphis defense ranks last against quarterbacks in Fanball scoring and although I'm not a fan of the Atlanta receivers, Tarean Folston ($4,200) being so active in the passing game makes a lot of sense to go with Murray and provides the necessary salary savings to fit the Mekale McKays and Trent Richardsons of the world in your lineup.
San Antonio
Commanders

vs Arizona Hotshots (-2.5) O/U 40
Commanders

Running Game

Last week we finally got the Kenneth Farrow game we had hoped for despite getting vulture by Trey Williams. Farrow carried the ball 30 times for 142 yards, while Williams mustered four totes for 20 yards and a touchdown. As long as they can keep the game close, with a strategy to keep the ball out of Arizona's hands as much as possible, I have absolutely no quips about going back to Farrow here again as he will be relied on as a true workhorse which comes at an absolute premium in this league.
Commanders

Passing Game

Logan Woodside (11/25, 106 yds, 4.2 yds/att) had a disappointing game last week but the majority of that could be placed on the elite defensive play from the Iron. We can expect Woodside to bounce back here in a much-needed spot as the Commanders will trail the Hotshots if Walford and Co. can get it going early like usual. It will be tough to land on the right receiver out of the three-headed monster that is Greg Ward Jr (5 tgts, 2 rec, 24 yds), Mekale McKay (4 tgts, 2 rec, 19 yds), and De'marcus Ayers (5 tgts, 2 rec, 21 yds). Of the three, McKay has the highest ceiling of them all but with that ceiling, we'll have to be wary of the attention he'll garner from the Hotshots secondary.
Hotshots Running Game
Jhurell Pressley (14 car, 110 yds, 7.9 yds/car) finally got the wheels rolling again last week against Atlanta and he'll look to do so again here against a Commander defense that gave up four yards per carry to the usually inefficient Birmingham Iron. We should be able to project Pressley for 13-15 touches this game with upside for 18, game script permitting.
Hotshots Passing Game
John Wolford (17/31, 185 yds, 6.0 yds/att, 1 TD, 1 2PT) is getting back into form and spent the whole time under center this week after the Trevor Knight experiment didn't go so well in Week 3. Last week, the Commanders allowed 198 yards passing on 19 completions against Luis Perez and the drop committee of the Iron so we can expect the same, if not more, efficiency to come from the high-powered Hotshots offense. The usual suspects led the way last week and I don't expect anything different this week as we target Rashad Ross (6 tgts, 4 rec, 74 yds, 1 TD) and Josh Huff (6 tgts, 4 rec, 43 yds) in the receiving corps once again. To round out the passing game, Jhurell Pressley received five targets and caught four of them last week.
Pat's Thoughts
On the Commanders' side, Logan Woodside ($5,500) is too cheap to ignore here for his ceiling. He'll be a top play for me along with Aaron Murray at QB. Overall, my favorite full stack of the week would be one including Woodside, Farrow ($6,700) and McKay ($5,100). In a game that has the highest total on the slate, with this stack you're spending less than 50% of your total salary and garnering the biggest, most involved pieces of this offense, leaving a ton of room to fill out the rest of your spots.
Jhurell Pressley ($6,900) is a bit overpriced here for my liking as he'll need a touchdown to really pay off his salary and another 100-yard performance is probably not in the likely range of outcomes here. Aside from Pressley, given his popularity week after week, I don't think I'll be going back to John Wolford ($6,000) but as always I have interest in Rashad Ross ($7,400) and would not mind a double stack with Josh Huff ($5,600), given his consistent target share.
---
AAF Target Leaders, Weeks 1–4
Click headers to sort
AAF RB Touch Leaders, Weeks 1–4
Click headers to sort