Can Marlon Mack Be a Top-10 Fantasy Option?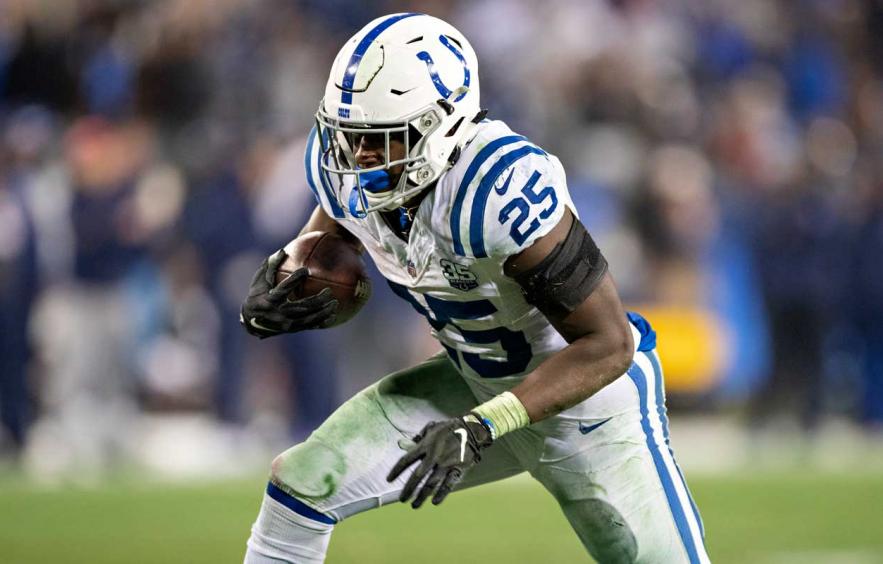 Wesley Hitt/Getty Images
In the 2017 season, Marlon Mack was a rookie playing behind future Hall of Famer Frank Gore. Mack would be used sparingly in the Colts offense, giving Gore occasional breathers. You could clearly see there was talent there, however, as the USF product ripped off plenty of big runs, and finished fourth among all running backs in breakaway run rate (45.8%).
Entering the 2018 season, Mack was expected to be the lead back as a sophomore. However, a preseason hamstring injury limited him to one of the Colts' first five regular-season games, which had fantasy owners panicking, as injuries have been a common theme throughout Mack's football career. But when rookies Nyheim Hines and Jordan Wilkins failed to make a ton of noise, Mack assumed the lead back role in a Week 7 games against the Jets, rushing for 89 yards on 12 carries. From that point on, he served as the RB9 in all of fantasy football, while ranking fifth in rushing attempts (173), seventh in rushing yards (785) and second in rushing touchdowns with nine. Mack would go on to finish as the RB19 in fantasy, despite missing four games. So what should we expect from the third-year running back here in 2019? There is a lot to like and you should expect him to contribute in a big way this season.
Also–I am very proud of myself for not forcing a Return of the Mack reference into this column.
Well, never mind.
The Ideal Situation in Indianapolis
A few years ago, the Colts had arguably the worst roster in the NFL. Outside of Andrew Luck, of course.
Fast forward to 2019 and they suddenly have one of the best.
The team has drafted incredibly well over the last few seasons and now possess one of the elite offenses in the league. Additions to the offensive line have been monumental to this team's success, as guard Quenton Nelson and center Ryan Kelly have transformed Indianapolis' biggest weakness into perhaps their greatest strength. They obviously did an incredible job of keeping Luck upright in the passing game, but the big boys up front also boosted a running game that was non-existent. In 2018, the Colts were fourth in Football Outsiders adjusted line yards metric, while only 17.8% of their rushes were stuffed at or behind the line of scrimmage. And according to Jeff Ratcliffe, the Colts created 1.80 yards before first contact per rush last season, which was the ninth-best mark in the league. Indianapolis should be able to create plenty of running lanes for Mack, who is more than talented enough to take advantage.
Of course, as long as Luck is under center, this will also be one of the elite offenses in the NFL. Last year, the Colts were sixth in the league in offensive touchdowns per game (3.2), while also ranking fourth in red zone scoring attempts per game (3.9). Having said that, it wasn't surprising to see Mack score 10 touchdowns in just 12 games. He had 10 goal-line carries (ninth among running backs) and handled 67% of the team's carries from inside the five-yard line, which was the 11th-highest rate in football. His 12 carries from inside the five were good for seventh in the league, but keep in mind that he missed four games. Not only is this a good offense but it is also a fast-paced one, as the Colts averaged 26.3 seconds per play, according to Football Outsiders. That was the lowest mark in the entire league. More plays, more fantasy points.
Mack is also going to benefit from the Colts defense improving and this being an all-around really good Football Team. Unsurprisingly, Mack had better fantasy performances when Indianapolis won games. 175 of his carries came in victories, totaling 792 rushing yards, nine rushing touchdowns and a receiving touchdown. Meanwhile, 87 of his carries came in games where the Colts won by 15 points or more. This could be viewed as a negative but only if you believe that the Colts are suddenly going to be a bad team, which I just don't see happening. They won 10 games last year and their current win total is set at 10. With Luck at the helm and an improving defense, I don't see the Colts chasing points very often this season, which bodes well for Mack's fantasy prospects.
A Strong Workload
While Mack isn't going to catch passes like James White or Christian McCaffrey, it doesn't mean he won't see a huge workload. Yes, he only caught 17 balls last year but I believe he is a capable pass-catcher and could see an uptick in third-down snaps this season. Still, even without the receptions, Mack should see 17-20 carries per game most weeks.
After he returned in Week 7 against the Jets, Mack became a true workhorse. From Week 8 on, Mack averaged 21 touches per game, while seeing at least 25 carries in three of those contests. And again, during that stretch starting from Week 7, only four running backs in the NFL had more carries than Mack. In neutral or positive game scripts, the Colts had no issue relying on Mack and actually were more run-heavy during the second half of the season. Head coach Frank Reich has repeatedly stated that the running game will lean on Mack, while Nyheim Hines will mix in on some third downs. I believe him when he says that because when Mack was fully healthy last year, that was exactly the case. The signing of DOnta Foreman does not change anything. As long as the Colts aren't decimated with injury, Mack will see plenty of 20-carry contests behind an elite offensive line, which is rare to find.
Mack's Potential Ceiling
Marlon Mack is currently the RB17 in 4for4's PPR rankings, but he still has some upside. If he can play 16 games, Mack could legitimately lead the NFL in rushing touchdowns, especially if Todd Gurley misses time with the knee issue. In PPR formats, Mack obviously takes a hit. He was targeted just 26 times last year and even though he is capable of catching passes, the Colts simply may not ask him to do it. Unless he scores 17 or 18 touchdowns this year, Mack is unlikely to finish among the top eight running backs in fantasy. He just won't come close to the receptions backs like Dalvin Cook, David Johnson, LeVeon Bell and Joe Mixon will see, let alone the big four at running back.
Still, it is difficult to ignore the potential he has in this offense, especially if he can suit up for 16 games. It is no secret that lead running backs in elite offenses correlate well with fantasy production and this will be one of the five or six best offenses in football. If my draft starts with a pair of wideouts and then I grab Mack as my first running back, I am perfectly fine with it. Draft him as a top-15 option and expect top-12 production. Anything he adds in the passing game is a bonus.