9 Players to Target in Best-Ball Before the NFL Draft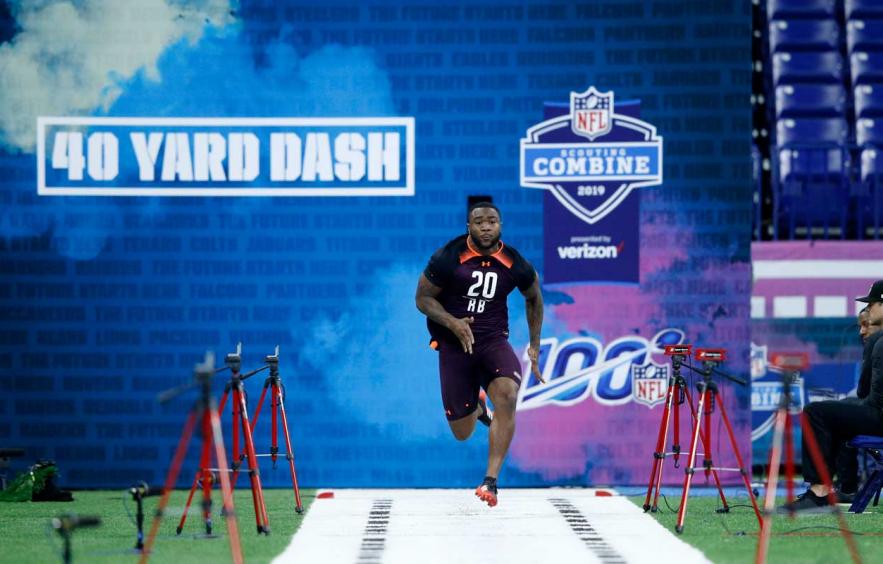 Joe Robbins/Getty Images
With the NFL Draft just around the corner and best-ball leagues in full swing, we're at a point in the year where it's a great time to find value in your fantasy drafts before rosters fill up with rookies and depth charts shake out. In this roundtable discussion, the bright minds at 4for4 explain which players they are targeting leading up to the draft and why if you don't pounce now, these players could see a huge ADP spike in the coming weeks.
Ted Ginn

Jr., WR, New Orleans

Saints

Tyler Buecher: The average WR12 score (WR1 in PPR scoring) was 20.04 points last year. After Ginn eclipsed that number in Week 1 (20.3), he looked like he was in for a strong fantasy outing in 2018. Injuries, unfortunately, paid a toll on Ginn's body with him playing in just five regular-season games and securing just that one fantasy-worthy week worth targeting in best-ball.

On a team-friendly $2.5M deal, Ginn should be in line for WR2 responsibilities if he can manage to stay healthy. With 2019 right around the corner, the Saints elected to stay out of the free agent pool of wide receivers and they have very little draft capital to spend this year (just one pick in the first four rounds). That should leave Ginn as the de facto WR2 on the depth chart entering camp. Tethered to Drew Brees without much competition for targets, Ginn's a screaming value in the 18th round in Fanball leagues.

Price on the rise because…

The Saints first two picks of the NFL Draft come in the late second (62nd overall) and late fifth (168). They have no ammo here and with limited resources, Ginn's role in the offense looks to be safe for another year.
Miles Sanders

, RB, Penn State Nittany

Lions

TB: The Penn State running back has seen a steady climb in his ADP since entering the player pool on both FanBall and FFPC Best Ball leagues, and currently sits as the RB49 and RB43, respectively. There's plenty of room for him to climb up those rankings as soon as we find out which team he lands on.

Sanders' skill set showcases arguably the best combination of athleticism, quickness, and strength in the entire running back class. His penchant for bouncing runs to the outside could be seen in a negative light, but it also makes for big gains when successful. Sanders ran for 10+ yards on 17.3% of his rushing attempts, showcasing an ability to take any handoff for big gains -- perfect for the best-ball scoring format. Among the 55 FBS backs with 200 touches last year, Sanders also ranked top-10 in both yards after contact per touch (3.7) and missed tackles forced (47), per PFF. Whether he's seeing limited touches in a committee or is gift-wrapped a starting gig in an ideal landing spot, Sanders ability to take any carry to the house makes him a player whose value will surely continue to rise as he becomes a bigger household name.

Price on the rise because…

Sanders has a chance to be one of the first running backs selected in this year's class. There are a few home run landing spots (TB, CHI, HOU, OAK), but the real reason for him to shoot up in value is his own homerun ability to score anytime he touches the ball.
Lamar Miller

, RB, Houston

Texans

Justin Edwards: We've been here before. All eyes have been on the Houston Texans and the inevitable sharp decline of Lamar Miller's value as a fantasy asset. 2017 was supposed to mark the beginning of the end when DOnta Foreman was drafted in the third round (89th overall) and proceeded to record 93 touches (437 total yards) over the next two seasons. Hampered by injuries and providing replacement-level play when on the field, Foreman has not looked prone to usurp Lamar Miller for his starting duties heading into 2019. Currently coming off the board as the RB31 at the beginning of the seventh round, Miller will be a locked-in RB2—and likely moving all the way up to the fifth round—if Houston skips the running back position in the first couple days of the NFL Draft. With a bevy of offensive line needs to go along with pressing wishes to shore up the tight end and safety positions, a running back in the first four rounds seems unlikely at best.
Deon Cain

, WR, Indianapolis

Colts

JE: Going completely undrafted in many DRAFT contests at this point, Cain is set to battle for No. 2 wide receiver status on one of the more potent offenses in the league. At this point, the only thing standing in his way to play opposite T.Y. Hilton is recently signed free agent Devin Funchess, who had just finished his fourth straight mediocre season as a Carolina Panther. It's no guarantee that Cain sees a plethora of playing time in the 2019 season but as the current WR95 off the board, a dart throw in the final round of your draft is a very low-risk proposition. All three of Chester Rogers, Dontrelle Inman and Ryan Grant would have beaten that ADP and none of them played a full sixteen games. If Indianapolis comes out of the draft without a big name at wide receiver, people will begin to remember who Deon Cain is in a hurry.
DaeSean Hamilton

, WR, Denver

Broncos

Chris Allen: The rookie from Penn State didn't have much chance to shine in 2018. Hamilton's final stat line of 45-243-2 ranks 104th among receivers in half-point PPR. Joe Flacco's signing doesn't inspire much confidence but there is some optimism for DaeSean's second year. While Hamilton only had 45 targets (66.7% from the slot), 38 of them came in the final four games of the season. Emmanuel Sanders' injury was the catalyst for Hamilton's spike in targets. As a result, the 38 targets turn into 9.5 target per game—that's a WR1 target share.

Flacco also found quite a use for slot receivers in Baltimore. Willie Snead saw 88.4% of his 95 targets from the slot with 77 coming from Flacco. While the touchdowns never materialized, the opportunity was both consistent and voluminous. Wide receiver isn't a primary need for Denver and there's little expectation they'll add one of consequence in the draft. Hamilton becomes the WR2 primarily operating out of the slot with a QB that held the 36th worst adjusted yards per attempt in 2018. His value should rise post draft making him an ideal receiver to round out a best-ball squad.
Damien Williams

, RB, Kansas City

Chiefs

CA: Williams quickly became the beacon of light for the 'Running Backs Don't Matter' crowd. While recency bias fuels much of the debate, the production speaks for itself. Williams finished fourth in first downs per touch and third in yards after catch per target. Even if Carlos Hyde assumes a share of the backfield, Williams's superior talent should give him most of the team's touches and targets out of the backfield. While the 'Reid's Primary Back' theories take center stage, some logic needs to be applied.

Williams has never had more than 13 carries in a single game. But even if the bellcow days in Kansas City are over, Williams's efficiency should overcome any projected drop in volume. Kansas City has four picks within the first three rounds of the draft. While there's a concern they'll draft a running back of consequence, their needs on defense far outweigh adding depth to this position. After the draft, Williams' cost should rise as the backfield solidifies. While it's tough to consider him an RB1, he should be in the early RB2 conversation as soon as Day 2 of the NFL Draft is over.
Aaron Jones

, RB, Green Bay

Packers

Jennifer Eakins: Earlier this offseason the rumor mill was swirling with talk of the Packers possibly landing another RB in free agency, which didn't actually come to fruition. For now, it appears to be a two-man backfield comprised of Aaron Jones and Jamaal Williams. Despite the reluctance to give Jones a full workload by Packers coaching staff, he still managed to emerge as the RB with the sixth-most touches (105) in the NFL from Week 9 until he sustained an injury early in Week 15. Jones' 121.2 PPR points in that time frame ranked fourth among RBs behind only Christian McCaffrey, Ezekiel Elliott and Saquon Barkley. If Green Bay doesn't add a stud RB via the NFL draft, the potential for Jones this season could soar way above his current late-second/early-third ADP as RB19.
Mark Andrews

, TE, Baltimore

Ravens

JE: After last season's debacle at TE, the price is sky-high for top-tier guys, so finding value at the position is certainly advantageous in best ball formats. The Raven's receiving depth chart reads almost like a foreign language, with Willie Snead the most recognizable name. Sure, Baltimore's offense is extremely run-heavy but Lamar Jackson will have to throw the ball sometimes. As a rookie, Andrews emerged last season out of a crowded TE room and actually led the receiving corps in PPR points in the seven games with Jackson under center. If Baltimore's pass-catching roster stays as is post-NFL Draft, Andrews could be a solid value at his current ADP of 155.8, the 20th TE off draft boards.

*Update: Baltimore drafted speedster Marquise Brown with pick 25 of the NFL Draft. He's not only fast, but a smart route runner and should inherit volume right away.
Josh Jacobs

, RB, Alabama Crimson Tide

TJ Hernandez: Nevermind that Josh Jacobs's closest comp is maybe my favorite player of all time—the fact that the Alabama running back botched his Pro Day presents a value opportunity for fantasy players. Like Arian Foster, Jacobs entered the draft recovering from an injury and it's unclear how that hampered his Pro Day numbers. Regardless, his slow 40-yard dash may have taken him out of the running as a first-round pick, opening up the opportunity to go to a team like the Raiders who have three first-round selections and is just the type of team and organization that would be willing to gamble early-round equity on the position. Oakland currently has the most available carries in the league but if any team with a vacancy at the position lands the Alabama star, expect his DRAFT ADP of 112 to jump well into the mid single-digit rounds.