3 Reasons Damien Williams Can Be an RB1 in 2019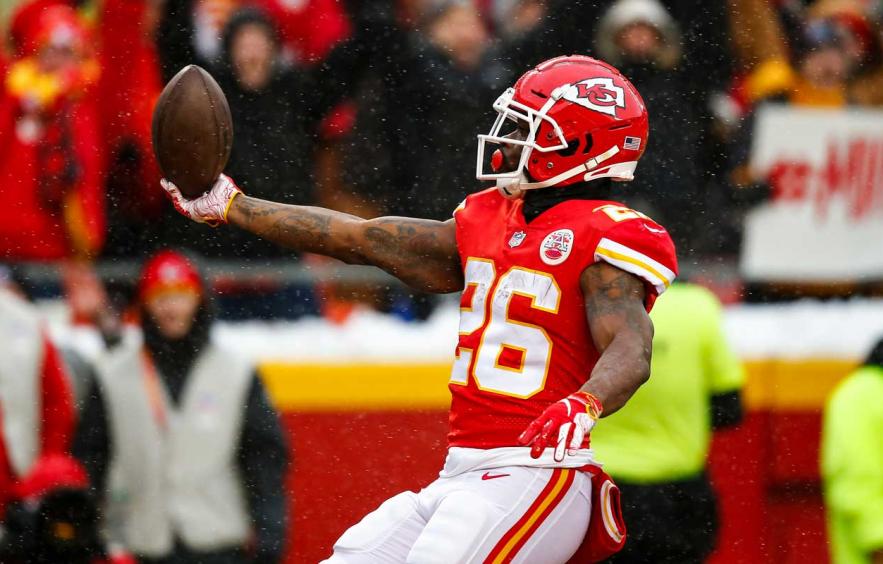 David Eulitt/Getty Images
If you had been in a coma since week 12 of last season, you would probably have a few questions about our current running back rankings. You'd first ask me how Todd Gurley can possibly have dropped to RB10? I'd explain that, while Gurley is still just 24, his knees are actually 83 years old. Your next question would be...Damien Who?
Damien Williams is the starting running back for the Chiefs. He took over that role after Kareem Hunt was suspended (and later cut from the team). You'd probably remember that Hunt was an RB1 going into the 2018 season, so it should not be shocking that his replacement is as well.
Even if the coma wiped out your memory of Hunt, the argument for Williams is still pretty simple. The Chiefs offense scores a lot of points, they use their starting running back heavily, and Williams is their starting running back, so we can expect him to score a lot of points.
The
Chiefs

Offense Scores a Lot of Points

I know I said this before, but the Kansas City Chiefs offense was awesome in 2018. Patrick Mahomes was the league's MVP. The Chiefs averaged over 35 points per game—over two points more than the next best offenses, the Rams and Saints. They put up the third-most passing yards per game and had incredible efficiency at scoring touchdowns.

Despite the fact that the offense will likely regress next season, the experts in Vegas still gave the Chiefs the second-highest expected win total in 2019, tied with the Saints and Rams, behind only the Patriots, with their soft schedule. And the Chiefs do not have a defense of the same caliber as the Saints or Rams, which means Vegas expects them to score points in order to win games.

One potential concern for Chiefs running backs is a Chiefs rushing schedule that is particularly difficult—they face the teams with the highest average rushing defense efficiency in the league, per Warren Sharp. However, Chiefs running backs excel through the air as well, getting almost 40% of their points from receiving work even with standard scoring (no PPR).
The
Chiefs

Starting Running Back Scores a Lot of Points

Hunt was a top-five RB in 2017, averaging 15.3 points per game in standard scoring. He was even better in 2018, scoring under 15 points only twice in eleven games and averaging 18.6 points per game up through Week 11, before his suspension.

After a bye in Week 12, the Chiefs auditioned Spencer Ware as the lead back, but he was outshone by Williams, who averaged 7.6 yards per carry to Ware's 3.4. Williams took over in Week 13 and continued as the lead back through the playoffs.

Here is a plot of the points scored by Hunt in Weeks 2-11 (I'm leaving out his stinker in Week 1 to be nice) and Williams in weeks 14-20. The orange and green lines show the average points per game during the two periods.
Chiefs-rbs-2018-2.png" style="width: 752px; height: 452px;" />
On a per-game basis, Williams outscored Hunt in 2018, and Hunt outscored the version of himself from 2017, who was the RB4. Williams was in double digits every week and scored more than 25 in four of six weeks. William's 19.7 points per game would have made him the RB2 if continued for a full season.
As great as Williams was, most of this is to be expected as the starting running back in Andy Reid's offense. Williams averaged 17.5 touches, 100 yards, and 1.7 touchdowns. Hunt averaged 18.8 touches, 109 yards, and 1.3 touchdowns. The Chiefs give a substantial workload to their running back, including work near the goal line.
In other words, even if we think that Williams is unlikely to continue to outperform the standard set by Hunt, just being the starting running back of the Chiefs gives him an incredibly high floor, almost certainly above RB12.
The one difference that does stand out between Hunt and Williams is in receiving usage: Williams averaged 4.7 receptions per game compared to Hunt's 2.4, a difference that is large enough and over enough games that it is unlikely just randomness. The extra receiving work for Williams is an especially good sign now, given the potentially difficult schedule of rushing defenses facing the Chiefs this season.
Williams is the
Chiefs

Starting Running Back

The Chiefs offensive coordinator, after the signing of free agents and drafting more running backs, has stated that Williams is the starter. They are not making any pretenses about Williams needing to win the job or laying out the possibility of a committee approach. Williams was also given a two-year extension after last season, further evidence of their belief in him.

Furthermore, none of the competition seems able to match Williams dual-threat skillset. Carlos Hyde was heavily targeted in one season with the 49ers but still only managed 22 yards receiving per game. New draft picks, James Williams and Darwin Thompson, have solid track records receiving but not handling a 200-carry rushing workload.

His incredible track record from 2018, public commitment from the team, and a lack of real competition all tell us that Williams will be the Chiefs starting running back this season. Last year, Hunt, in that same position, entered the season as RB9 in our rankings, so a ranking of RB12 is still being somewhat conservative, especially given that Williams outscored Hunt on a per-game basis.
Where To Target Him
Our ADP data currently shows Williams being taken in the mid-third round, while the running back just in front of him in our rankings, Dalvin Cook, is being taken in the mid-second round. Grabbing Williams any time in the late second or early third rounds would represent good value.