TJ's Take: Week 2 NFL DFS Recap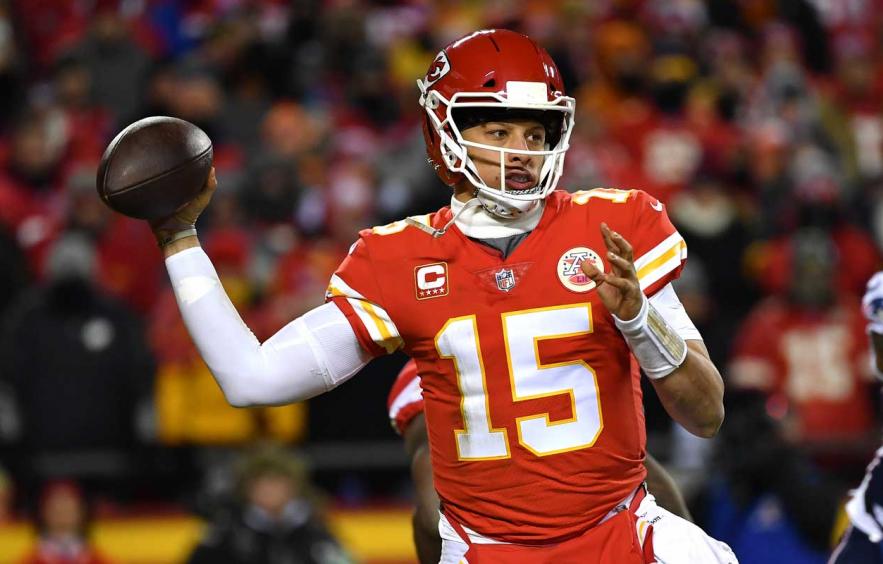 This is a free offering in our weekly content contained in the 4for4 DFS subscription. To get access to all of our weekly DFS analysis, sign up here!
Reviewing your own hits and misses each week is imperative if you want to be a profitable DFS player but examining winning lineups is also a useful exercise in cultivating a winning approach. Here I will analyze winning lineups from the biggest contests on FanDuel and DraftKings, teasing out lineup-building strategies and giving my analysis on how you could have landed on a similar team.
DraftKings Week 2 Millionaire Winning Lineup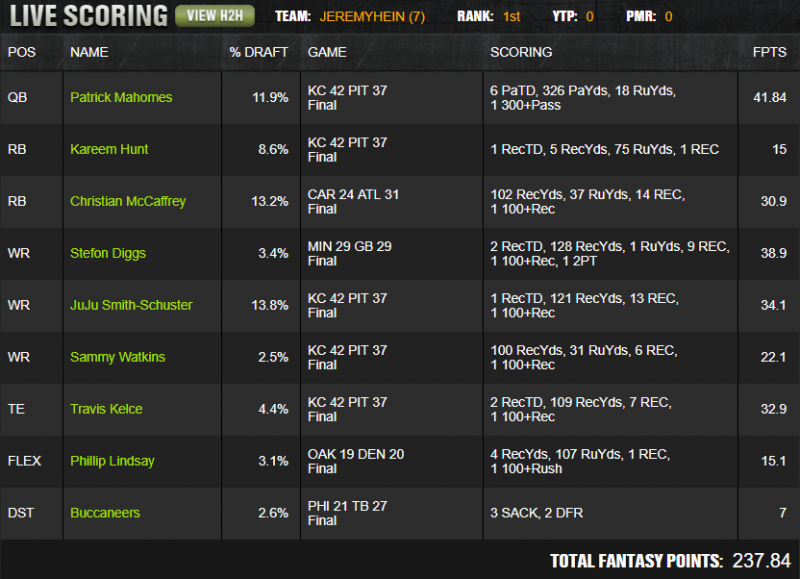 For the second straight week, the Millionaire was taken down with an onslaught, AKA a game stack on steroids. JEREMYHEIN outpaced a field of over a quarter-million entries by rostering five players from the game with the highest over/under of the week. Pittsburgh was the popular offense in this game, with the highest expected team ownership of the week, according to 4for4 projections. JEREMYHEIN leveraged this expectation by rostering four players from the Kansas City offense and only one player from the Steelers. Not only did the winner fade the popular offense in an expected shootout, but he didn't roster any player in the game with an ownership above 14 percent. That's how you leverage a popular spot. Unlike last week's winner though, JEREMYHEIN faded the chalk, rostering no players with an ownership above 14 percent and six players with single-digit ownership.
Besides the leverage on the Chiefs/Steelers game, let's look at how JEREMYHEIN might have landed on his other unpopular plays.
What Were the Indicators for the Low-Owned Plays?
Green Bay went into Week 2 ranked 28th in 4for4's schedule-adjusted fantasy points allowed to wide receivers but the secondary woes that the Packers suffered in 2017 were masked against a rookie quarterback in Week 1. JEREMYHEIN didn't fall prey to recency bias and took the shot on Stefon Diggs versus a suspect defense. A game with the fifth-highest over/under of the week and a spread of just 1.5, this should have been a sneaky game for owners to target with so much attention on more popular offenses. JEREMYHEIN recognized that, rostering at least one offensive player from this game in one-third of his 27 lineups—Diggs wasn't a random dart throw and this points to how important it is to build a player core around specific games.
In Week 1, the Broncos' offered Phillip Lindsay and Royce Freeman a virtual 50/50 split of backfield touches. As a six-point home favorite against a Raiders defense that allowed over 150 total yards to Rams running backs in Week 1, conditions were prime to start a Broncos running back but most DFS owners shied away from the running back committee. JEREMYHEIN embraced the variance and virtually-guaranteed low ownership, using either Lindsay or Freeman in nearly 20 percent of his lineups. With almost no popular punt options at running back, opting for a cheap back at the flex combined a leverage play off of a popular teammate (Emmanuel Sanders) with a salary range that led to an overall unique lineup construction.
The Tampa Bay defense hovered as a top-three projected value on 4for4 for most of the week and was suggested as a core play in my weekly slate breakdown. Basement-priced defenses are always a great way to free up salary and the Buccaneers were at home against a Nick Foles-led offense projected to score fewer than 24 points.
FanDuel Week 1 Sunday Million Winning Lineup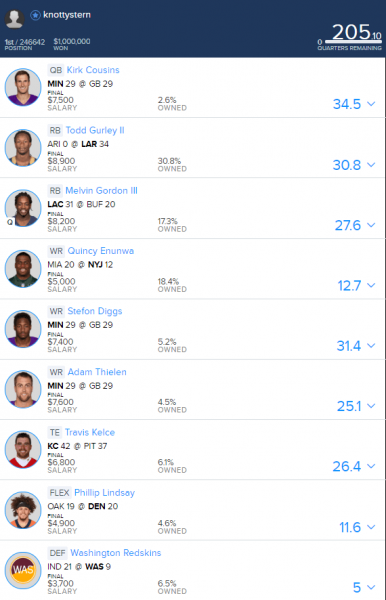 Knottystern implemented a team stack of the Vikings passing game and showed that you can win a large GPP without massive exposure to a game like the Steelers/Chiefs, even if the score in that game laps the field. The key to this stack is an offense that put up a decent point total but with points concentrated heavily on just a few players. Knowing which teams have heavily-concentrated passing games can help us find similar stacks.
This lineup serves as a reminder that you don't have to have the nuts at every position—the Redskins were relatively cheap home favorites but proved that a dud at one roster spot can still lead to a big payday.
The low-owned plays that led to victory on FanDuel were similar to those on DraftKings but Travis Kelce deserves another mention. This week was the perfect example of why we should pay attention to volume as an indicator of future production. Tyreek Hill's huge Week 1 overshadowed the fact that Kelce had nearly as many targets as Hill. Of course, Hill's big day led to inflated ownership while it was Kelce who was in the winning lineup.
TJ's Final Take
Week 2 served as what was likely a much-needed reality check early in the DFS season. After the chalk dominated in Week 1, there was sure to be a bit of overconfidence across the community—that was reflected in massive ownership numbers on a handful of players. To combat the variance that comes when core plays don't hit, many DFS owners will hedge their bets in the form of multiple lineups. While the idea behind not putting all of your eggs in a single proverbial basket makes sense to limit variance, many players don't play enough volume to justify a strategy like multiple cash lineups on a single slate.
A similar, but a more effective method is to spread money across multiple slates. Not only does this strategy not force owners to submit a suboptimal lineup simply for the sake of hedging, but it leads to different lineup combinations and gives owners variety of opponents that they might not have otherwise. Though this might sometimes limit upside, the safety net of avoiding monumentally disastrous weeks outweighs that sacrifice.
My personal method of cash game allocation is to play equal volume on both FanDuel and Draftkings while playing at least two different slates on each site—the main slate and usually the early-only slate. This usually leads to four fairly unique lineups. The early slate is big enough that it still makes sense to play cash games but it's missing enough players from the main slate pool that you're forced into players that you wouldn't have exposure to otherwise. If there are tremendous values in any primetime games—usually Sunday or Monday night, since Thursday night players see inflated ownership—I will expand my cash games to the multi-day slates as well.
Photo by Peter Aiken/Getty Images.