TJ's Take: Week 1 NFL DFS Recap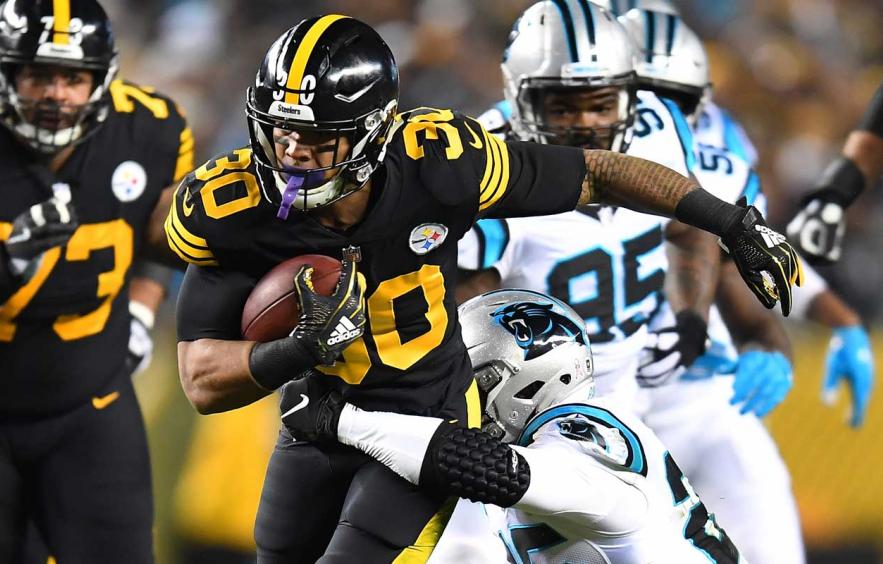 This is a free offering in our weekly content contained in the 4for4 DFS subscription. To get access to all of our weekly DFS analysis, sign up here!
Reviewing your own hits and misses each week is imperative if you want to be a profitable DFS player but examining winning lineups is also a useful exercise in cultivating a winning approach. Here I will analyze winning lineups from the biggest contests on FanDuel and DraftKings, teasing out lineup-building strategies and giving my analysis on how you could have landed on a similar team.
DraftKings Week 1 Millionaire Winning Lineup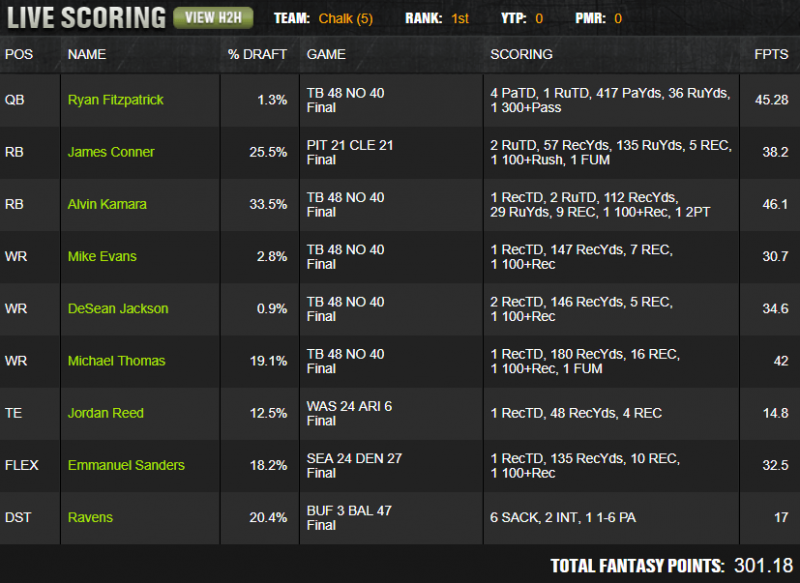 Probably the most ironic screen name for any Millionaire winner to date, Chalk beat out a field of 281,923 with a whopping 301.18 DraftKings points. Don't think that a 300-spot is required each week to take down a GPP, though—in 2017, the average winning score in the Millionaire was 226.69 DraftKings points. Loose salaries and monster games from some of the week's most popular plays led to uber-inflated scoring.
Let's take a closer look at how Chalk took down the season's first Millionaire:
Chalk didn't fade the chalk. Only three players in Chalk's lineup garnered single-digit ownership and three roster spots were occupied with plays owned in over 20 percent of the field. One of the most popular plays this week was Steelers running back James Conner. With LeVeon Bell out in Week 1, Conner became the most obvious "free square" on the slate. While it can be a good tournament strategy to fade the most popular plays of the week, a cheap running back that is guaranteed massive volume is rarely a player to ignore, even in the largest contests. Running back is so predictable and the guaranteed volume adds so much value to a lineup that it's usually best to go contrarian elsewhere.
Embrace the onslaught. The onslaught is a strategy that I suggest in the GPP Strategy section of my weekly DraftKings Slate Breakdown. It's basically a game stack on steroids. The idea is that if you want to roster the most popular plays in a smash spot—like Alvin Kamara and Michael Thomas in Week 1—loading up on as many players as possible from that game still results in a unique lineup. Onslaughts are a popular strategy on small slates but owners tend to avoid the technique on full slates, fearing that it can cap a lineup's upside. If you are confident in one game blowing away the field, embrace the onslaught. (For what it's worth, I do suggest using this lineup-building method sparingly on full slates.)
Understanding correlation. Targeting a quarterback because they are an underdog and will be forced to throw is bad process—we should favor efficiency over volume with our signal callers. When quarterbacks are playing opposite a team that is expected to score a ton of points—like the Saints were—it widens the range of outcomes for the underdog offense and does ultimately raise the ceiling of the passing game. Because ownership is so important in DFS tournaments, having some exposure to the less fashionable offense in a potential shootout is often a profitable approach.
What Were the Indicators for the Low-Owned Plays?
As the third-cheapest quarterback on the main slate, Ryan Fitzpatrick projected as 4for4's top value at the position. Fitzpatrick has historically performed poorly in negative game script—only one quarterback over the last three seasons has a higher interception rate in losses—and his wide range of outcomes didn't make him a cash-viable play, despite his median value projection. That value, expanded range of outcome and playing opposite a popular, explosive offense should have raised some antennas, though.
Even if owners weren't on Fitzpatrick, we know that stacking the opposing WR1 with any offensive stack is a positive correlation play and the Saints had 4for4's second-highest team ownership projection. The few owners that were on Fitz should have primarily stacked him with Evans, as the QB/WR1 connection has the strongest statistical relationship. Rostered in nearly 8,000 lineups, at least a few owners recognized Evans' value. Additionally, only seven wide receivers posted a higher Week 1 leverage score and 4for4 pegged Evans as the best wide receiver leverage play priced above $5,000.
DeSean Jackson was far less popular. Opening the season listed as a co-starter alongside Chris Godwin, the public was cold on the Tampa Bay receiver. Jackson has proven to be one of the best deep threats in the league and air yards are a measuring stick for potential fantasy output. Even though DJax would cede some work to Godwin, Jackson ranked 16th in air yards last season on just 90 targets. And while the Saints secondary was impressive last year, only nine teams allowed more touchdowns on passes thrown at least 15 yards downfield.
FanDuel Week 1 Sunday Million Winning Lineup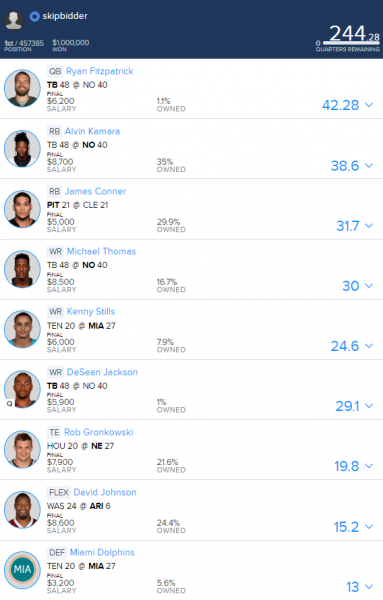 skipbidder rode the offensive explosion in New Orleans to a million dollar pay, implementing a Saints/Buccaneers game stack with Fitzpatrick and DeSean as the main differentiators. Salaries weren't quite as loose on FanDuel as they were on DraftKings but skipbidder manufactured extra salary by punting at volatile positions, namely wide receiver and defense.
This lineup highlights a point that I made in the Week 1 Slate Breakdown regarding the new flex position on FanDuel. Based on positional range of outcomes, wide receivers theoretically have a higher ceiling than running backs but FanDuel's half-PPR scoring closes that gap. How winning players approach the flex position moving forward is something to monitor between the two major sites.
Paying up for a tight end is often frowned upon in cash games but there may not have been a player with more touchdown equity than Rob Gronkowski. Despite the high ownership projections, 4for4 leverage scores suggested ownership roughly on par with the field and no player on the slate offered better odds to hit GPP value.
What Were the Indicators for the Low-Owned Plays?
DeVante Parker was a late-week scratch, opening up the opportunity for Kenny Stills to be the lone deep-threat in Miami. Priced $300 less than Emmanuel Sanders, Stills served as a pivot off of one of the most popular plays of the week in a price range where there were no wide receivers projected for high ownership.
The Dolphins were at home and only slight underdogs to a Titans offense that struggled mightily in the preseason. 4for4 projected Miami's defense as a top-three value but ownership was slanted heavily towards the big favorites. With loose salaries, owners could easily pay for a defense priced above $4,000. The intrigue of rostering a play that could flip lineup construction at the most volatile fantasy position should have been enough to make owners consider the Dolphins defense at home in bad weather.
TJ's Final Take
Beware of the anchoring effect, "a cognitive bias that describes the human tendency to rely too heavily on the first piece of information offered (the "anchor") when making decisions." Too often, DFS players see the Week 1 winners and try to emulate that strategy throughout the season, especially those owners that had losing weeks. Don't blow up your process (assuming that it's a proven process). Next week's winners figure to use different lineup construction and we could be just days away from the chalk not showing up at all.
Throughout the season, use this space to find strategies that you may have overlooked or forgotten. You do not have to implement those strategies immediately—sometimes an onslaught really is a horrible idea on a full slate. It often takes several weeks for numbers to normalize in football, be it GPP scores or player usage. Use the early part of the season to make sure you understand new trends such as player usage rates and team strengths. In the coming weeks, DFS players that can adjust fastest to new information will have the edge over those that wait for a reliable sample size to adjust. I'll be here to help leverage that information.
Photo by Joe Sargent/Getty Images.